Wish you can do more to help your community while sending meaningful postcards to friends during this 'circuit breaker' period where there are limited interpersonal interactions? Post it forward with Project Postcard, a collective endeavour by 15 former students from the School of the Arts (SOTA) to provide financial and emotional support to the migrant worker community. Working in partnership with the Humanitarian Organisation for Migration Economics (HOME), all proceeds raised by Project Postcard will go directly to supporting the many important projects undertaken by HOME.
Project Postcard, helmed by former SOTA student Russell Chong, aims to do this through the donation of 13 artworks made into postcards for sale. The project started with an Instagram story on Russell's page as an open call for his former-SOTA classmates and friends to submit their artworks to be converted into postcards. Within hours, responses flooded in from many friends who wanted to contribute their works to a meaningful cause to raise funds and support Singapore's migrant workers.
"We wanted specifically to work with the migrant worker community as they have been disproportionately affected by the outbreak of the current pandemic in Singapore, in terms of the rate of proliferation of the virus, as well as the long-term socioeconomic impacts that the pandemic will have on their financial stability and emotional well-being," says the full-time National Serviceman Head. "We hoped that our project would be able to make a small difference in providing them with both financial and emotional support, and to show them that Singaporeans are standing in solidarity with them during these difficult and trying times."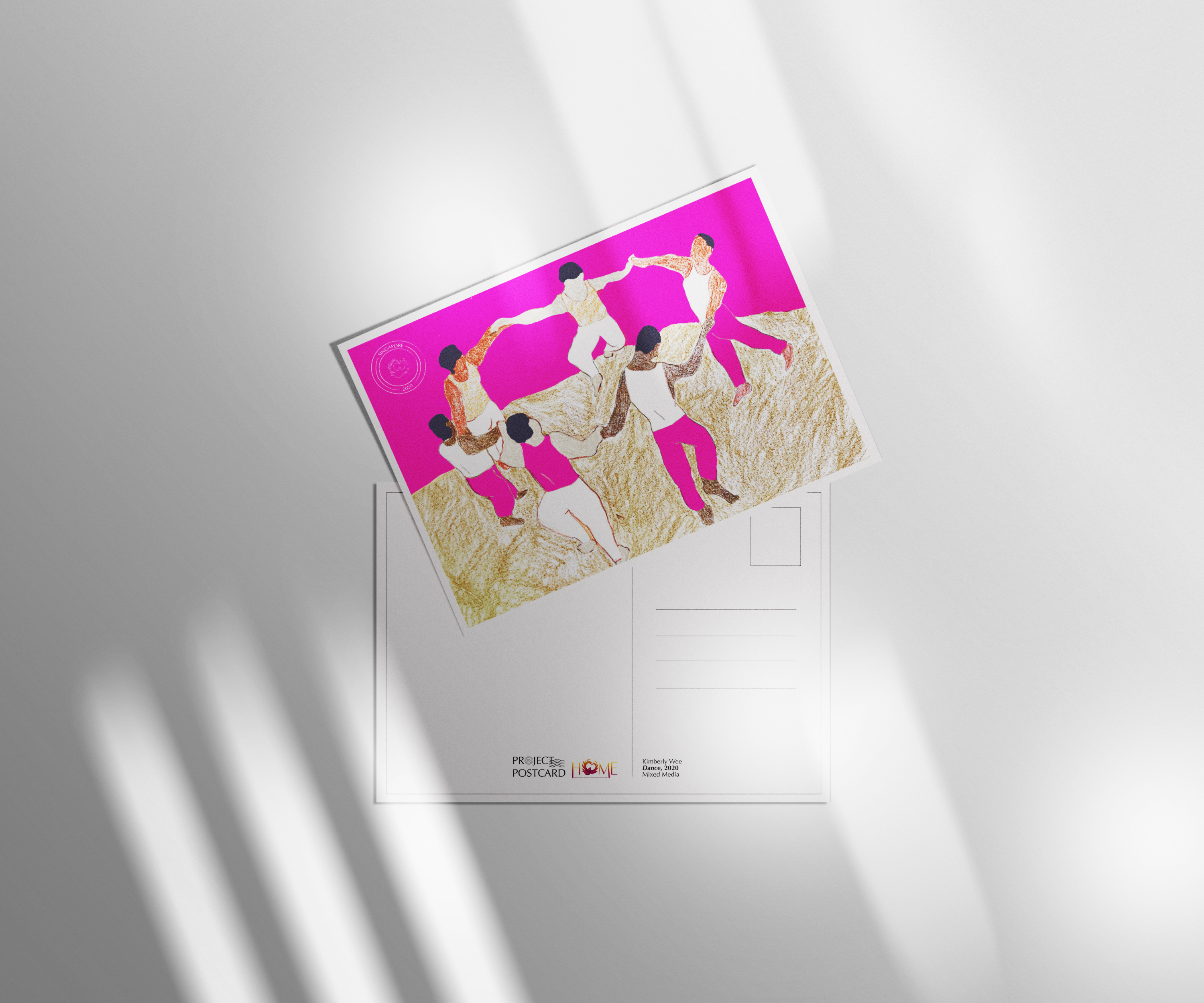 The artworks, each dreamt up by a different artist, showcase many aspects of life in Singapore and the migrant community in general. "My work closely references one of Henri Matisse's paintings, Dance, as an ode to joy and life. I re-contextualised this modern work to depict the little joys of the migrant workers in Singapore, celebrating their hours off work where they spend most of the time in a park or a large field playing sports with their other friends," says Creative Lead Kimberly Wee. "I think it is important to showcase such stories of simple pleasures that often get drowned out by the noise of the labour that they are mostly known for. I hope for this work to encourage people not only to celebrate their contributions to Singapore, but to celebrate them and with them as a community."
The funds go to immediate relief efforts such as providing daily essentials and necessities and emergency medical aid. Russell and his team also hope that the funds can support the long-term, sustainable projects undertaken by HOME, such as providing our migrant workers with long-term psychological support, covering legal and casework costs, as well as the overhead costs incurred by the HOME shelter for our migrant workers in distress.
Members of the public who buy the postcards will have their orders packed and delivered to them, with all proceeds going directly to HOME. Donations made through the website also go directly and completely to the organisation to support immediate relief and long-term, sustainable projects. Additionally, Russell and his team have also printed 10,000 postcards which will be shared and distributed with the migrant worker community in Singapore completely for free. This enables them to write home to their loved ones, with all international postage costs covered in full by the project.
"To our fellow Singaporeans, as much as we hope for your immediate support for our project, our long-term wish is for us to all grow a little in empathy. It begins with a change of attitude; a change of heart, and it manifests itself in small ways like being kind and respectful of cultures and lifestyles that may not necessarily be the same as our own," says Russell.
The price starts from $7 for three postcards. And if you can afford it, consider getting the full set for $27, which includes all 13 postcards. For more info, visit projectpostcardsg.com.
Read more
Print and hang up these notes of appreciation for your delivery rider
Singapore to gradually ease 'circuit breaker' measures from May 12
The penguins at Singapore Zoo are keeping busy with obstacle courses after a swim