With spring's arrival, comes the conviviality of the warm season and a refreshed five-course chef's menu ($158++ per person) that celebrates the vivacious soul of Catalan cuisine. Expect nothing short of a masterful showcase of time-honoured flavours and traditions juxtaposed with innovative contemporary touches and refinability.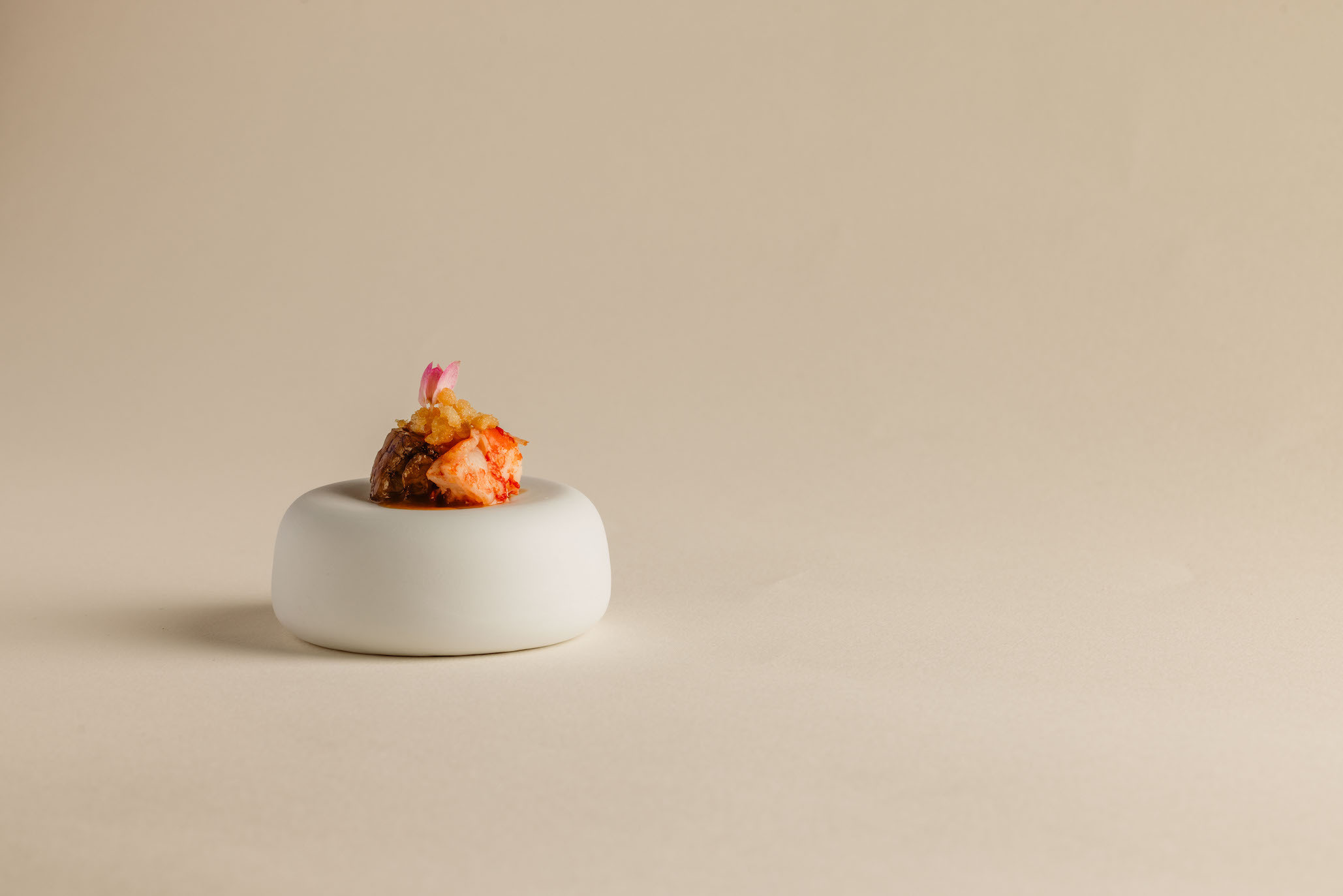 Start off with a trio of canapes that include a tangy seafood Kueh Pie Tee of a Lobster salpicón tart, a lively ice cream sandwich from the salmorejo, and a Gaig family favourite of deep-fried calf-brains reimagined with suckling pig brains and carabinero prawn. Pop into your mouth a delight of crisp and creamy textures from the roasted offals of suckling pig with tempura bits, all paired with a bincho-smoked prawn.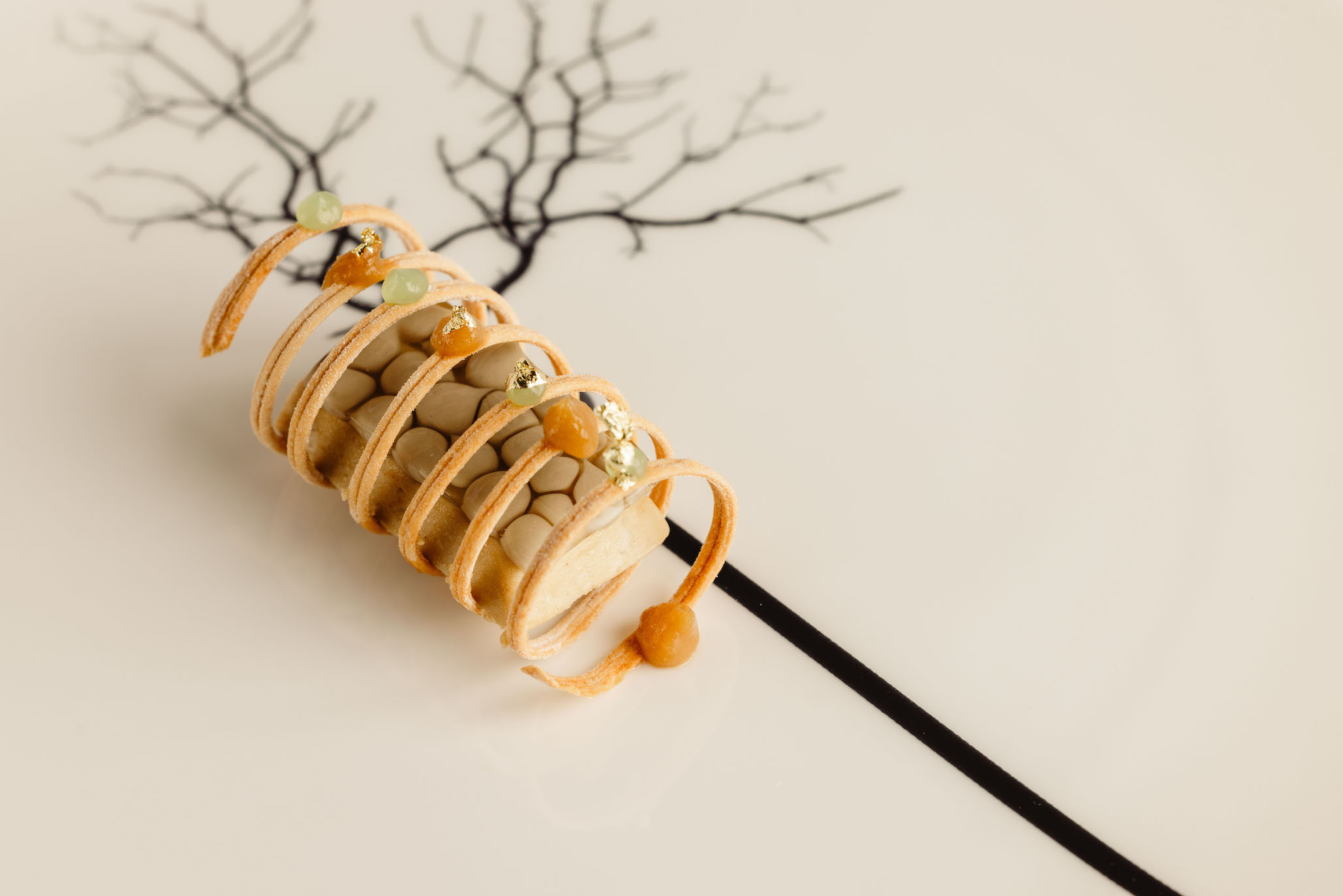 Almost too pretty to devour, the duck foie gras terrine and multi-spherical anchovy quickly steal the limelight from the canapes. Elegantly presented, the modern twist is a Catalan tradition of foie gras and L'Escala anchovy served with green apple and confit onion purées. Of course, for the ardent Gaig fans, the signature cannelloni – prepared with a 152-year-old recipe – will be served. Simply satisfying, roasted meat is wrapped in cannelloni sheets and drenched with truffle cream for a warm and comforting appetiser.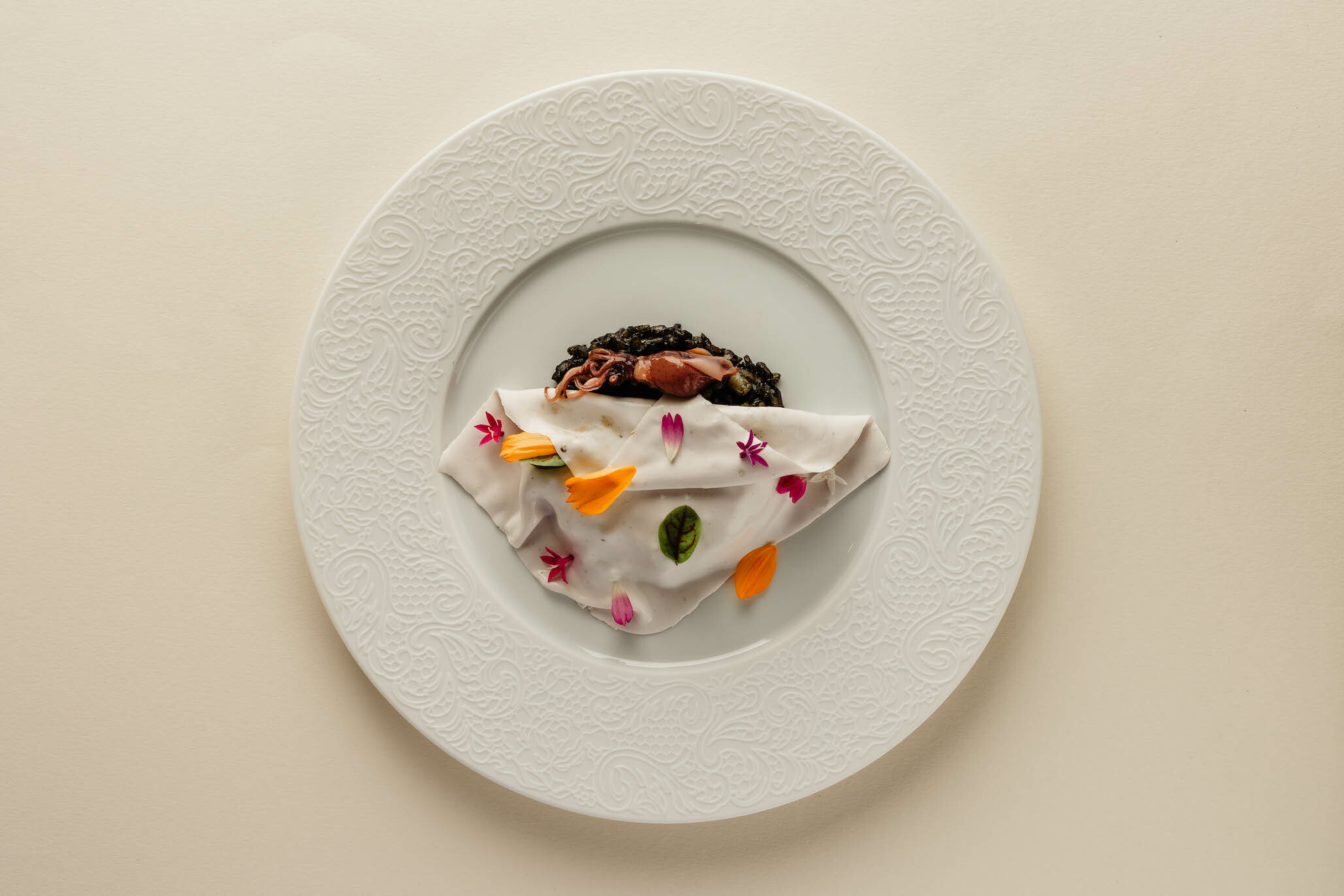 A contemporary take on the quintessential Spanish Paella, Chef Marti's squid ink rice and silken floral encapsulate spring in a dish. Plump grains of Bomba rice is infused with an intensely rich seafood broth of prawn head, lobster head, and rockfish. Cooked in squid ink, this comes with sofrito sautéed squid and is topped with Japanese firefly squids. The finishing touches include a delicate cloak of silken cuttlefish adorned with edible flowers to deliver a bounty of hearty fresh seafood flavours.
Plates are bound to shatter when the Spanish are cooking up some hog. But since we're not in Segovia, you won't need to be cleaning up the mess after. Presenting a nose-to-tail approach that honours a soon-to-be-forgotten Spanish culture, Chef Marti's suckling pig comes in an array of main courses set to please. Fat is first rendered with bacon and transformed into a candle that will gradually melt into a smoky dip for fresh bread – a simple yet classy party trick.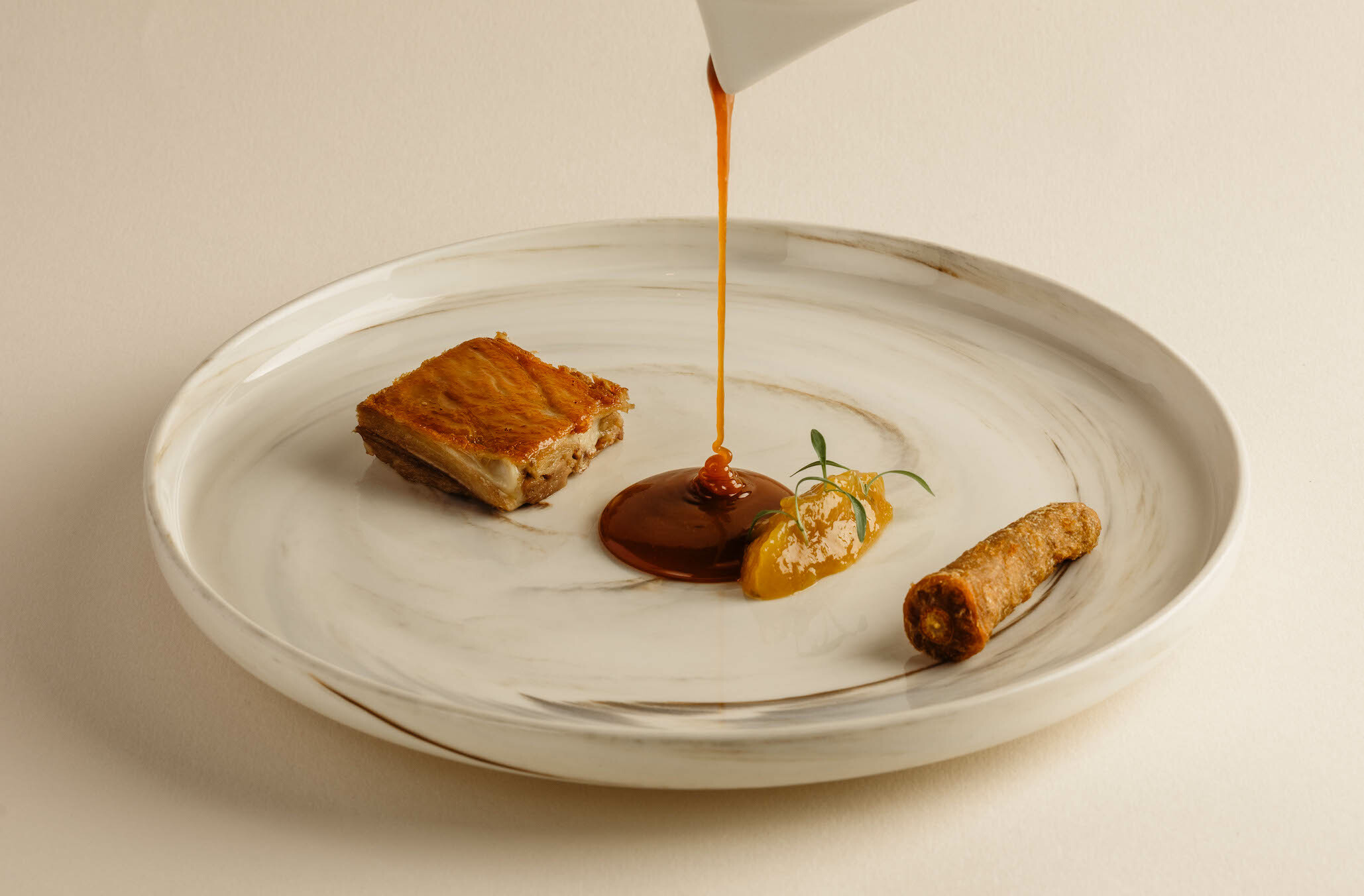 Next, the succulent loin is oven-baked till the skin is crackling crisp, encasing succulent meat while the tail is deep-fried for a contrast of crispy and gelatinous textures. Drizzled with jus made from a reduction of the trotters and bones, the seemingly unctuous dish is cleverly balanced with a touch of acidity from the bright mango chutney.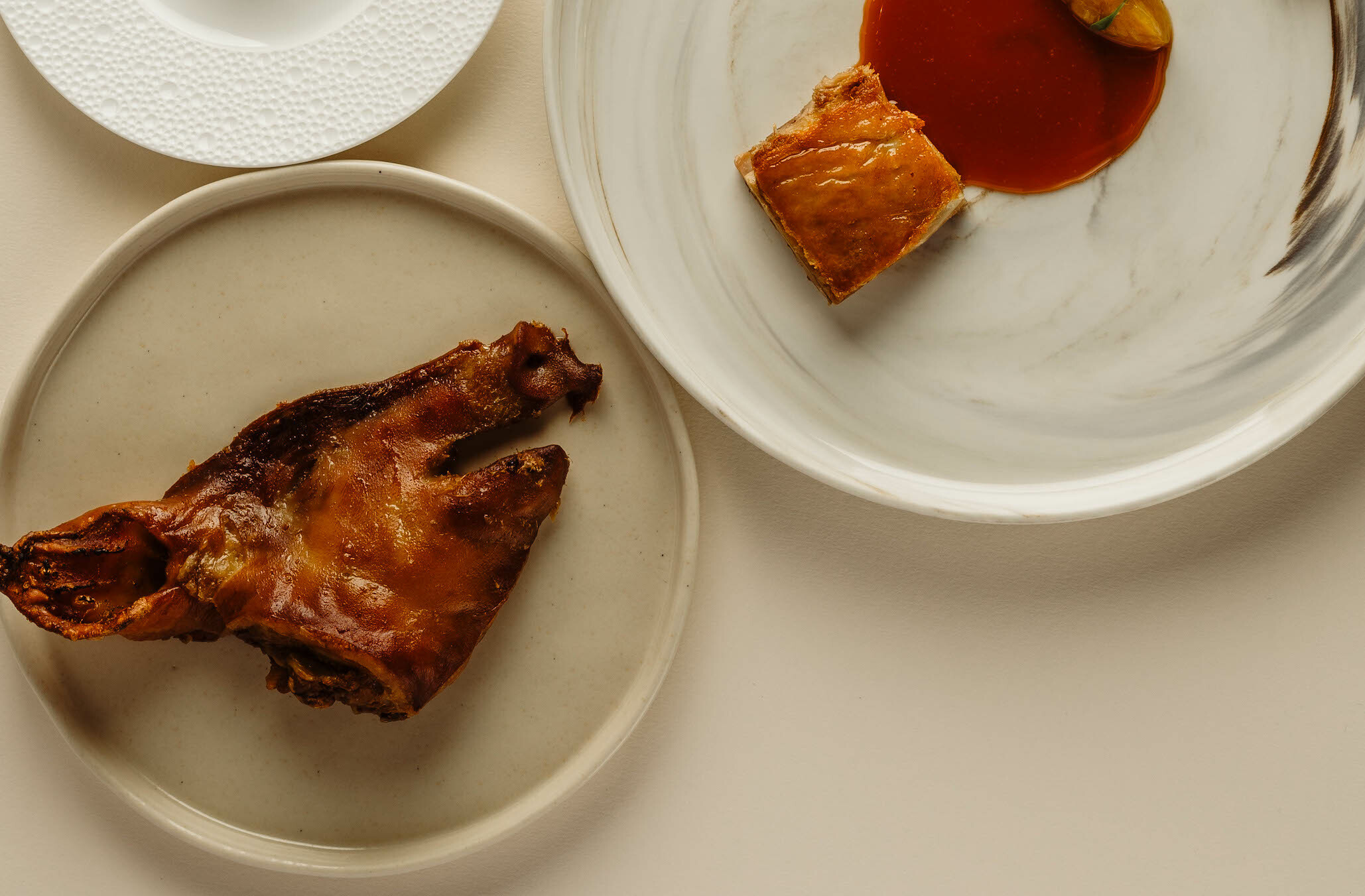 In the name of cultural and culinary immersion, perhaps swing an order of the pig's head ($25, half portion) prepared in century-old fashion. Meticulously deboned, the head is confit with herbs and spices before it is finished in the oven to treat the adventurous with its crunchy ears and tender jowl.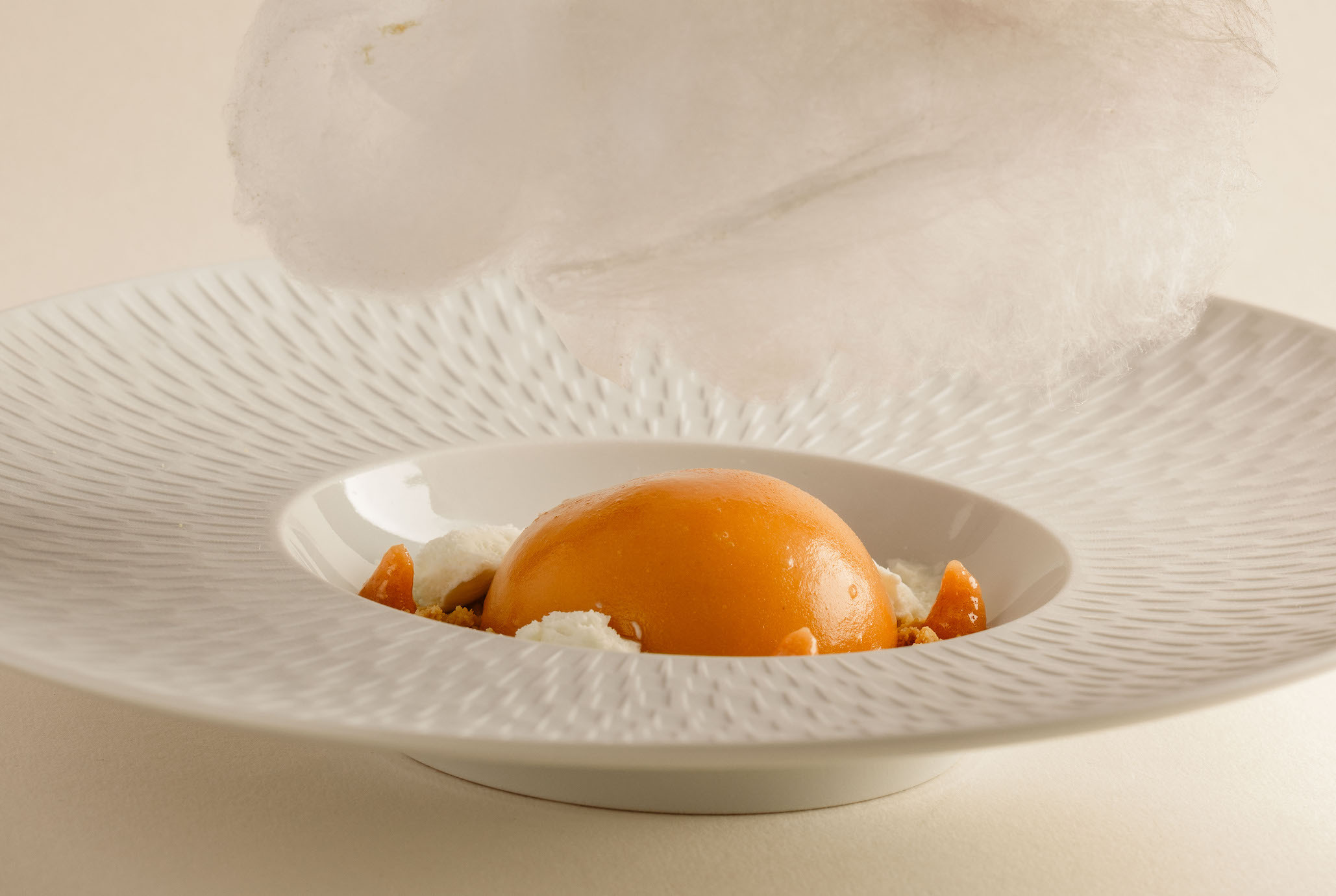 For dessert, local goat's milk is highlighted through several expressions in the lactic and guava dessert. Sitting on a bed of white chocolate sand, a sphere of milk mousse is covered in guava glaze and topped with wispy cotton candy. Dulce de leche, frozen buttermilk foam and drops of guava puree are included in the mix to give off sweet and tangy nuances for a perfect end to the course.
Book here.
READ MORE
The Last Supper at Mandala Club promises an epic culinary showdown
Three Michelin-starred SingleThread arrives in Singapore this July
Uncle Fong: The hottest hotpot restaurant in Hong Kong opens its first outpost at Great World