When it comes to the name Gaggan Anand, most would expect nothing short of an outrageous culinary affair. So when the eccentric chef decided to leave it all behind and serve up his greatest hits one last time for all at the members-only Mandala Club, one can't help but consider splurging on such an experience.
Literally dubbed as the "Greatest Hits", Gaggan Anand sets out to serve up the dishes that cast a global spotlight on him a decade ago before retiring them for good. It all began with a bogus passport with Gaggan's mug and emoji themed paste-ons that you can use to record your guesses of what will soon be served. At the end of the experience, the big reveal will be shared which was supposedly designed to keep diners on their toes throughout the course.
Raring to go as a young buck, it was in fact my first and ironically final foray with Gaggan Anand's cuisine – unlike my experienced dining companions whom some have even been to the now-defunct restaurant back in Bangkok.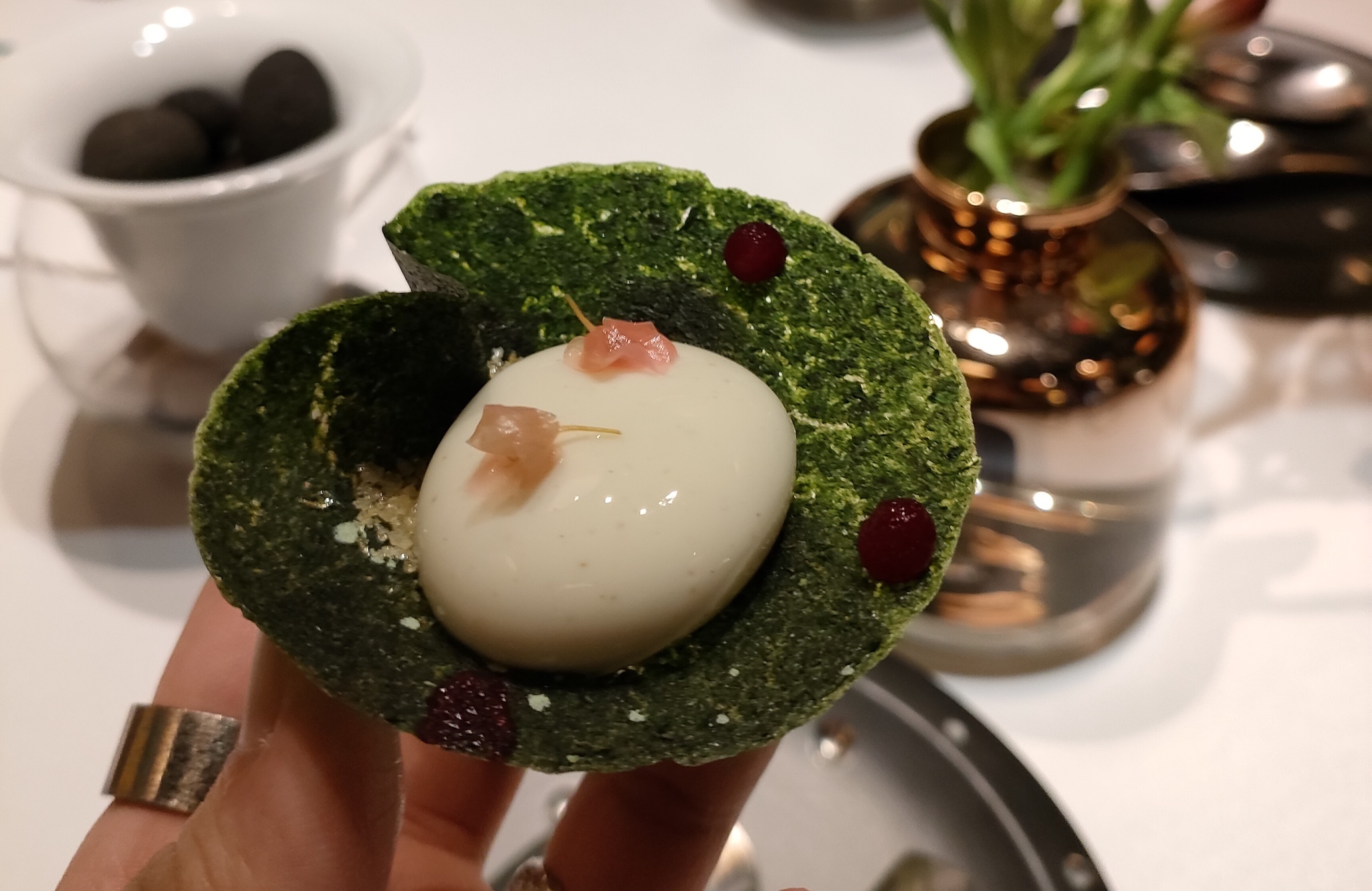 It all began with Gaggan's signature Yoghurt Explosion where a thin leaf-like crisp is replicated from dehydrated powdered green mint chutney, holding a white opaque orb made of tangy yoghurt charred masala, then topped with spherified black salt. It came with a strict directive to pop it entirely into your mouth which we did. A multitude of sensations soon followed, most notably the pop rocks sensation most of us are all too familiar with while growing up.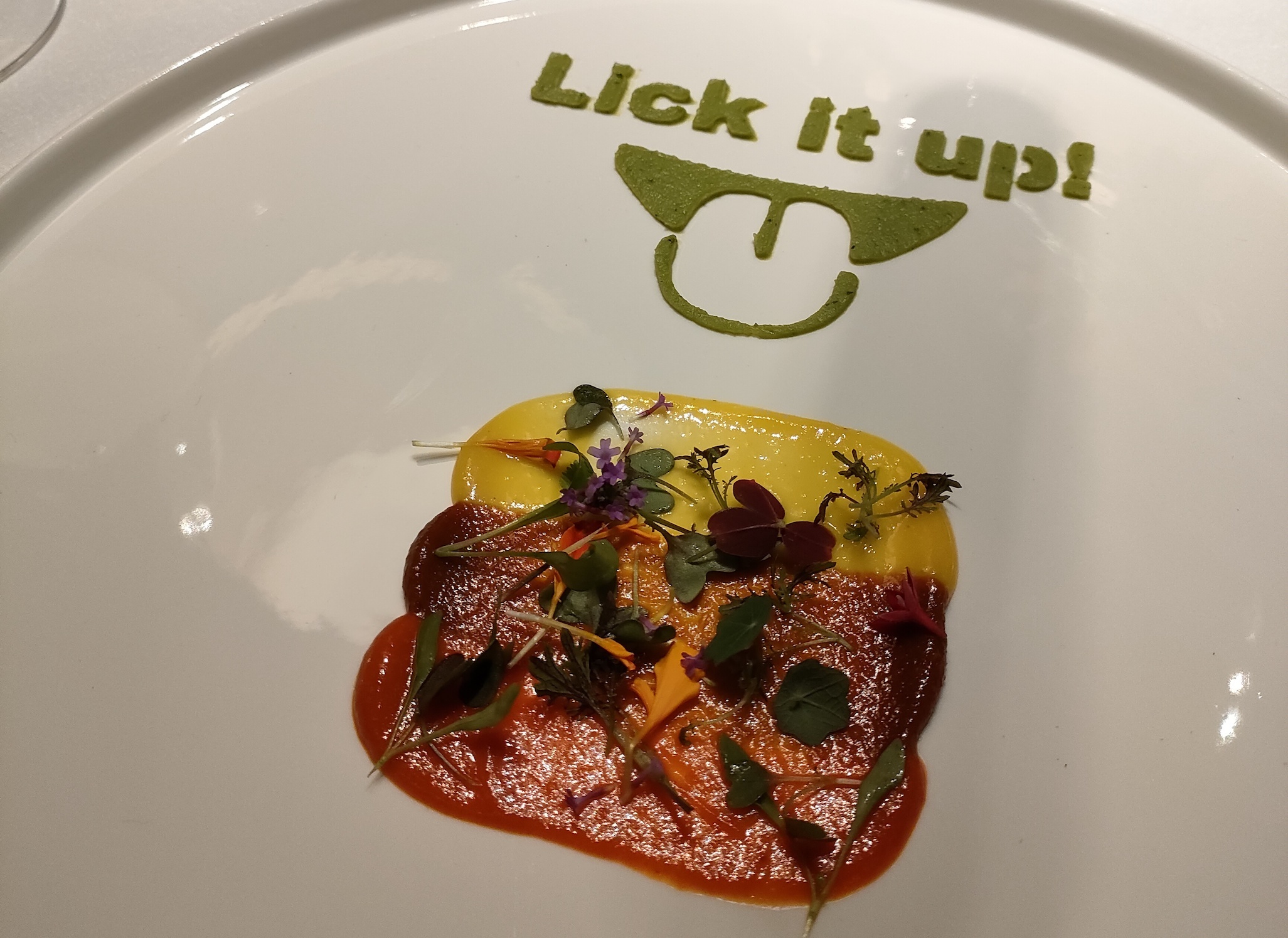 Next up, another signature dish that is usually consumed in sync with Gaggan's unapologetic rock star theatrics while the iconic KISS song Lick It Up played in the background. But without the eccentric chef around to turn the fine into fun, I knew I had to channel my inner Gene Simmons to make an experience out of it, and boy did I lick it up good. A combination of sweet, sour, and spicy flavours delightfully greeted my palate, reflecting the flavour profiles of mangoes, tamarind, and chillies.
Touted by the ever-enthusiastic waiter, the Charcoal is an evergreen classic for Gaggan Anand which almost guarantees different fillings each time it is served with past references including Mexican Mole, Chicken Tikka Masala, and even smoked eel stuffed in a crispy black crust made from mixing ashes from burnt vegetables and flour together. Upon hearing the aforementioned fillings, we can't help but fantasise about what we were about to bite into.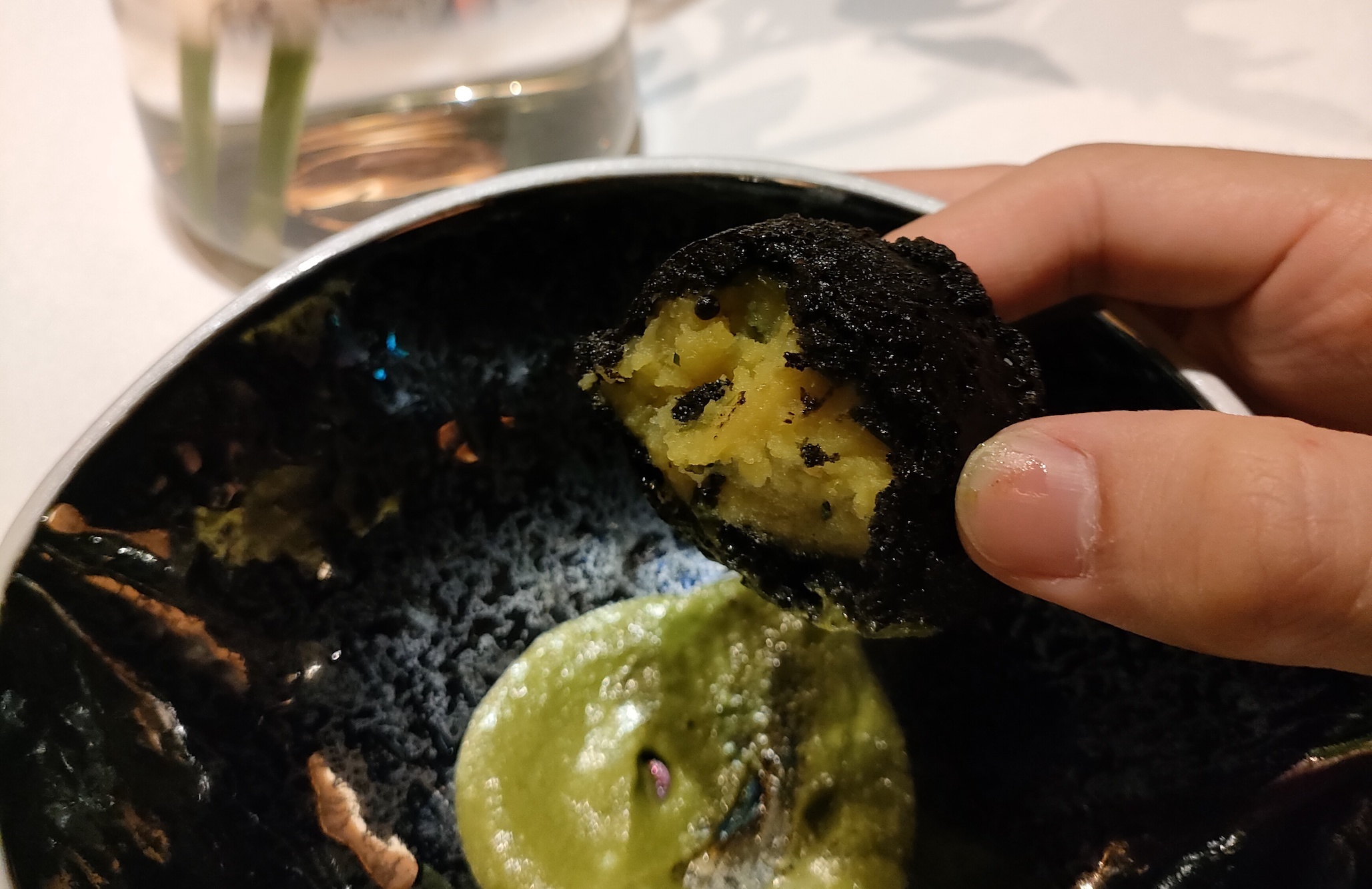 Moment of truth – we bit into mildly-spiced Aloo Gobi-style potatoes with hints of mustard and coriander. Without a doubt tasty in its own right, we can't help but feel a little disappointed. In short, a stark contrast from the painted narrative and a bit of a short change.
Conveniently, it also signalled the abrupt end to the "fine to fun" experience where we were deprived of cutleries in the beginning. Oh, remember the passport with the paste-ons? It wasn't up till this point that we collectively begin to forget about our rather rudimentary homework.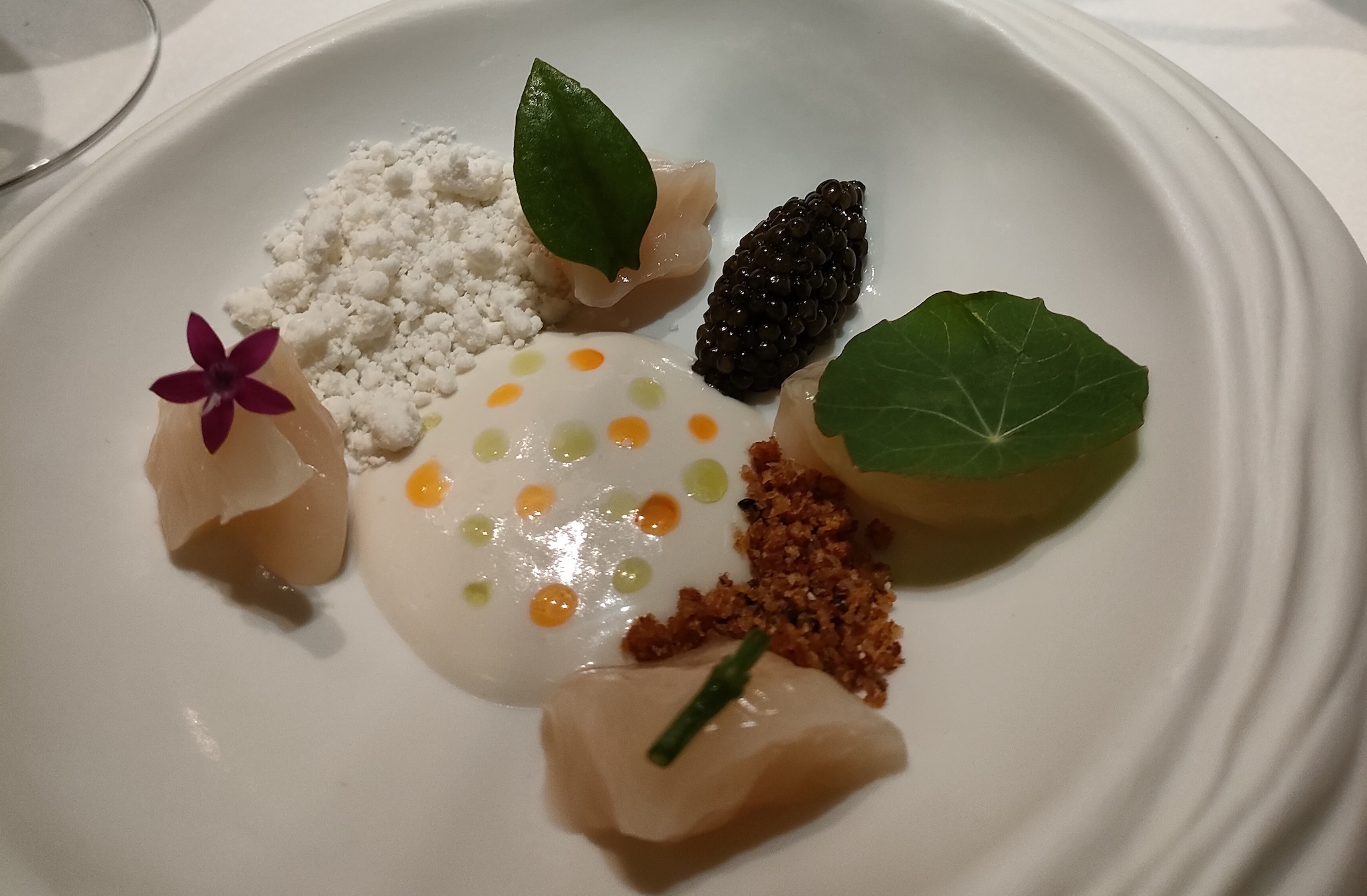 However, the disappointment was short-lived once the artfully presented cold curry dish was served. It starred sweet raw scallops served on a bed of creamy cold curry, a medley of three fragrant oils – chilli, curry leaf, and scallions, all topped with an intricate coconut milk snow and caviar. We were told to mess it up liberally before consuming, which fuelled a little chaos while rekindling the fun.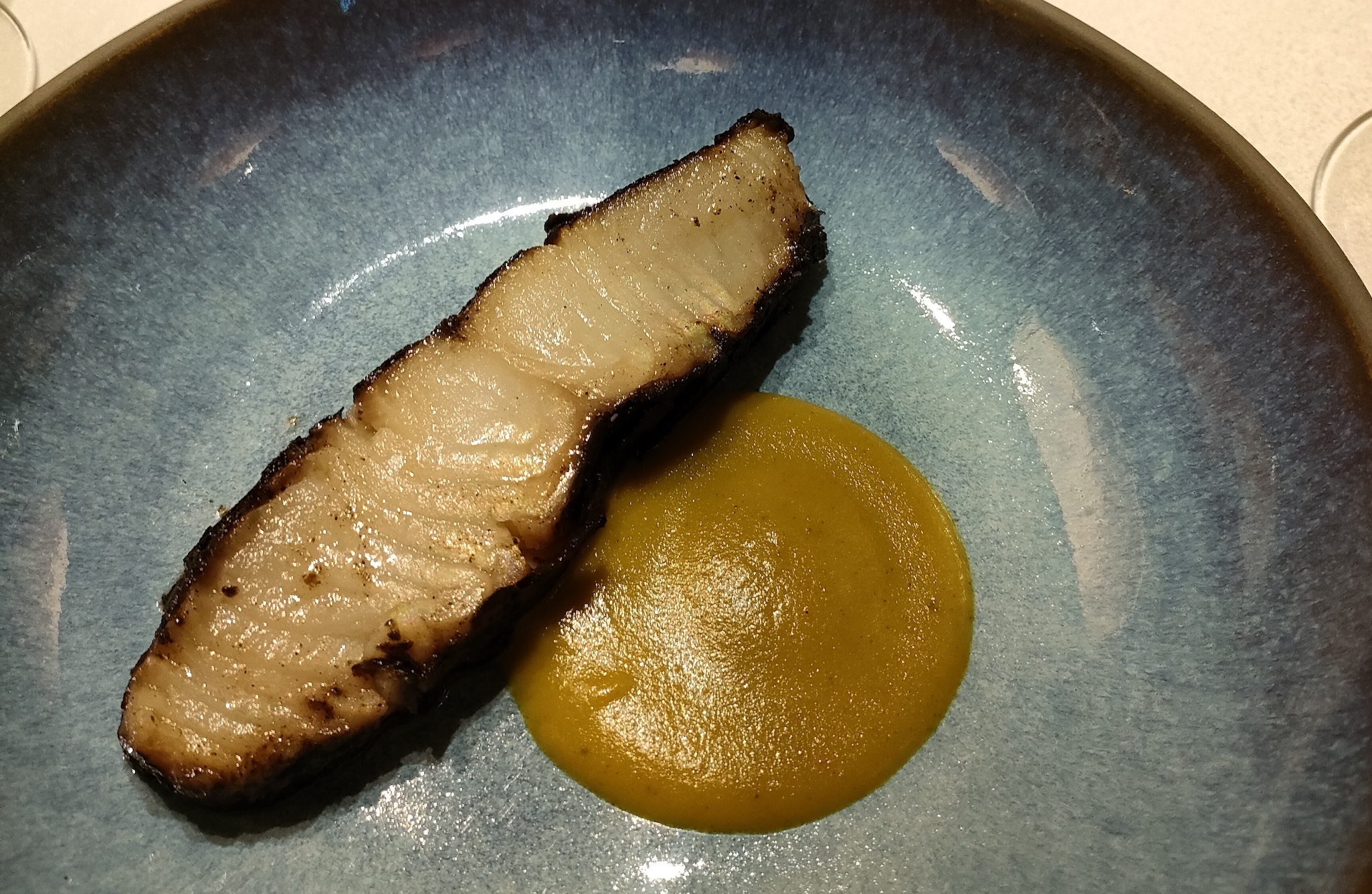 Anyway, that fun innovative spirit was short-lived as it felt as if the mains took a realm shift into normalcy. The following mains that arrived after were figuratively bland and if you're forking out a hefty price tag of $288++ just for lunch, we gotta say it's bang average. From a sous-vide wild Atlantic cod that overwhelmed us with tongue-curling levels of salt to a touch overcooked 14-day dry-aged duck, it doesn't take much to discern that Gaggan's appetisers simply outclassed his mains.
Wrapping up the act was Gaggan's classic dessert, Suck It, which saw mango and passionfruit yoghurt lassi in an infant bottle with a teat for obvious reasons. At this juncture, it's safe to say the novelty wore off for my dining companions as it felt as if they were just going through with the motion. On the other hand, I felt compelled to inject a little enthusiasm into the final act itself so as to avoid reducing my experience to sheer mediocrity.
CLOSING THOUGHTS My Gaggan-less experience did feel like attending a headlining rock concert without a frontman – not even an appearance from a hologram. But if like me, you've not had a chance to luxuriate in a Gaggan Anand experience until now, this compilation of his greatest hits is perhaps your best bet for once-in-a-lifetime culinary experience money can buy. I'll leave you with this – for your dollar's worth, be sure to book a table where the rebel chef isn't out of town, it won't hurt for you to call in to check.
Till June 30 only, book here.
READ MORE
Famous Le Matin Patisserie reopens on Good Friday with two new outlets at Robinson Road and Paragon
Market Street Hawker Centre reopens in style at CapitaSpring
A new seafood lover's enclave opens in the corner of Bukit Pasoh