Meat made from plants doesn't always taste like the real deal. But Tindle, the latest plant-based chicken alternative to reach Singapore, hopes to change that impression. Next Gen Foods, a local-based food technology company, collaborated with chefs to create a product that closely mimics chicken – both in taste and texture.
"We started with chefs because they are arguably the toughest critics," says chief marketing officer Jean Madden. "We're confident that Tindle is the only plant-based chicken that is versatile enough to be used across a multitude of cuisines and dishes."
The debut product, Tindle Thy, is designed as replacements for chicken thigh, and comes made with just nine ingredients, including water, soy, sunflower oil, and coconut fat. The result is a healthier alternative; it is hormone- and antibiotic-free, and even comes certified by the Health Promotion Board as a Healthier Choice option.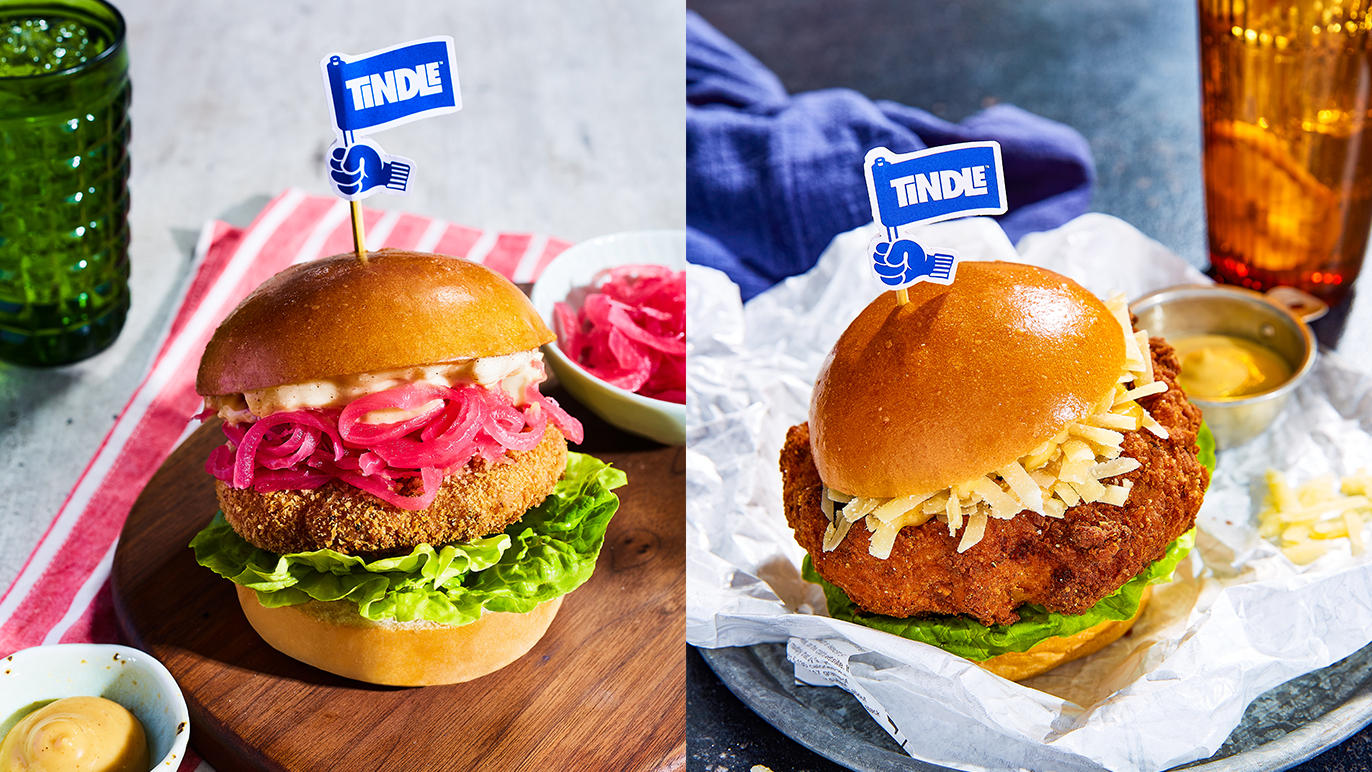 For a start, Tindle will be available at 11 restaurants and eateries across town from March 18. Over at Three Buns, sample four exclusive burger creations that showcase the product's versatility. There is From Russia With Love, a take on chicken Kiev that comes stuffed with roasted garlic, miso, and parsley butter; a buttermilk-coated The Big Cease with anchovy mayonnaise; and a mildly spiced Gong Bao patty, glazed with a sauce made from Sichuan peppercorns and chillies.
Visually, the Tindle patty looks (and even shreds) similar to blanched chicken breast. The texture is also reminiscent of crab cake – softer than chicken but still retains a meaty bite.
"We started with chefs because they are arguably the toughest critics."
Group executive chef of Three Buns, Adam Penney shared during a media tasting session that Tindle is easy to work with. Servings can be moulded to allow for different applications, and the cooking time is quick.
Other participating eateries Love Handle Burgers, and food truck The Goodburger, which will be giving away 100 free What The Cluck! burgers during the launch week (March 18, 19, 22, 23) at its Ocean Financial Centre location.
Aside from burgers, other participating eateries include Prive, which will serve a variation of katsu curry; ADDA's butter Tindle pot pie; and a chicken manakish from Levant.