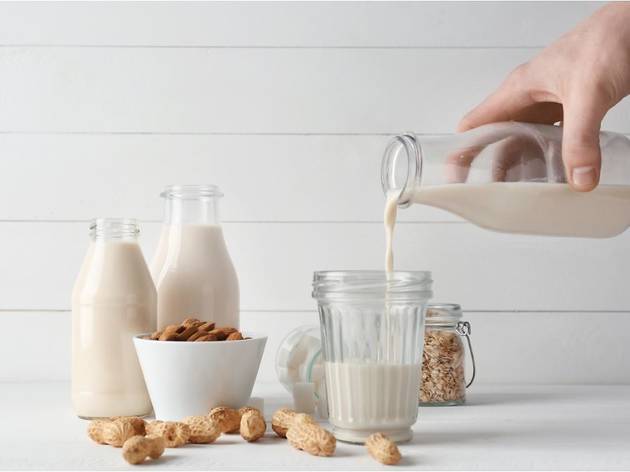 Where to buy plant-based milk in Singapore
Your daily dose of dairy-free milk
Sourcing for plant-based milk alternatives isn't as easy as grabbing a carton from the supermarket shelves. For those who are lactose-intolerant, or simply looking to cut out animal byproducts from their diet, dairy-free milk serves as a great substitute – it's healthy, creamy, and jam-packed with nutrients. If your nearby supermarket is low on the usual nut or soy-based options, these convenient places will deliver your plant-based milk of choice to your door.
RECOMMENDED: Restaurants in Singapore that deliver vegetarian and vegan options
Indulge in peace with the gut-friendly treats from this specialised eatery. In particular, The Gut's Feeling has an oat milk ($7) option that's made fresh upon order. Each bottle comes naturally sweetened with dates to raw honey, and there's even an option to have your oat milk come fortified with fresh ginger ($1.50). The eatery also turns its oat milk into dairy-free ice cream ($12), flavoured with dark chocolate and raw honey for a healthier treat.
Minimum order From $20, varies according to your location
Delivery fee $6
Order here order.tgf.com.sg/online-ordering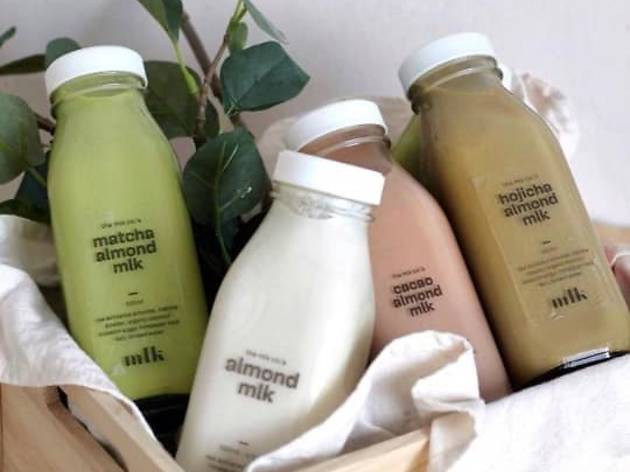 Photograph: The Mlk Co/ Facebook
Most supermarket versions of nut milk come pasteurised – it extends shelf life, but the high heat removes nutrients. The stuff from The Mlk Co is made using raw, untreated almonds, so you'll need to consume it within five days. Not that it'll be any issue finishing the milk – the brand promises a 25 percent almond ratio in its blend, resulting in a naturally creamy product (from $12.90). Other variants include almond macadamia (from $13.90), cacao (from $13.90), matcha (from $15.90), and hojicha (from $15.90).
Minimum order None
Delivery fee $4.99 for orders $19.99 and below, free for orders above $40
Order here themlk.co
Photograph: Nutty Milk Factory/ Facebook
More than just its health benefits, nut milk is also a carbon-friendly alternative to dairy products. And to further reduce the strain on the environment, Nutty Milk Factory uses a bottle exchange model for its nut milk delivery. Start by purchasing a milk bottle ($4.50) and fill it with your choice of creamy plant-based concoction: almond ($6.30), walnut ($6.50), pumpkin seed ($6), cashew ($7.20), date oat blend ($6.80), vanilla oat ($6.30), and more. Like the milkman from yesteryears, you'll have to rinse and leave your finished glass bottles outside your door. It then gets collected and brought back for sanitisation before getting refilled with more nutty goodness.
Minimum order None
Delivery fee From $6.80
Order here nuttymilkfactory.com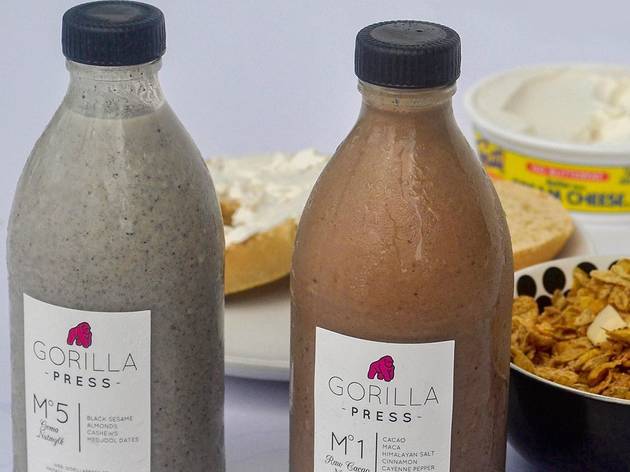 Photograph: @gorillapressco/ Instagram
The nut milk, or mylk, from Gorilla Press comes blended with activated nuts and a slew of other healthy ingredients to boost flavour and nutrients. A base of almonds and cashews can come enriched with cocoa, medjool dates, fresh mint, and cinnamon ($8); spiked with avocado and coconut sugar ($8); or made with black sesame ($8). If you need your morning cuppa, Gorilla Press also has a cold brew option ($6) with nutmylk, and an earl grey blend ($6) with Calabrian bergamot.
Minimum order $40
Delivery fee $9
Order here Call 9178 8927 or email feedme@gorillapress.co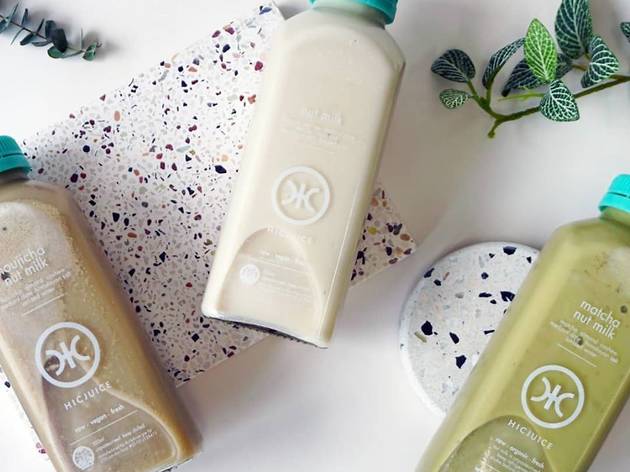 Photograph: Hic Juice/ Facebook
You'll find a huge range of nutrient-dense concoctions from Hic Juice's menu. Apart from its detoxifying selection of fruits and vegetable juices, it also has a version of nut milk ($15.50) that's made with healthy, plant-based ingredients. A combination of almond and cashew is blended with medjool dates, vanilla, cinnamon, Himalayan salt, and ionised water to create a hearty bottle that can function as both a meal-replacement and a guilt-free dessert. For a natural dose of caffeine, the nut milk also comes blended with matcha ($15.50) and hojicha ($15.50).
Minimum order None
Delivery fee $20, free for orders above $80
Order here hicjuice.com
Best selling Time Out Offers