Early this month, Zouk Group announced its plans to evolve the nightclub into a 360-degree lifestyle destination. Since the circuit breaker, the rave cave has temporarily closed its dancefloor, bringing DJ sets and even home workouts and cocktail masterclasses to the virtual space. While we can't have a little boogie at the epicentre of Singapore's nightlife just yet, we most definitely can work up a sweat to pumping beats and catch a movie on the big screen at Zouk as it turns into a spinning studio in the day, and a cinema by night.
From October 30, cinephiles can take their movie-watching ritual to the next level with Zouk's pop-up cinematic experience: Zouk Cinema Club. It's set to open from Wednesday to Saturday, from 6pm to 10.30pm, with one screening session per night showing two movies. Instead of those hypnotic visuals that accompany DJ sets, the big screen will be screening throwback classics, starting with Halloween cult classics such as The Sixth Sense and The Nightmare Before Christmas.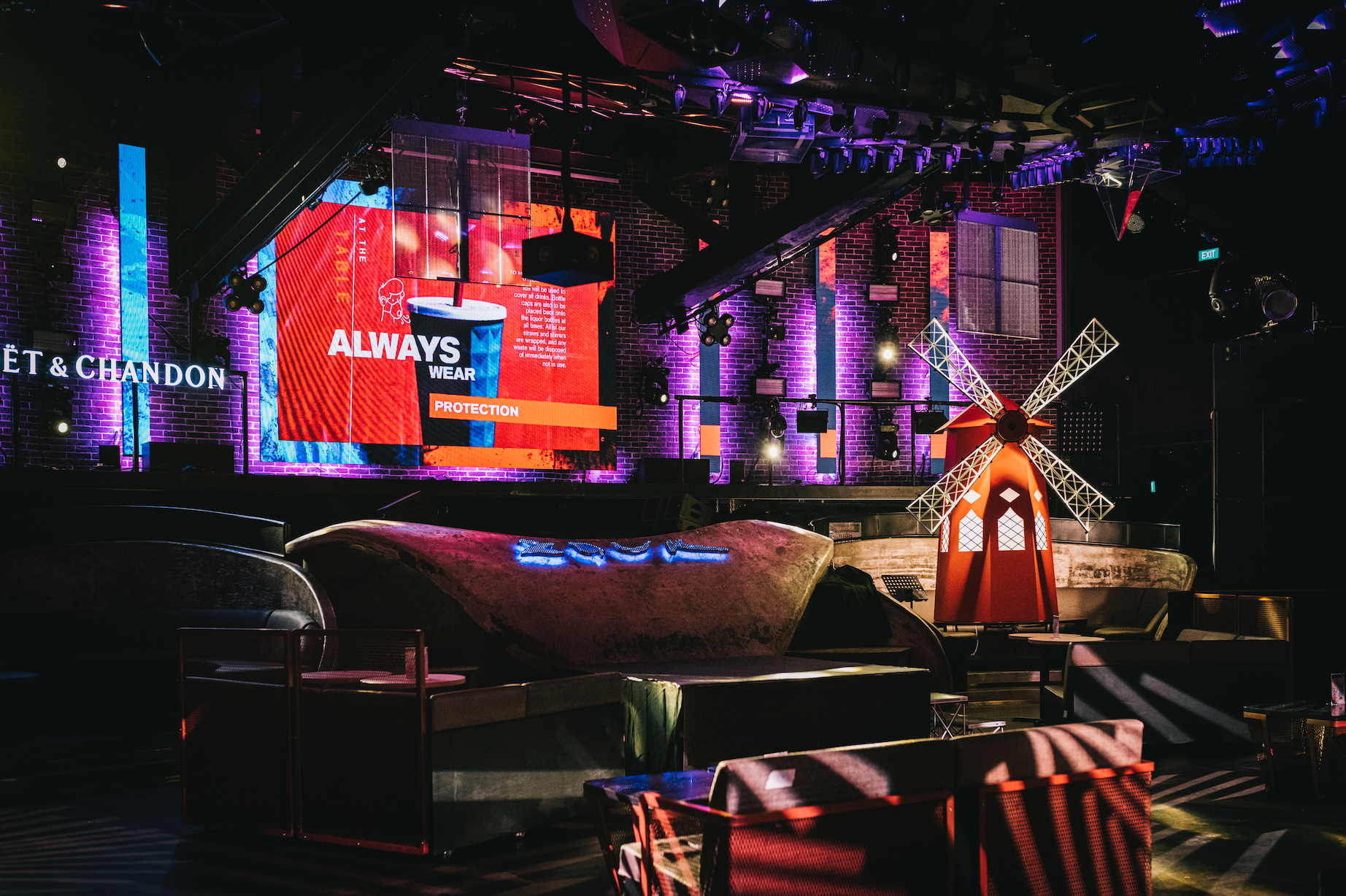 In November, expect a lineup of throwbacks centred around the theme 'For The Love of Music' – perfect for a romantic date night. Look forward to musicals such as Moulin Rouge, Grease, and The Greatest Showman. Besides the snazzy lighting and quality sound system, the main room will also be decorated to mirror the famous red windmill of Moulin Rouge in the City of Love – Paris, France. And what's sweeter than a bottle of bubbly and a bowl of Garrett popcorn to share?
Similar to all other cinemas in the city, Zouk Cinema Club operates at limited capacity, with a maximum of 50 people and 14 tables per night. You'll also have to check in with the TraceTogether app or token, maintain a safe distance of at least one-metre between other groups, and wear a mask unless eating or drinking.
Table packages start from $75 for up to two movie-goers and $175 for up to five on Wednesday, and include a choice between house pour spirits or Zouk's signature Long Island Iced Tea. If you don't mind splurging a little more, table packages start from $150 for up to two (with a bottle of champagne) and $350 for up to five (with both champagne and premium vodka) from Thursday to Saturday. For more information including securing your seats, visit zoukclub.com/outlets/cinemaclub.
More things to do this weekend:
Changi Airport opens new park connector that links to East Coast Park
Nightclub Zouk is now a spinning studio by day, and cinema by night
Walking, cycling and kayaking tours in Singapore to accommodate groups of twenty people