Hawker spotlight: Authentic Hock Lam Street Popular Beef Kway Teow
Each month, we check out a hawker and recommend a local dish to try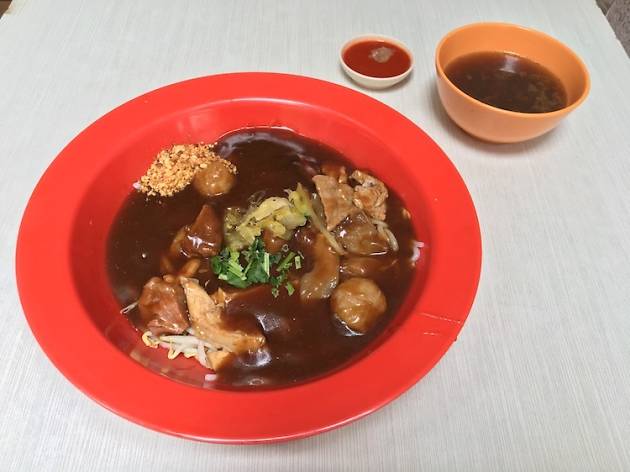 The Time Out Singapore team recently switched out our shophouse office at Ann Siang Road (goodbye Maxwell and Amoy Street Food Centre. You will be missed) for shiny new digs on Hongkong Street. And that means plenty of new eateries to check out during lunch. One of the places we walk past every day now is Authentic Hock Lam Street Popular Beef Kway Teow, with an emphasis on the word 'popular' as it sees constant long queues out its door.
Despite it being a scorcher of a day on our most recent visit, we brave the heat and wait for a taste of this legendary dish that was first sold on Hock Lam Street back in 1921. Owner Francis Tan is a third-generation proprietor and has kept to his grandfather's original recipe – right down to the stall's fiery chilli sauce you're meant to ladle into your bowl. Choose your preferred noodle, toppings of various cuts of beef such as tripe, brisket and tendon and decide if you'd like it to be served in a herbal soup or a thick sauce. We recommend the Supreme Mix ($9.50/$10.50) for a bite of everything or the sliced beef and brisket ($7.80/$8.80) for the less adventurous. The robust soup tastes like its been stewing for days in a bubbling pot and the silky noodles slide easily down the throat. Each cut of beef is also incredibly tender – you won't find yourself chewing for an eternity only to have to spit a sinewy piece of meat out.
Go there now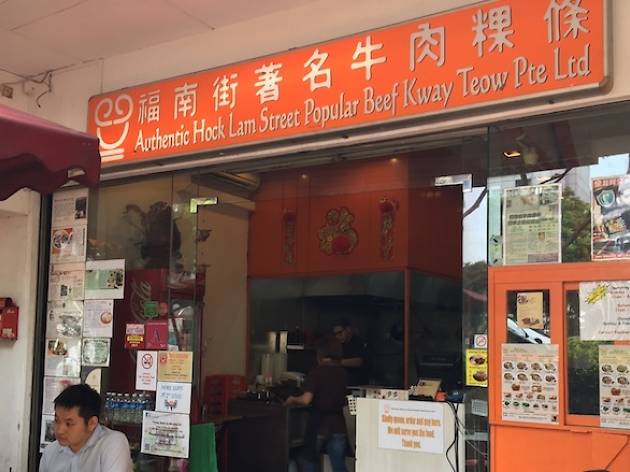 Head down to Raffles Place and taste the noodles for yourself – we bet you'll be licking your bowls clean in no time.
More to explore