Hawker spotlight: Inspirasi Stall
This household name sets the benchmark for Malay comfort food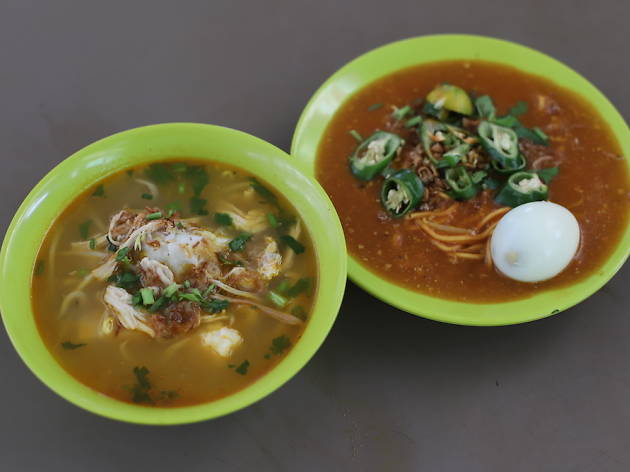 Queues form even before the stall is open for the day. After decades of serving staple Malay dishes, Inspirasi needs little introduction. Managed by second-generation hawker Rashid Bin Amat, 55 and three of his siblings, the stall's roots can be traced back to 1970 when Amat's late father first arrived from Indonesia and came up with Inspirasi's recipes to make a living.
"Back in the day, we used to sell satay as well," Amat recalls. But after some experimentation, the family decided to focus on four signature items: mee soto, mee rubus, soto ayam and chicken porridge.
For what it lacks in variety, it makes up for in quality. "Having fewer items on the menu gives me enough time to cook each dish with the attention it needs," he explains. "It ensures that everything is packed with as much flavour as possible."
Order yourself a messy bowl of mee rubus ($2.50) and dig into yellow noodles that are cooked just right doused in a rich yet well-balanced gravy. Sweet potatoes, tau cheo and ikan billis are the heroes of the dish. For something a little lighter, opt for the mee soto. The chicken stock is boiled for hours in a cauldron so you don't have to worry it being too watery. And though the mee rubus and mee soto ($2.50) are the perennial crowd pleasers, don't miss the soto ayam ($2.50). Nasi impit and tender pieces of shredded chicken are doused in the same sweet and savoury turmeric-spiced broth to make for a hearty meal. The portions here aren't all that generous but for the more than reasonable prices, we're not complaining.
Unfortunately, you have to make the trip to Bedok in order to try this hawker legend. When asked if they were looking to expand, Amat shared that he previously tested out a second outlet at Changi Village but simply didn't have the manpower to keep the stall running. "I'm happy with the way things are, I think being a small family-run business is what makes us special," he adds. "I'm not getting any younger so, at this point, I'm just hoping that my children are keen to take over the business when the time comes."
#01-11, Bedok Interchange Hawker Centre, 207 New Upper Changi Rd. Bedok.
3 questions with Rashid Bin Amat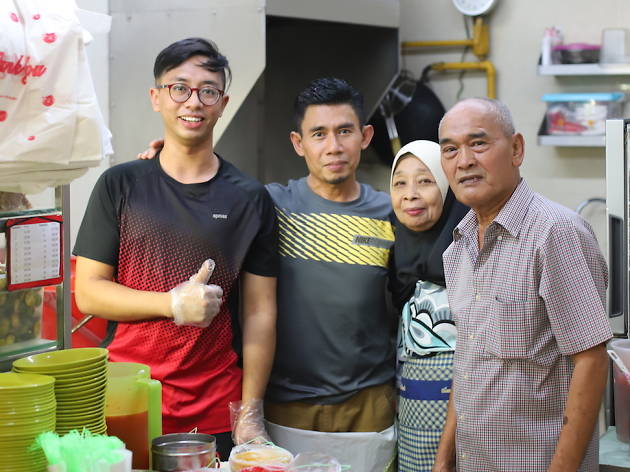 1. What's the biggest challenge you face?
Though business has been going smoothly all these years, I still get rather affected by the harsh feedback we sometimes receive. It's more common now with social media and online reviews. But I'm slowly coming to terms with the fact that – especially in the food business – there are always critics out there and it's often difficult to please everyone. We just have to do the best we can.
2. What's your favourite dish on the menu?
I love everything on the menu, of course. If had to choose just one dish, I'd go with the mee rebus.
3. What's a day in your life like?
After I'm done with my morning prayer, I head straight to the stall. Hours are long – we usually work till about 10.30pm. Sunday is my only rest day so I make sure to spend it with my children.
Go there now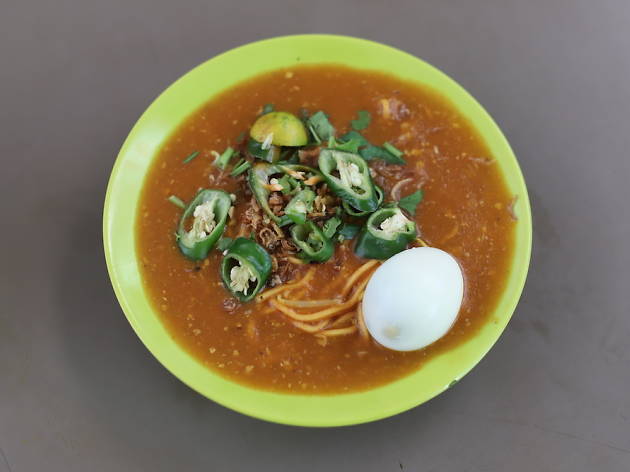 Visit Rashid Bin Amat at his stall in Bedok for $2.50 bowls of mee rebus and soto ayam