Heads up! We're working hard to be accurate – but these are unusual times, so please always check before heading out.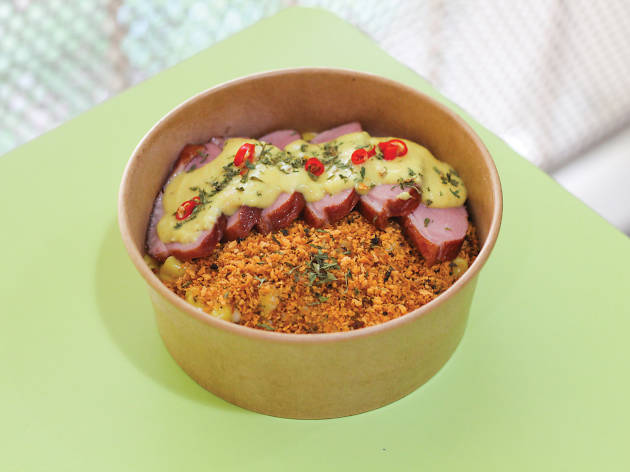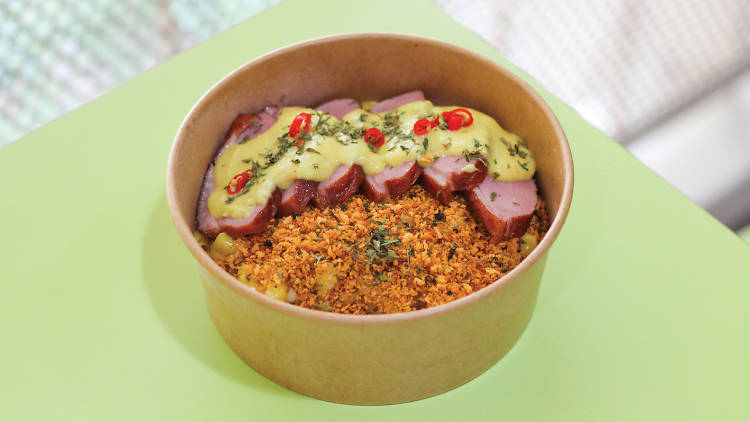 Hawker spotlight: Mama's Boy Bakes
A cheesy love for cooking fuelled two friends to become young hawkerpreneurs
It started with a grilled cheese sandwich.
Fahmy Putra made it for his mother when he was younger. The sandwich was the first dish he had ever made, and it put a smile on his mother's face. It struck him then that food has the ability to make people happy, and that sparked his interest in cooking.
It was also then that the now 32-year-old's affinity with cheese first began. Fahmy's favourite dish growing up was macaroni and cheese, but he couldn't find a version in Singapore that he really enjoyed. Naturally, he decided to whip up his own. He researched various recipes and using quality ingredients. He decided to set up Mama's Boy Bakes two years ago, selling batches of his macaroni and cheese prepared in his own kitchen.
The home business soon bloomed into a bigger ambition, fuelled in part by the request of many customers: when will Mama's Boy Bakes open a physical store? Together with his business partner Samuel Loh, 26, the duo took the plunge. But they weren't looking to set up shop in the coolest neighbourhood or hip café enclaves. Instead, they wanted to be hawkers.
"We realised that there aren't any macaroni and cheese-focused hawker stalls," says Samuel. "So why not be the first?"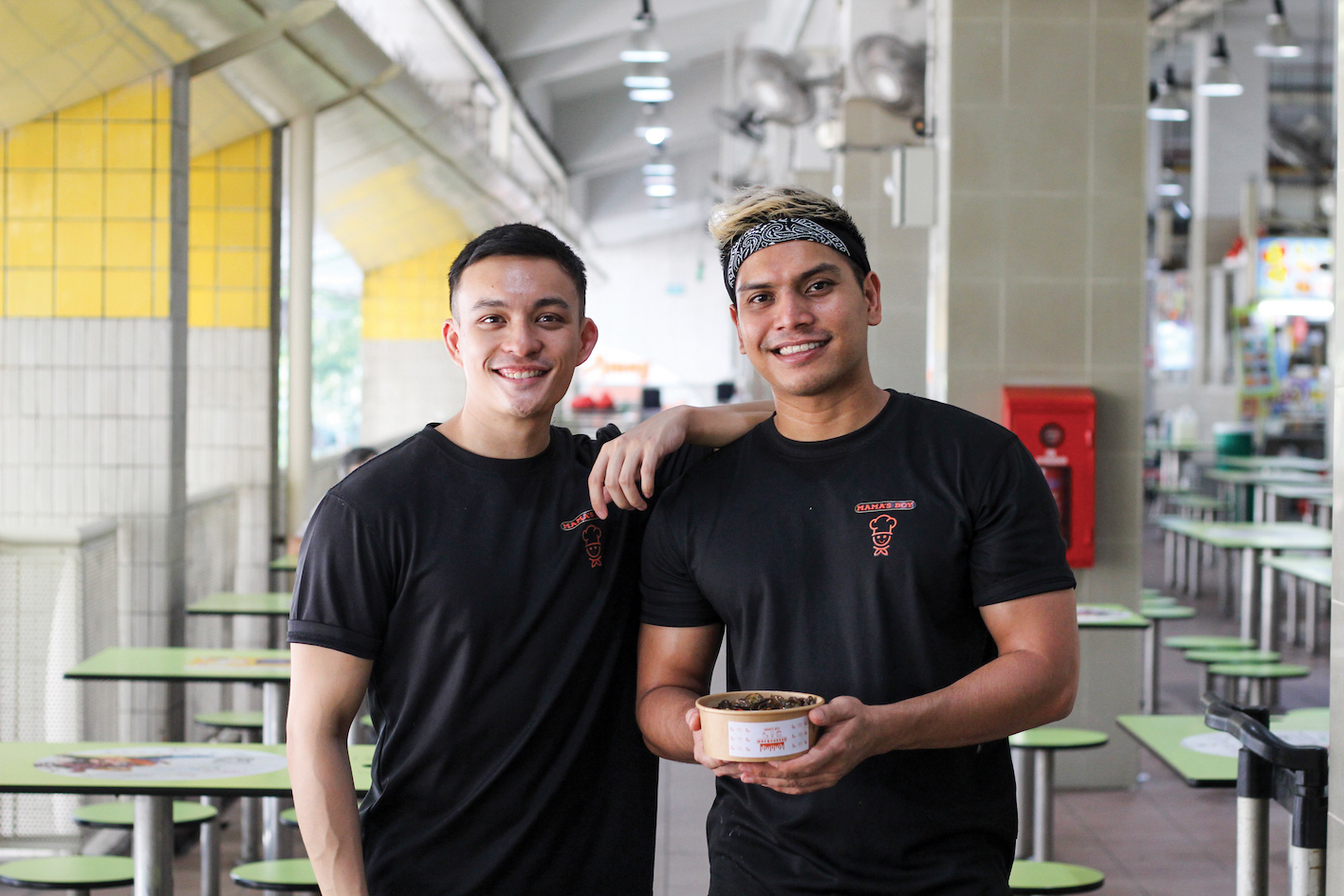 Aside from their classic macaroni and cheese ($8.50) made from a special four-cheese blend, the pair also jazzed up the menu with unique flavours like Korean gojuchang ($9.50) and butter chicken ($9.50). In particular, the lemak chilli padi ($10.50) is Fahmy's ode to his mother – a dish that she made for him growing up. Cheese sauce is swirled with coconut, cumin, chilli, and other spices to lend a deep, fiery kick. More cheese is sprinkled on top, then torched, before the dish is crowned with slices of tender smoked duck.
More than just creating the menu, making the switch from home business to first-time hawkers came with its own set of challenges too. For one, the lunchtime frenzy at Amoy Street Food Centre was something they did not anticipate when they first started two months ago. "Everything is so fast-paced," says Samuel. "When cooking back at home, we could take our time," he jokes.
They also have to work beyond the stated operating hours – prepping beforehand, and staying back after to wash and clean. "Then you have to repeat all over again," says Fahmy.
"It might sound hard and tough, but we do enjoy it because it's something we do from our heart," says Samuel. "I won't call it a business. It's our baby. It's something that we want to cherish and see grow."
3 questions with Fahmy and Samuel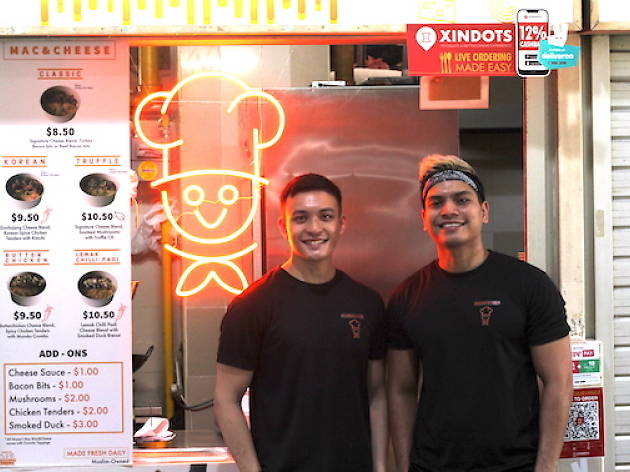 1. How is the working environment like?
Everyone is very supportive. The neighbouring stalls gives us tips and suggestions. It makes us feel like we have many co-workers.
2. What makes your macaroni and cheese different?
Ours does not have that 'cheese pull' effect. Those rely on mozzarella cheese, which is usually bland. The cheeses we use don't give that effect but are tasty.
3. Which do you prefer: cooking at home or at your stall?
At our stall. That way, home doesn't become your workplace. And the house won't constantly smell like cheese.
Go there now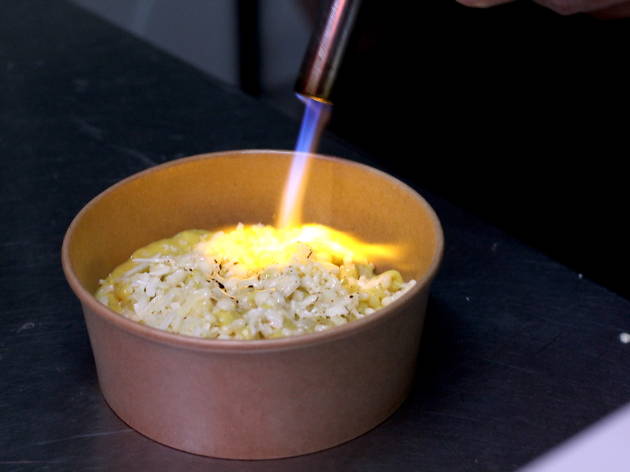 The first macaroni and cheese-focused hawker stall