Hawker spotlight: Tiong Bahru Yi Sheng Fried Hokkien Mee
Each month, we check out a hawker and recommend a local dish to try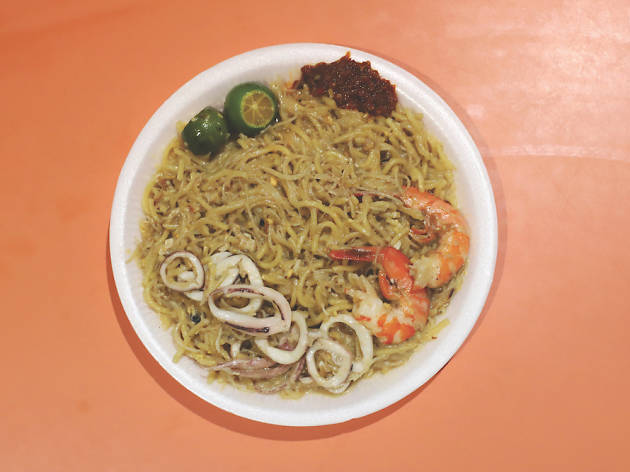 Don't be fooled by the stall's name – Tiong Bahru Yi Sheng Fried Hokkien Prawn Mee has been housed in Jalan Bukit Merah's ABC Food Centre since 1993 and there's still a relentless queue snaking around the shop 'til the late hours of the night, when loyal customers clear up the final few plates of this carby delight.
It's hard to pass up a comforting serving of Hokkien mee lovingly prepared by owner Toh Seng Wang, who has been dishing out his wildly popular prawn noodles for over 40 years. It's an absolute treat to witness the 68-year-old – who's as strong as an ox – raising his ladle high up in the air, showering the noodles with stock and working up a storm with his giant wok. His noodles are doused in a prawn stock that is painstakingly prepared every day, paired with pre-peeled juicy prawns and sotong. When he pops that huge wooden lid open – another sign that this place is legit – it won't be long until you are greeted with piping hot noodles steeped in a rich crustacean sauce (and history).
Yi Sheng's humble beginnings date back to the 1950s, when Toh's father would roll out the hearty dish in a pushcart along the streets of Tiong Bahru. The recipe was passed down to his son in the 80s and now Toh says: "I will never leave (this craft), I will fry until I can't fry any more." And don't be afraid to ask for an extra serving of sambal. Trust us – it's that tasty.
Quite the traditionalist, Toh follows his father's recipe to a tee, only making slight changes over the years to suit his customers' preferences. Each plate of robust goodness goes for $4, $5 or $6.
When asked how he bears to stand for such long hours cooking each day, Toh says: "Aiyah! It's just four or five hours! Once I enter the kitchen around 3pm, I don't leave until we close." Sadly, on the topic of finding a successor, Toh reveals there'll be no third generation: "I can't find someone to take over. For now, I will do as much as I possibly can until I can't do this any more."
3 Questions with Toh Seng Wang from Tiong Bahru Yi Sheng Fried Hokkien Prawn Mee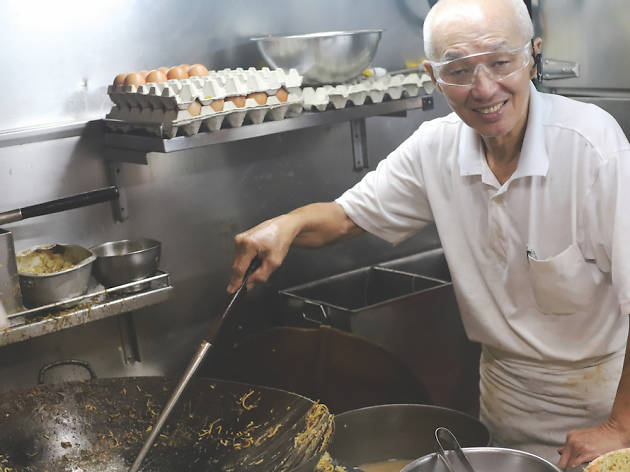 1.What is the most fulfilling aspect of being a hawker for over 40 years?
To have people's support. If everyone finishes the food, we'll have a sense of fulfilment. It proves that what we fry caters to their taste.
2. What are the most difficult elements of cooking Hokkien mee?
You have to manage the oil well. The heat must also be well controlled. You only figure out how much oil to use with experience. It's not simple, it's a craft.
3. What advice would you give to youngsters who want to start hawker businesses?
You have to use your smarts to think and do. It's not like learning to write, when I hold your hand and ask you to learn. Recipes are best passed on by someone teaching you in real time. My father told me not to put in too much oil, so I listened carefully and improved. It's only when you accumulate experiences that you truly learn something. Some customers tell me the noodles are too oily or salty. You must accept, ponder on the mistakes and improve.
Go there now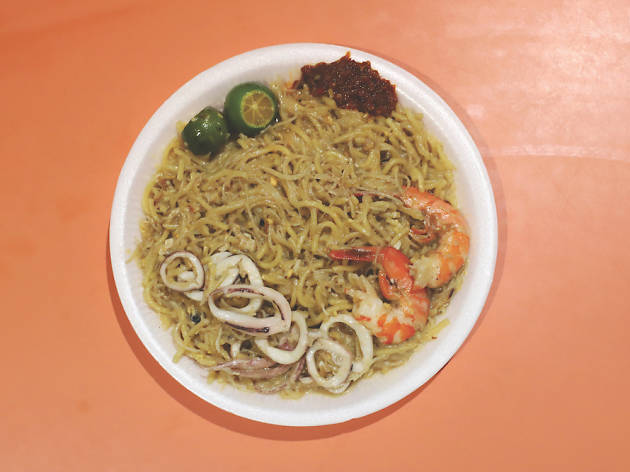 Visit Toh Seng Wang's humble Hokkien mee stall at ABC Food Centre and dig into this delicious dish.