Heads up! We're working hard to be accurate – but these are unusual times, so please always check before heading out.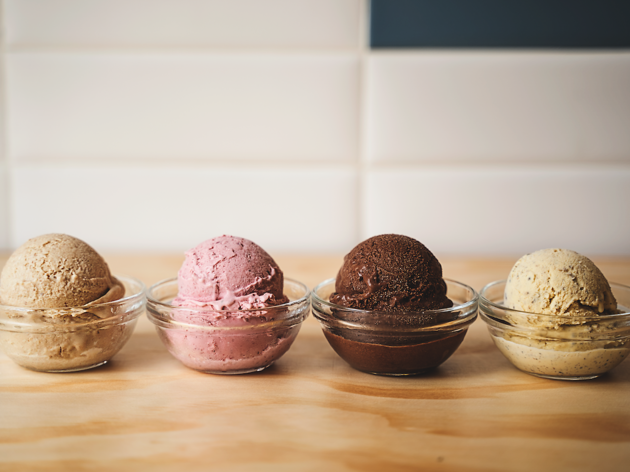 The best healthy and guilt-free ice cream in Singapore
Grab a spoon and indulge in these healthy, creamy frozen treats
The ice cream at Mrs Plump's comes filled with fruits, seeds… and even leafy greens. These natural, superfood-infused sweet treats are the brainchild of Mia Kusen who wanted to create healthy ice cream that's as indulgent as it is nutritious. Popular choices include the decadent chocolate kale ($4.90), strawberry yoghurt, and vanilla speckled with chia seeds. Made without preservatives, the ice cream here melts faster than the usual icy treat. But Mia has one easy solution: "eat it quickly".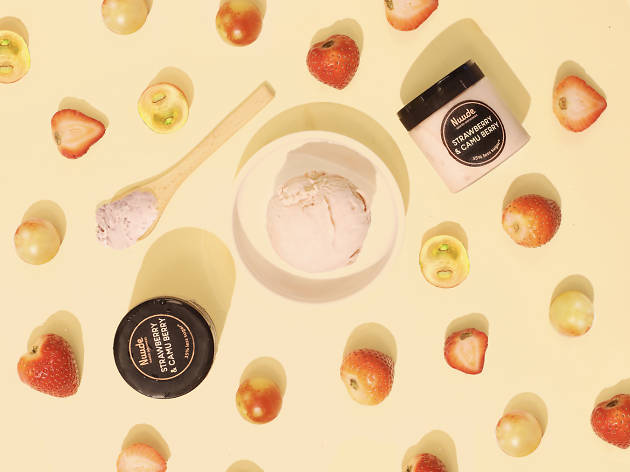 Photograph: Nuude Ice Cream
Think of Nuude Ice Cream as the skinnier, leaner sister to homegrown ice cream brand Udders. After all, it's made with all-natural ingredients to give you an indulgent treat that packs much fewer calories, sugar, and fat than regular ice cream. The vegan-friendly product also comes fortified with nutrient-dense ingredients: cacao nibs, goji berries, and camu berries. Flavours include the indulgent dark chocolate with cacao nibs sorbet, refreshingly aromatic Alphonso mango and kaffir lime sorbet, strawberry and camu berry, and the simple vanilla and goji berry. Sample a scoop ($5.50) from Naiise Iconic, or grab a single serving pot ($5.50) from the nearest NTUC Finest outlet.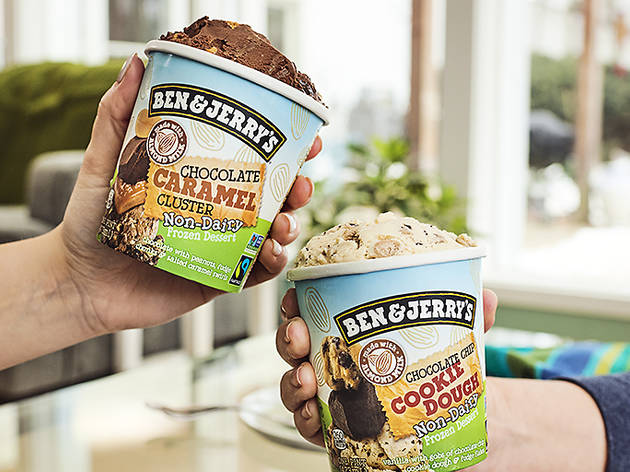 Photograph: Ben & Jerry's
The chunky, rich, and indulgent pints from Ben & Jerry's should hardly be considered healthy. But they have two waist-friendly range to choose from to help ease the guilt when digging into its famous ice cream. The Moo-phoria range ($14.90) – with flavours of Chocolate Cookie Affair, Caramel Cookie Fix, P.B. Dough, and Mocha Fudge Brownie – has just 150 to 160 calories per serving due to the usage of organic skim milk. You'll still get the full creamy flavour without having to worry about the extra time you need to spend at the gym. Those who are lactose-intolerant can reach for its Non Dairy range ($14.90) at the supermarkets aisle instead. Expect the same loaded bite in its dairy-free flavours, including the hot-favourite Chocolate Chip Cookie Dough and Chocolate Caramel Cluster.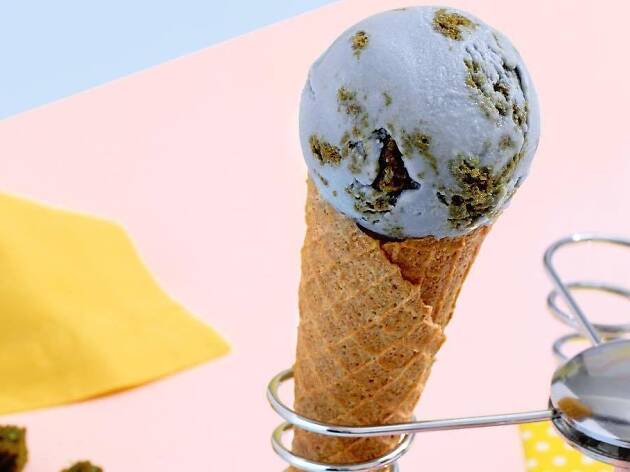 Kind Kones scoops up ice cream that is, well, kind on your waist. Its range of healthy, vegan, and largely gluten-free products are made from scratch using chemical-free ingredients. Eggs and dairy products are omitted, and the ice cream parlour uses leaner alternatives like coconut, cashew, and almond milk as the base instead. Flavours might differ depending on when you visit, but highlights include the Blue Planet, made with coconut milk, cashew milk, vanilla, and butter pea flower swirled with pieces of matcha cake to resemble the planet Earth.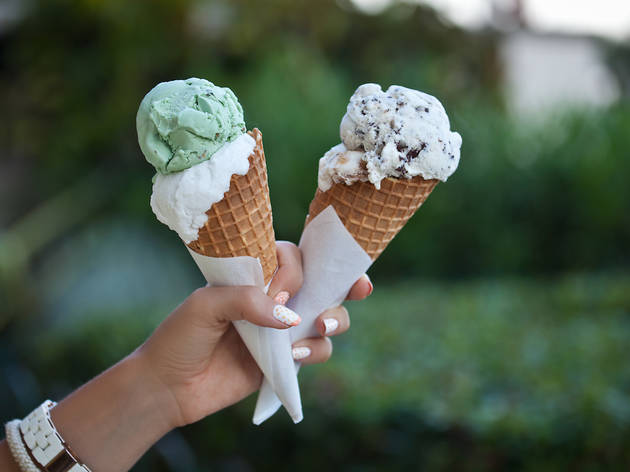 Smoocht serves up scoops of r'ice creams – a frozen treat made from brown rice and other natural ingredients. These vegan and lactose-free treats are sweetened naturally with organic sugar cane juice, and flavoured with real fruits and various kinds of nut butter to give you wholesome creations such as black sesame, coconut, and mocha. Ice cream cakes are also available for pre-orders.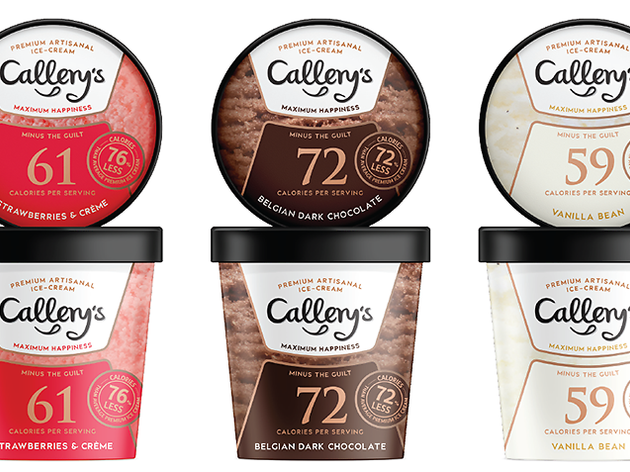 The ice cream from Callery's ($16.90) promises "maximum happiness, minus the guilt" – a tall order considering that it claims to contain fewer calories, sugar, and fat as compared to regular ice cream brands. But it's still intensely flavoured, with classic options that include vanilla bean, Belgium dark chocolate, and strawberries and crème. Each serving packs between 51 to 72 calories, so go ahead and reach for that second scoop. Pick up a pint from any NTUC Fairprice Finest outlet.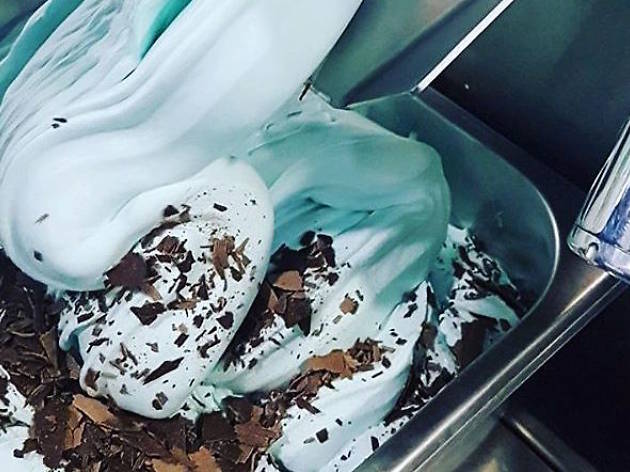 Made with no artificial sugars, high in probiotics, and free from preservatives, Sugalight promises to be just as creamy as regular ice creams. Flavours available include avocado, dairy-free dark soy chocolate, cappuccino, and mango sorbet. Beyond just frozen treats, Sugalight has also expanded into making sugar-free cakes and Chinese New Year cookies. Try it by placing an order from its online store, or head down to a partnering cafe.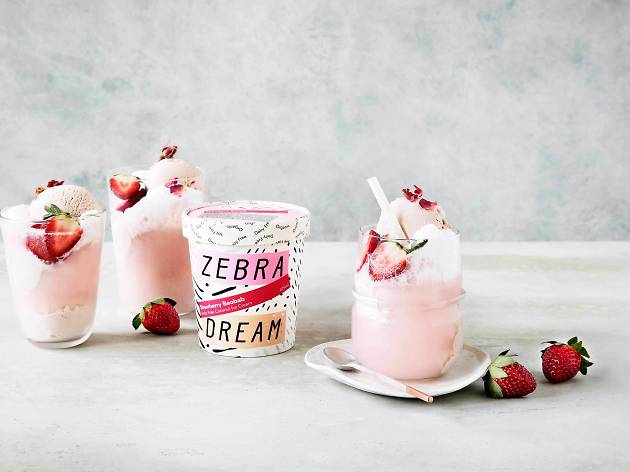 Zebra Dream
Go coco for the coconut-based creations by Zebra Dreams. This Australia import is friendly to most diets: vegan, soy-free, gluten-free, and sweetened with natural coconut nectar that lends a hint of caramel aftertaste. Choose from flavours that include salted caramel, strawberry baobab, and lemongrass caramel with macadamia. Zebra Dreams ($15.98) can be found at Little Farms outlets.