The best rendang in Singapore (that's definitely not crispy)
Where to find the best lamb, chicken and beef rendang in Singapore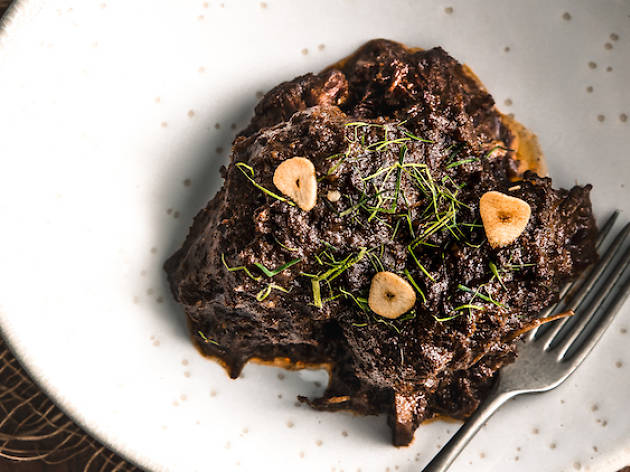 "I like the rendang flavour, there's a coconut sweetness. However, the chicken skin isn't crispy. It can't be eaten and all the sauce is on the skin so I can't eat it." This was the critique MasterChef UK judge Gregg Wallace gave Malaysia-born contestant Zaleha Kadir Olpin's on her nasi lemak dish that she served with a side of chicken rendang. She was subsequently eliminated from the show because of the dish, triggering #rendangate – a barrage of criticism from Malaysian netizens and people from the region.
Anyone who's ever tried rendang, a slow-cooked curry typically cooked with chicken or beef, knows that the skin isn't expected to be crispy and you want the sauce to coat every square millimetre of the meat for maximum flavour. Now, we don't blame Wallace – maybe he's never had proper rendang before – so the best thing we can do is educate him by asking him to check out these places in Singapore that do a killer version of the dish.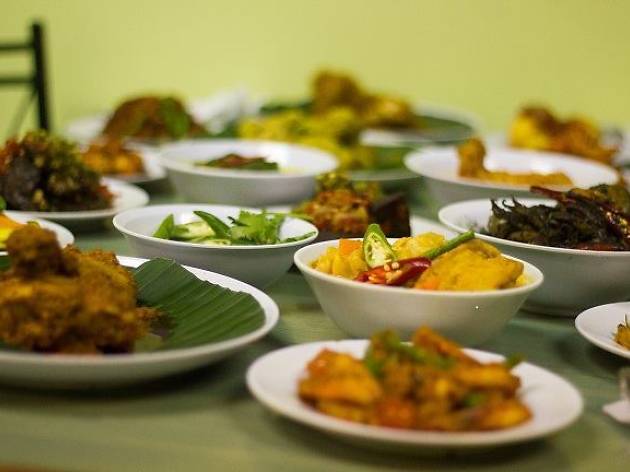 This nasi padang stall has been serving non-crispy rendang to its guests at Geylang Serai since the 1960s. And because people working in the CBD need our fix of rendang too, Sinar Pagi has a three-storey outpost along Circular Road as well. The queues form early and the tables upstairs are difficult to secure but it's all worth the effort. The spicy flavours are intense and vibrant. Seriously impressive is the tender barbecued chicken that is dropped into a sunny, coconut curry sauce, while the towering stack of tauhu goreng is sweet, crunchy and peanuty, and the braised brinjal – coated with ruby-red sambal – deserves a plate of rice all to itself.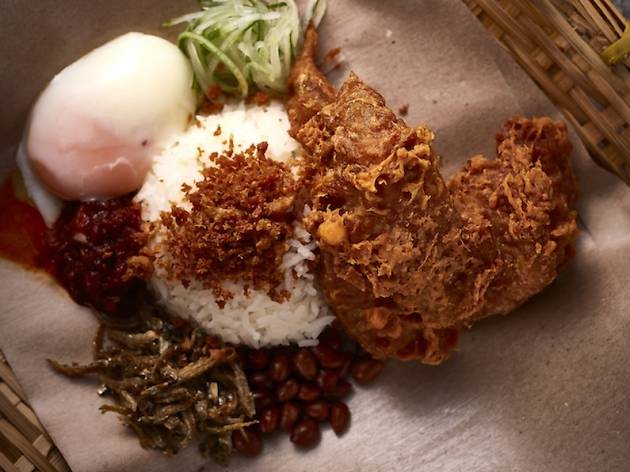 Just like Zaleha Kadir Olpin's dish on MasterChef UK, Village Nasi Lemak Bar also combines rendang with nasi lemak to create a delicious meal. The chicken drumstick set ($8.80) comes with an uptown twist – a sous-vide truffle egg – but you can also choose to have your nasi lemak with lamb or beef rendang ($6.80).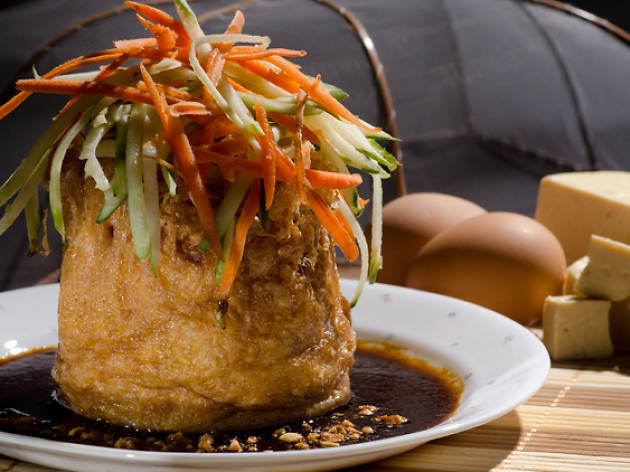 The queue at this nasi padang restaurant stretches out the door even before lunchtime hits. We can't blame the crowd, though, as only the early birds get the worm. Or in this case, stellar chicken rendang that falls off the bone and sambal goreng. There are only limited quantities of each item, so hot favourites like the tauhu telor sell out fast. Aside from quintessential Malay dishes, there are also rarer ones like lemak siput sedut, or sea snails swimming in a coconut-rich broth. And be sure to scream 'yes' when asked if you'd like a dollop of sambal with your rice.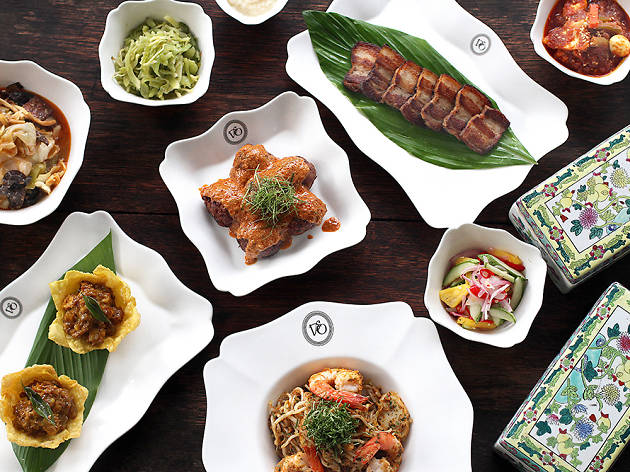 For Peranakan curries, look no further than doyenne Violet Oon's place. Oon has honed the craft of Nyonya cooking throughout the years, with Hokkien, Malay, Hainanese, Indian and Eurasian influences also showing up in her culinary dossier as well – just like how crossroad cooking should be. The beef rendang ($23) made using beef shin melts in the mouth but still retains the fiery kick we crave.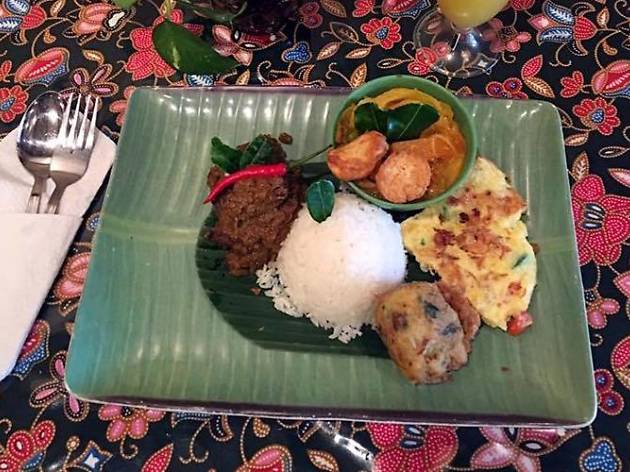 Like so many good eateries in this town, the no-frills interiors provide the setting for fab (and cheap) Indonesian fare. There are both lamb and beef rendang on the menu alongside the usual suspects of sambal kangkong, chilli eggplant and sayur lodeh. But be a little adventurous and try some of its grilled items too – we promise you won't regret it.
The beef cheek rendang ($32) at Damian D'Silva's Folklore is a labour of love. Simmered for hours 'til the meat is impossibly tender and the sauce lusciously rich. Spoon it over D'Silva's sambal buah keluak fried rice ($22), which is served with a sunny side up egg. Kissed with flames from the wok, the fried rice is delightfully smoky.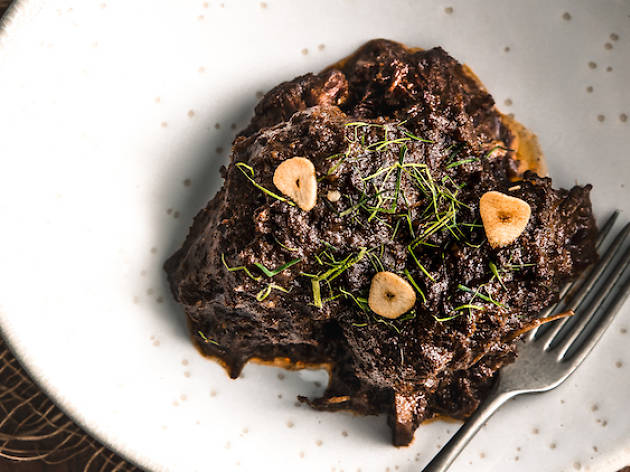 Photo: Folklore
Because our momma won't serve us something as confusing as crispy skin chicken rendang. She knows better. And so should people who call themselves judges on cooking shows.