Best hotels with hourly rates
With their hourly rates, Hotel 81 and Fragrance Hotel are undeniably the place to go when you need some, er, privacy. Karen Gwee checks in to check some of them out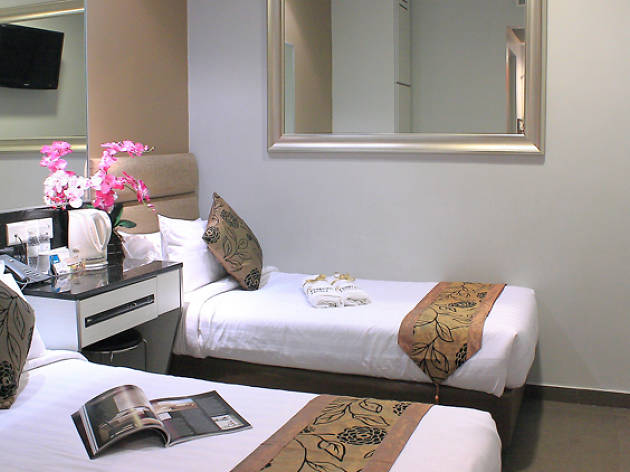 We all know it can be hard to get some privacy at home, particularly if you've got helicopter parents who insist on open doors whenever your significant other is around. Even behind closed doors, you might have a squeaky mattress that gives you away, or perhaps you just want a change of scenery. Whatever the reason (we're not judging), your neighbourhood Hotel 81 or Fragrance Hotel is the place to go if you need a room for a few hours without burning a hole in your wallet. And with nearly 44 branches combined, there is indeed one in almost every neighbourhood in Singapore (though, of course, you'll find the largest concentration of them around Geylang). Here we check in to a few branches to see how they stack up.
We know, we know – we grew up knowing 'Hotel 81' as a synonym for sleaze, dubious transactions and general immorality. But in all honesty, a Hotel 81 branch is your cheapest and easiest option to get away from prying eyes for an hour or two. Many of their branches have transit options with hourly rates away from the city's red light district, including Hotel 81 Cosy, with many a good bar and pub nearby, or Hotel 81 Heritage, which is just a few streets away from hipster haven Haji Lane. Like all the hotels on this list, Hotel 81 branches require identification for both parties when checking in.
The room is decent for its low cost: $40 buys you two hours in the room, and you pay $15 for additional hour after, and there was nothing too egregious with regards to the hygiene of the space (the sheets were clean – phew!). Heavy red curtains obscured the window, which overlooked the alley behind the hotel, but then again, who comes to Hotel 81 for the view?
Check prices
Read more
Although its street reputation is not quite as unsavoury as that of Hotel 81, the Fragrance hotel chain is also known for its sleazy clientele, even as it has been trying to shed this image. Like Hotel 81, Fragrance Hotel Bugis has transit options with hourly rates. A double room costs $40 for a minimum of two hours, with $40 for every additional hour. The room we visited was small, with the bed taking up nearly the entire width of the room. The bathroom was equally tiny, and there were no windows. But if you're not fussy about your potential play area, this branch works fine for a centrally-located option. One note though: the radio station that blares through the PA system on the ground floor from 9am to 6pm can either be an irritant or a good way to obscure any noises you may be making.
Fragrance also has many other branches in numerous locations, and Fragrance Hotel Lavender has the cheapest rates of the hotels we visited, with $30 for two hours in a superior double and $15 for every additional hour. But don't expect anything beyond a basic hotel room with no frills.
Check prices
Read more