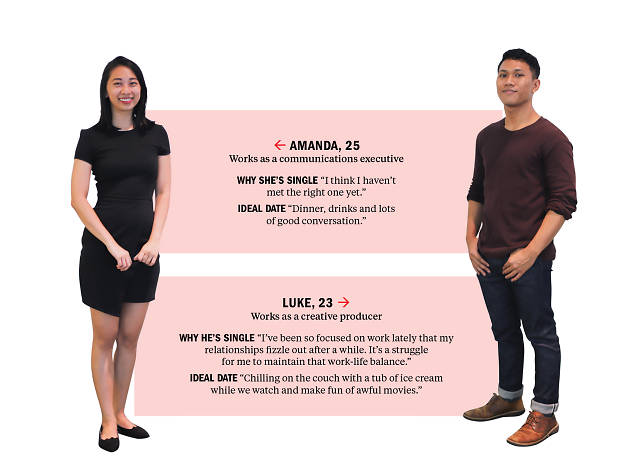 Find me a date: Amanda and Luke
These city kids ditched Tinder and let us play matchmaker. Here's a blow-by-blow account of their blind date...
The date
Our daters had a meal at Tablescape.
First impression
Amanda: "He was chill and laid-back, rather soft-spoken and shy."
Luke: "She's kind. I was running errands the whole day and misread the time so I arrived late. She told me not to worry without a hint of annoyance."
Chemistry
Amanda: "I think as the date progressed, it got a bit better."
Luke: "We had great chemistry. A lot of laughing and we played along with each others' dumb jokes."
Awkward Moment
Amanda: "He was late, but he made up for it by putting in effort to keep the conversation owing."
Luke: "Besides the initial moment where I was late, none at all. Even when we had nothing to say, we were comfortable sitting in silence."
Afterwards
Amanda: "We went to grab more drinks at CHIJMES, which is nearby."
Luke: "We headed to a nearby bar to continue our date. We exchanged numbers after and plan to meet up again over the weekend!"
Verdict
Amanda: ♥♥♥♥ "He's friendly, gentlemanly, open and makes conversation. It was a good date and I wouldn't mind a second."
Luke: ♥♥♥♥♥ "Amanda's a great conversationalist and listener. She's hella funny too."
The atmosphere
"It was very fancy and quiet, the head waiter, Derek was wonderful." –Amanda
The food
"The beef cheek was really enjoyable. It had the right tenderness and was absolutely delicious." –Luke
The drinks
"We just had the house red which complemented the food really well." –Amanda
Read more from Find Me A Date
The date Our daters had a meal at The Market Grill. First impression Roxanne: "He's very polite, but at first glance, he's not my type. However, when we both ordered beer instead of wine I felt a connection." Jesse: "She's really cool-looking, not the typical girl you see on the street. She has a poker face and is difficult to read – but in a fun way." Chemistry Roxanne: "I had a good time but felt like he was more of a friend. He feels like someone I already know well." Jesse: "I'm not really sure because she was jetlagged, and I'm in the middle of an allergy situation. It's hard to tell but we had a good chat." Awkward Moment Roxanne: "No awkward moments. We went straight into conversation and it was very friendly." Jesse: "Not really, I don't think so. I think I might have interrupted her a couple of times in the middle of the conversation. That was a bit awkward." Afterwards Roxanne: "Both of us exchanged IG handles before we parted ways." Jesse: "I walked her to train station and exchanged IG handles so it's possible that we might go out again." Verdict Roxanne: ♥♥♥♥♥ "Even though there was no chemistry, I had a really good time. I can definitely see us going out again as friends." Jesse: ♥♥♥♥ "It was a very easy date. Meeting someone for the first time, getting to know each other is much better than being on Tinder."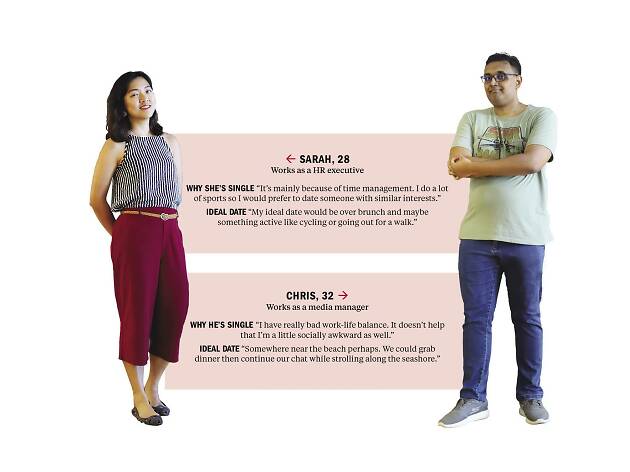 The date Our daters had a meal at Sideways: Woodfired Restaurant & Bar First impression Sarah: "I was a bit surprised by the match. I wasn't expecting someone in their mid-thirties. I thought he looked friendly." Chris: "I was surprised because she arrived earlier than me, even though I was already early myself. She seemed cool and relaxed." Chemistry Sarah: "We were able to talk openly about work, what we liked, and didn't like. He made an effort to connect but I felt like he was just a friend and I don't think we have similar interests." Chris: "We clicked pretty well in my opinion. We talked about everything and anything, so there may be some chemistry – but I'm not really good at reading this kind of stuff. But personally, I had a good time." Awkward Moment Sarah: "During the date, he cracked jokes with the owner but she didn't understand them and just seemed puzzled. He had to brush it off with an 'oh, nevermind'. " Chris: "We asked the owner to help us take a picture. I made a couple of stupid jokes that kind of made her feel embarrassed. Can't remember exactly, but it was something about Yishun." Afterwards Sarah: "We just went home after dinner." Chris: "We couldn't really do anything afterwards as we both had work the next day. We just walked to the MRT together and continued chatting." Verdict Sarah: ♥♥♥ "It was nice getting to know somebody from a different background but overall, there was no spark between us." Chris: ♥♥♥♥ "I had a really good ti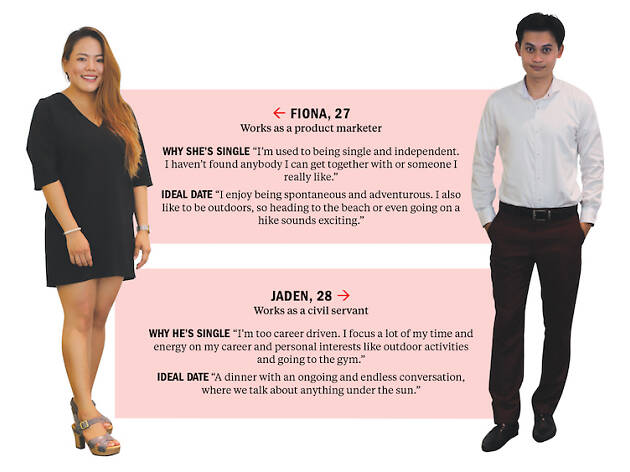 The date Our daters had a meal at Bar Cicheti. First impression Fiona: "The restaurant was dim so I thought I was on a date with a Malay guy. I was like 'oh, that's interesting'." Jaden: "I didn't expect her to be an extrovert. But when I started talking to her, she was very willing to open up." Chemistry Fiona: "He's nice and easy to talk to. We had things in common, so we talked about hiking and our school days. But there wasn't a spark." Jaden: "It's quite hard to tell because we only spent a few hours together. I'll probably just go with the flow and let nature take its course." Awkward Moment Fiona: "The conversation was easy so there wasn't an awkward moment. Maybe just short pauses when we were eating or checking our phones." Jaden: "There wasn't much. We had an endless conversation, one topic would lead to another, so we didn't have any awkward silence." Afterwards Fiona: "We exchanged numbers. We also went for drinks after dinner and took the train back together." Jaden: "We went to a nearby pub to have a drink and we went home after that. We exchanged contacts and are still talking to each other." Verdict Fiona: ♥♥♥♥ "It was a good night. The conversation was interesting and dinner was great. We can still be friends and see how things go." Jaden: ♥♥♥♥ "We had a lot of common topics to talk about and we were both able to relate to one another."