Habitat by Honestbee is the supermarket of the future
High-tech grocery store, multi-concept dining and more, Habitat by Honestbee is a peek into the future of supermarkets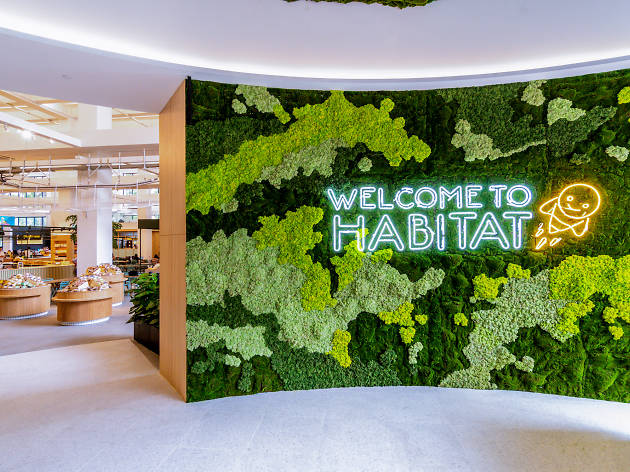 Connecting the online with the real life, Habitat by Honestbee has opened its doors for business. If you're not familiar with Honestbee, it's an app which allows you to buy groceries from the comfort of your home. If you think the physical store is going to be just another supermarket in town, you couldn't be more right... and wrong. Habitat is a one-of-a-kind tech-enabled multi-sensory grocery and dining experience. Here's a peep at what to expect when you head to its compound at 34 Boon Leat Terrace.
RECOMMENDED: Gourmet grocers in Singapore and plastic-free grocery shopping in Singapore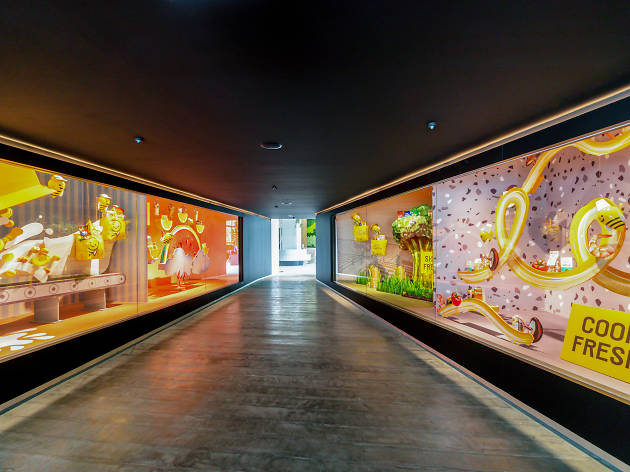 First of all, it's all about 'NewGen' here at Habitat. While the online marketplace removes the hassle of normal retail shopping, the physical store aims to inspire more human interaction but still leverage on smart technology, data science and robots.
Plus, everything is cashless and requires you to download the app to pay through Honestbee's very own mobile payment wallet, beePay. Heck, you're required to download the app even before entering the premises.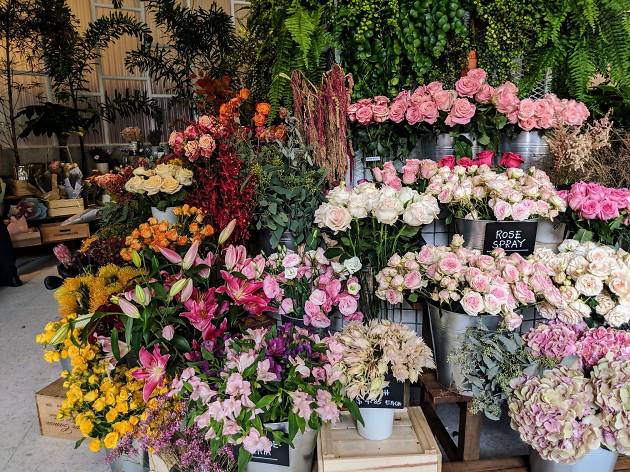 The first thing you see when you enter Habitat is Hanaya. Named as a tribute to the level of artistry of the floral works in Japan, Far East Flora is responsible for the selection of blooms on display. From roses to rare flowers, this is one place you might want to stop by for that last minute gift idea.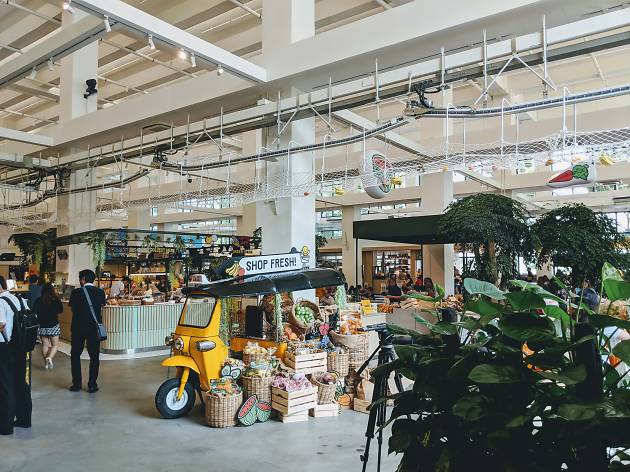 Habitat is a full supermarket with over 20,000 Asian and global produce which can be purchased both online and offline. Here are just some of the things to put in your basket.
Butchery
Love your meats? You'll love the selection of top cuts at the butchery. Dry-aged, grain-fed, grass-fed cuts and wet-aged beef are all available. Ogle at all the marbling and get tempted by the premium meats from all over the world. Rare cuts can get expensive but if you want to go all-out, we'll encourage it.
Seafood
The trio behind Bear Bear Fresh, Roger Wong, Chen Wei Nan and Christopher Chan believe in all things local, especially seafood from Singapore's very own waters. With a network of local fishermen casting the net in our backyard, the selection here is as fresh as it gets. An oyster bar is also in the works.

Snacks and drinks
Discover new snack brands and stuff exclusive to Habitat here. We spotted some salted egg yolk chips for all you local snack enthusiasts that's only available in the store. And if you have a refined taste for uh, mineral water then rejoice at the fact that this joint stocks up on Antipodes, Fiji, Badoit and Hokkaido kuromatsunai mineral water. Is it more expensive than Ice Mountain? Yes. Does it taste different? We'll leave it to you to decide.
Dry goods
While there's so much to discover, one thing that caught our eye: the selection of rice. Ranging from California Calrose rice to Niigata Koshihikari Japanese rice, rice geeks will be pleased with the stock they have.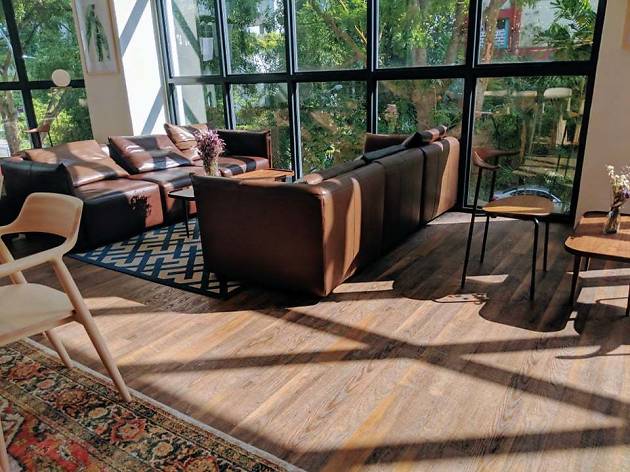 Besides food and produce, Habitat also has dedicated spaces for beauty and all you bookworms.
Beauty Bar
Not your regular restroom, the Beauty Bar showcases organic products for a quick try and spritz, and of course if you wish to purchase it eventually, you can.
Shufu
Which other grocery store as a reading corner? Shufu is a Chinese play on words that reads as "book" and also "comfortable" which is what this beautiful corner in Habitat is. Lovely cushy leather sofas, fill length windows that let the light in and books on food and design surround you. Good luck to actually leaving the place!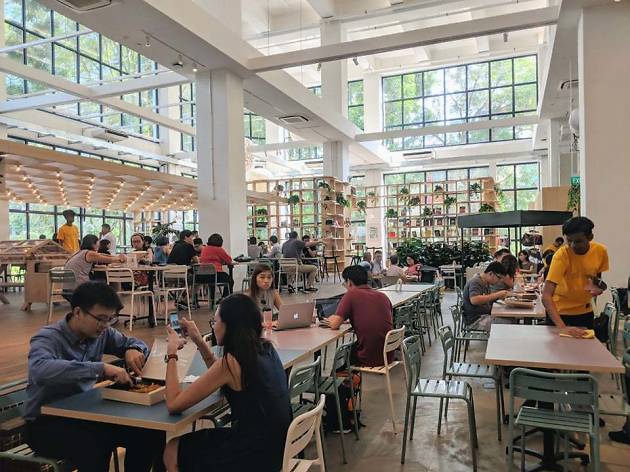 After shopping, you'll be sure to sit down for a meal at the open concept dining hall. Here's a heads up on some of the offerings.
Campfire
Campfire comes equipped with hearty meats straight from the coal, reflective of the great outdoors – perfect for warm meals shared with friends and family. The fun thing about buying in Habitat is that you can buy fresh and have it prepared right after. Binchotan and applewood are also used to impart a great flavour for the grills.
Fresh Beets
If you hate your greens and veggies, you might change your mind at Fresh Beets. Re-thinking salads and making them delicious (and look good too), a set meal here comes with grains and a soup and retails for a really affordable amount. May we begin to eat clean and good one day.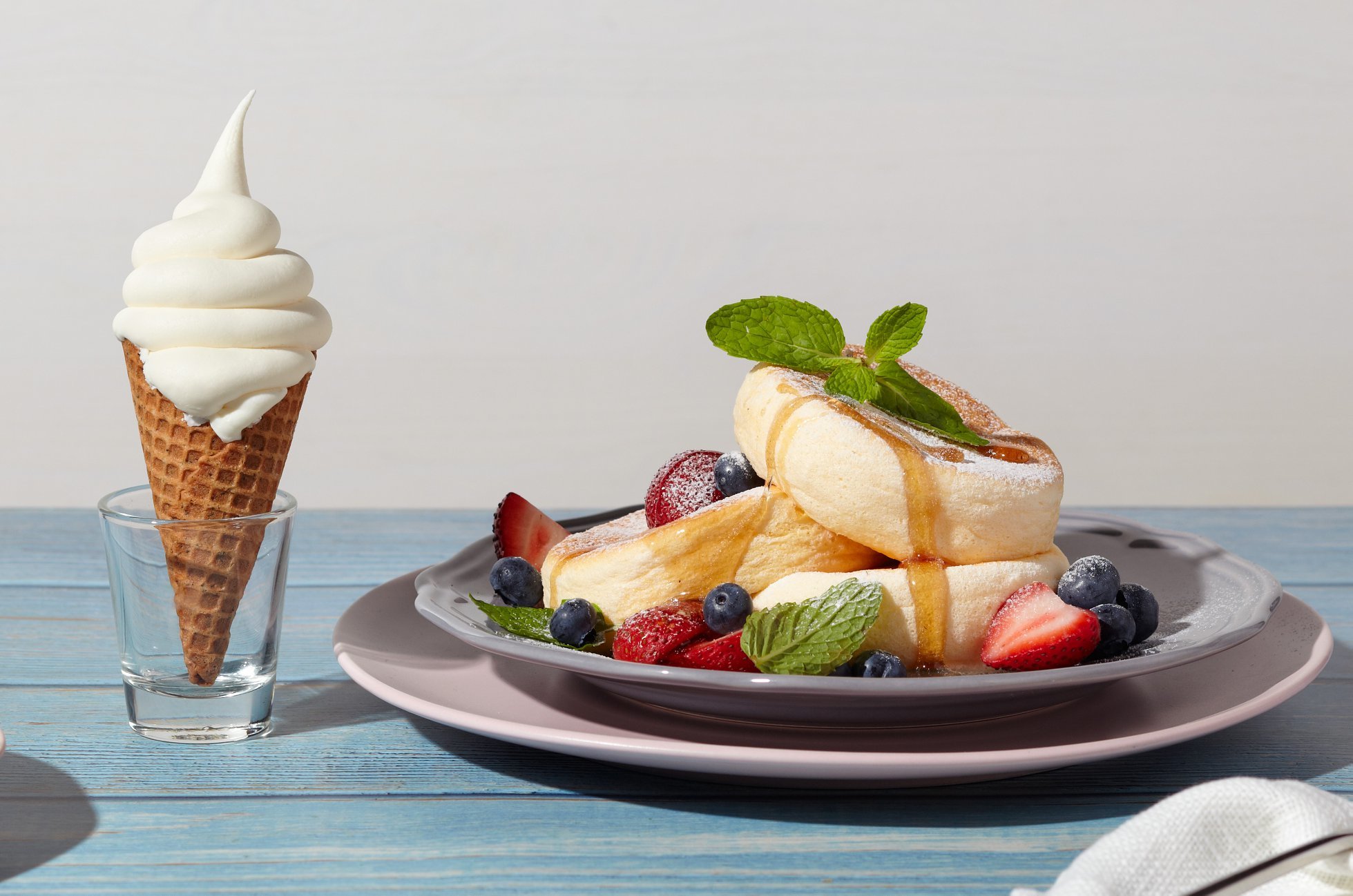 Poofy
At Poofy, the fluffiest pancakes really do exist. Pancakes are made just the way the Japanese do it — fluffy, light, and perfect. For a truly Japanese take, choose to top off the
pancake with Hokkaido milk soft-serve ice cream, or opt for the soft-serve to be served in an earl grey waffle cone.
Hinoki
White or black, single origin or house blend – each and every cup of coffee from hinoki embodies understated elegance. Smooth and comforting, it's the perfect accompaniment to cake or kueh (stocked from Chalk Farm).

Mr Bubbles
Mixing guilt with health, pick up bubble tea or kombucha at Mr Bubbles. The kombucha is freshly made and fermented tea in-house. See bubble tea meet cultured milk with their special Calpis creations, carbonated in-house.
Lazy Loaf
For rustic loaves, Asian-sourced flours and spreads to complement, Lazy Loaf is a bakery exclusive to Habitat which puts a spotlight on premium ingredients and flours, and homemade spreads.

White Moustache
Whether it's for after-work sessions or daytime drinking, imagine a friendly neighbourhood bar with booze and beer for those who appreciate craftsmanship beyond labels. In collaboration with Singapore-based distributor and brewery BeerStyle and Brewlander & Co., expect a coming together of hops and malts for anyone looking to expand their palate.
Lucky Peach
A little juice bar that packs a punch, Lucky Peach has everything from summer-ready smoothies to DIY juice creations that are sourced from all over the world. You can also pick up fruits from the counter at Lucky Peach and get them juiced. These seasonal fruits are also available for sale at the groceries section of habitat and no sugar or preservatives are used. Win!