The best advent calendars for Christmas in Singapore
Counting down to Christmas already? Might as well make it more special.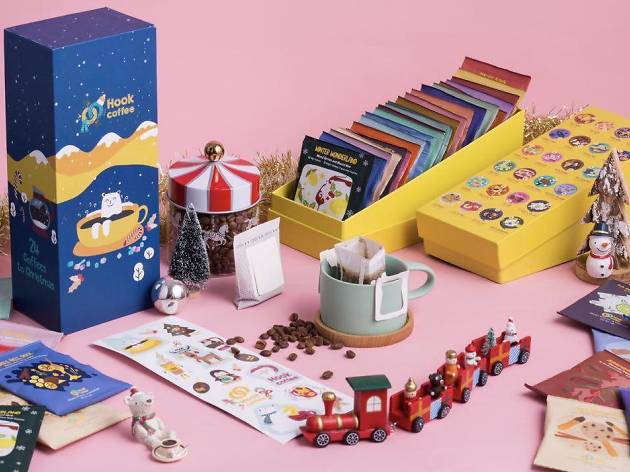 Broaden your coffee horizons with Hook Coffee's 2018 Advent Calendar that features 24 unique coffees with distinctive tasting notes and wacky names. Check our the whole range which includes treats like Speculose Your Mind and Give Me S'mores. Be ready to taste all sorts of things like roasted bananas, mulled wine, cherries and more. A fun way to do it is to pick the flavours everyday without looking – just to add to the surprise factor.
Who doesn't love scented candles, perfumes and other nice-smelling things? Specifically, who doesn't love the nice-smelling range of items from luxury brand Diptyque? Sing in your heart a little as you unlock 25 treasures from the calendar, including 15 different 35g candles, seven 10ml fragrances, two 15ml body products and one 70g candle. If you're going to spend that much money, might as well make it for yourself. Just sayin'...
With the theme Enchanted Forest, illustrations of woodland creatures adorn the gigantic box. Each day, reveal one of the 25 surprises hidden in the box. From the most loved bath & body care products, to skincare luxurious treats and party make up – everything you need to get yourself excited for Christmas day is in here.
We've got one for the coffee lovers, and not it's time to share the love with the tea-crazy ones. T2's first tea advent calendar, The Big Book of Secret Teas and Brews to Please is a fun one. Stocked with the brand's exceptional tea and assorted treats to complement the tea, unlock marvellous collection of facts, riddles and tid bits as well.
Erase all the bad and start new with kikki.K's Eraser Advent Calendar. Featuring 25 boxes with festive motifs that are each filled with a super cute eraser and a gratitude prompt, enjoy it yourself or use it to encourage little ones to share what they're thankful for.
Stuffed with goodies from this luxury beauty brand, behind each door lies 24 pampering skincare, bath or body treats waiting to be discovered. From now to Christmas, sit back and bliss out because it's time to get indulgent.