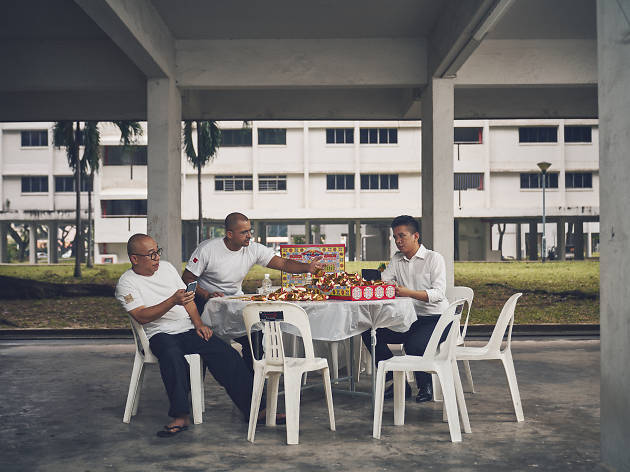 A chat with local playwright Zenda Tan on her latest play, Eat Duck
Ahead of Checkpoint Theatre's premiere of Eat Duck, we speak to up-and-coming playwright Zenda Tan
Zenda Tan is a name you should definitely look out for. At 23, the playwright has accomplished an impressive portfolio with a list of plays that includes Phase (Dark Matter Theatrics, 2017), as well as the award-winning Supine (2015) and Why We Bother (2014). She also boasts acting credits in Pull Up (One Man Riot, 2015), Long Weekend (The Twenty-Something Theatre Festival, 2016), and Dear Jay (Blue Bean Productions, 2016).
Her latest play, Eat Duck, is presented by Checkpoint Theatre and follows twelve members of an extended family as they gather for the seven-day wake of their grandma at the void deck. The play explores how the different generations cope with grief and loss, and how each person navigates the complexity of kinship.
Ahead of the premiere on August 29, we talk to Zenda about her beginnings, family traditions, and thoughts on Singapore's playwriting scene.
Tell us your story, how did you get into playwriting?
I grew up with a propensity for art and writing. All through my school years, I was dabbling in different creative mediums. I eventually landed in stage acting and, while I loved the craft and was immersed in it, I always found myself curious about the other facets of theatre-making and world-building.
When I entered NUS, I took the Introduction to Playwriting module taught by Faith Ng and my love for playwriting was cemented. She exposed us to a multitude of writers, techniques, themes, and topics that allowed me to free myself from the preconceived templates I tried to force myself into as a writer. I started to realise how boundless playwriting can be. For someone so self-conscious about writing "right", this epiphany was liberating. Instead of asking myself which writer I most wanted to be like, I took a good look at the kind of writer I already was and from there, reflected on how my works could come to maturity. The learning environment Faith curated was so intimate and encouraging, and within that space, my work became more vulnerable and my style became more distinct.
What was the inspiration behind Eat Duck?
I started writing Eat Duck shortly after my loved one's grandmother passed away. When she was still receiving home-based palliative care, Po-Po repeatedly requested for roast duck despite the fact that she could no longer eat. The doctor explained that it had nothing to do with food cravings, and that she was probably reminiscing about having a Chinese New Year meal with her family. The play is titled after this memory, and in honour of the love she had for everyone.
How does it hit home?
Eat Duck engages with what is familiar – the people we know, the habits we practice, the conversations we have and the silences that fill the many gaps in between – but urges us to take another look at why we do what we do.
How different do you think family traditions are between the older and younger generations?
It must vary from family to family, but I feel there is a loosening of reins when traditions are passed down. The transition between generations is quite palpable in Eat Duck. For the older generations – in this play, but also in general – I feel traditions are inextricably tied to respect, providence, and history. The gravity of enacting the customs in those specific ways may ease up for the younger ones, but they don't fully understand them; the reasons why the traditions even exist become ambiguous. Participating in them though, I've realised, is a kind of tradition in itself; we respect the people who do believe and keep the peace that way.
There's also a continuous process of adapting what 'tradition' means and revising what it can constitute. In a while, we might not be as hung up on certain things, like titles and eating tang yuan, but there'll be new and quickly waning practices we stubbornly refuse to let go of.
What's one lesson you hope your audience can take away from Eat Duck?
I hope that they will find some solace for grief, some laughter amidst any lingering sadness, and some comfort in the knowledge that every family is a little kooky, not just your own.
What are your thoughts on the playwriting scene in Singapore?
Checkpoint Theatre's Joint Artistic Directors Huzir Sulaiman and Claire Wong once asked me the same question. Back then, when my scope of vision was narrower, my answer had been that I was discouraged and unsure of how to grow in the scene. Responding to this, they imparted a very salient piece of advice: read more, and dig deeper.
There is a speech which is commonly referred to as "The Man in the Arena" by Teddy Roosevelt that now comes to my mind when I think of local art and literature. I think it's easy to make (usually cynical) sweeping statements, just as I did, and to adopt a dismissive attitude about what can or can't be accomplished. It's harder, but so much more valuable, to be a part of the creative process and to contribute to the load. There's always space for change and growth, and I'm very inspired by our "men" in the arena – those who produce, and those who make productions possible.
What's next for you?
At least for a while, I will be focusing most of my energy on my vocation as an educator. I'm excited to bring my passion for the arts and the many precious lessons I've learned from helping to create Eat Duck to the classroom environment and be a part of introducing this world to my students. Education and exposure are the primary reasons I've been able to grow into playwriting. I hope to be able to stir the same kind of curiosity that I started feeling about theatre during my school days in others.
Catch Eat Duck from August 29 to September 8 at the SOTA (School of the Arts) Studio Theatre.