Guide to Chatuchak Night Market in Singapore: what to shop and eat
The famous Bangkok flea market has landed in Singapore – here's what to expect from Chatuchak Night Market
If you've never experienced the famous night market in Bangkok, you will now. The Chatuchak Night Market Singapore is open for business at The Grandstand and will be sticking around until May 3. This is the first time the market has opened outside Thailand.
Check out over 200 booths with vendors that rotate weekly so you can get the full Chatuchak experience. Shop whimsical trinkets, vintage shirts, art for your walls, get an airbrush tattoo, plant terrariums, and try all sorts of Thai street food at the market. Just remember to bring cash – most of the stalls don't have cashless options. But before you head down for a full day out at Chatuchak, here's what to expect (and what to eat).
RECOMMENDED: 6 useful tips to stay safe and healthy in Singapore and the ultimate vintage shopping guide in Singapore
Eat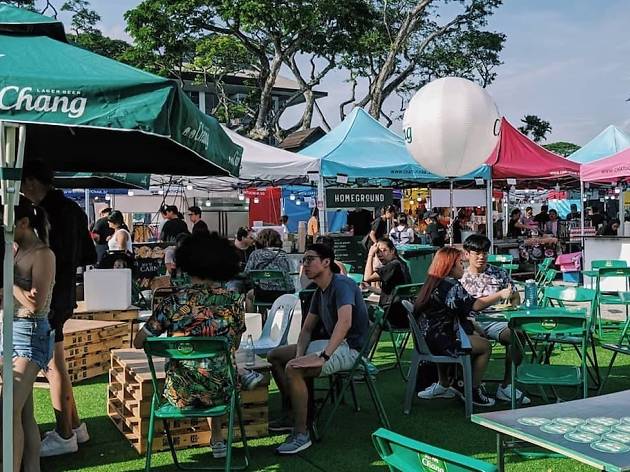 Photograph: Delfina Utomo
Settle down at the outdoor dining area with your loot – there's plenty of space for you to tuck into your snacks and food. It can get really hot on some days so make sure you choose a table with an umbrella or in the shade.
Photograph: Aiko Tun
Start by snacking on the small things first before you you try out the more ambitious offerings at the market. Find Thai grilled pork skewers and other assorted meats, starting from $2 per stick. Don't forget to slather on the spicy and sweet Thai chilli sauce for that much-needed kick. For something a little extra, try the grilled octopus for $13 a serving.
Stalls to try: King Octopus, Sukothai Roasted Pork
Photograph: Delfina Utomo
If you love your noodles...
From spicy to rich, get your hearty bowl of noodles (starting from $6) from one of the many stalls in the market. Find a tangy glass noodle salad dish, beef or pork kway teow noodles in a rich herbal soup, spicy tom yum noodles, pad thai and more here.
Stalls to try: Disjarus Thai Noodle, Phad Thai Banna Sukotha, Krua Na Boon
Photograph: Delfina Utomo
Besides all the authentic Thai food, you'll also find local food offerings at the market. Try some chilli prawns with mantou, mee kia with a truffle sous vide egg and fried ngoh hiang.
Stalls to try: Enjoy Eating House & Bar, Chio Ngoh Hiang
Photograph: Delfina Utomo
Don't forget the sticky and sweet stuff
After feasting on meat on skewers, Thai noodles and other food at the market, save some space for the dessert. Indulge in a tall glass of iced Thai milk tea or bubble tea; or get adventurous and order yourself a serving of Thai desserts like sticky rice with mango or sweet roti – think roti prata but drenched with condensed milk.
Stalls to try: Khon Wanna Roti & Tarik, Sarinthip, Tomoko
Shop
Photograph: Aiko Tun
Don't let fashion go to waste
Look cute and save the turtles at the same time with Sackitem's line of upcycled bags. Carrying everything from tote bags and backpacks to wallets and name-cards, the variety is sure to leave you spoilt for choice. Though it comes with a slightly hefty price tag, the experience of going home with a cute new bag and a sense of knowing that you've played a part in conserving and giving back to our Earth is priceless.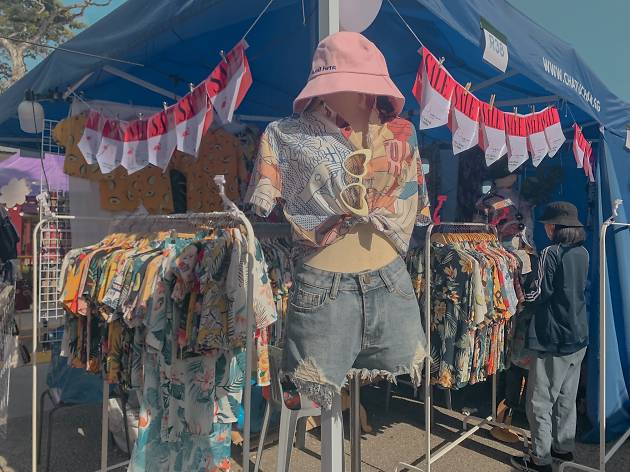 Photograph: Aiko Tun
A common sight in markets, expect to find a variety of printed apparel. While the Chatuchak Market stocks the typical tropical-print Hawaiian-esque shirts, pants, and yukatas, there are also wide arrays of printed scarfs to spice up any hair-do. Though the scarves come at a price of $69, the soft pillowy touch of the silk makes it hard for one to complain. Did a lot of shopping? You can buy a banana-printed giant tote from one of the stalls selling bags with unique patterns and prints.
Photograph: Aiko Tun
If over-the-top prints aren't your gig, channel your inner Insta-baddie with other gems hidden within the stalls of Chatuchak Market. Look forward to getting your hands on some cropped tops embroidered with images of flowers and butterflies and pair them with a pair of denim jeans, going at $18 at the market, for an effortlessly trendy look.
Photograph: Aiko Tun
Keep your eyes peeled for craft store Akemprovisart selling beautiful watercolour paintings of your favourite movies and pop culture icons, all painstakingly done by hand. Admire the artist's skilled use of vibrant colours and technique as he brings the iconic dancing scene from La La Land to life. With a painting going up to $40, you can also choose to bring home a printed badge or tote bag.
Photograph: Aiko Tun
You can also choose to try your luck at their huge variety of claw machines, with everything from the typical plushies, to more unique items like towels and keychains waiting to be won.
More shopping in Singapore
Shopping, Second-hand shops