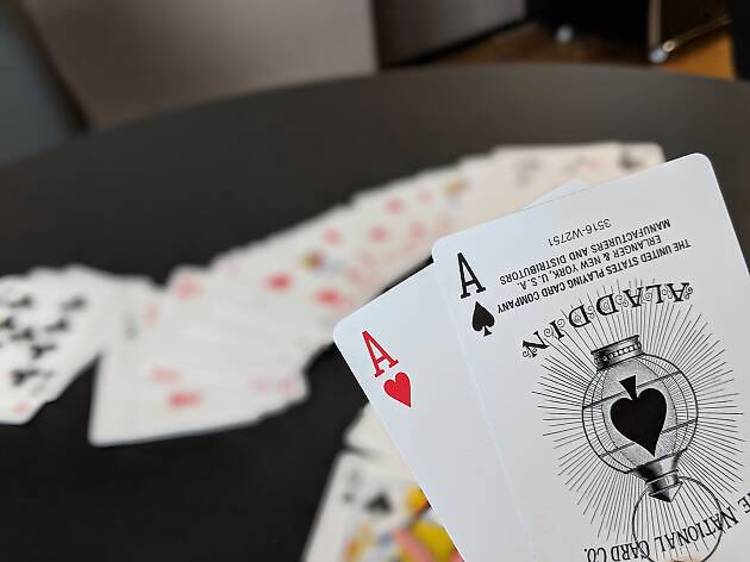 WHAT YOU NEED
A deck of cards
Money
STEP 1
Every player puts out a bet of any amount on the table to signify their participation for that round.
STEP 2
Once every player is ready, the Dealer proceeds to deal two cards faced down from a shuffled deck, and then him/herself.
STEP 3
The players' aim is to attain a total value as close to 21, but not over, with the cards in their hands. For a player to win, they only need to beat the Dealer. The cards 2-10 have a value respective to their number; the aces have a value of 1,10, or 11 – whichever is most beneficial; and the picture cards have a value of 10.
The Dealer will ask the players if they want more cards, dealing until they are satisfied with their hand – or until they have a total value of at least 16 (the minimum required value to continue playing).
STEP 4
Once every player has had their turn, the Dealer can either draw cards for him/herself or begin challenging. To challenge, the Dealer will ask a player to reveal their hand, whoever has a value closer to 21 between the two, wins.
If the Dealer wins, the bet will be taken. If the Dealer loses, then the player will be paid the amount he/she bet. If it's a draw, then both parties get to keep their money.
LUCKY STARTING HANDS
Certain starting hands are considered lucky, rewarding the player more than what they had initially bet.
If a player were to get an [Ace + 10] or [Ace + Picture Card] (Ban-luck) as a starting hand, they receive double their bet.
If they were to get an [Ace + Ace] (Ban-ban), they get triple the amount.
A player may immediately reveal their hand as soon as it is dealt to receive their reward from the Dealer.
LUCKY DRAWN HANDS
If a player were to draw a total of five cards without going over the 21, they will be rewarded with double their bet – even if it is under a total value of 16. If this happens, the player is to reveal their four cards in-hand first before receiving the fifth card.
Another possible hand that permits a bonus reward is if a player were to have a hand of [7+7+7]. If this were to happen, the player is rewarded with seven times their bet.
The same rules – specifically rewarding system – apply to the Dealer as well. Meaning, if the Dealer were to get a Ban-luck or a Ban-ban, all players have to pay double or triple, respectively, the amount they had bet.