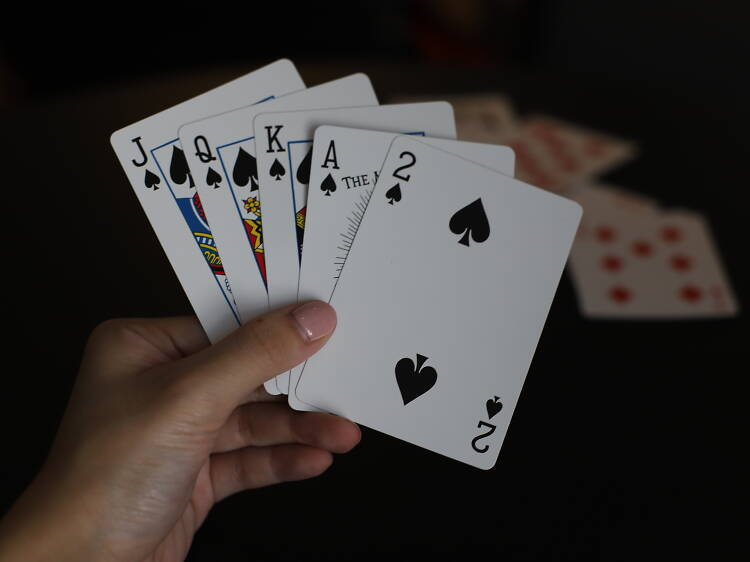 Dai Di (rules)
OBJECTIVE
The aim of Dai Di is to get rid all of all the cards in your hand by constantly one-upping your opponents with cards played singly or in certain poker combinations (2 cards, 3 cards, or 5 cards).
THE RULES
The value of each card or combination comes from the numerical of the card(s) used, as well as their suits. The cards of the smallest value are the 3s, followed by the 4s, and so on and so forth till the picture cards. Then, it's the Aces, followed by the 2s. The suits ascend in value in the following order: diamonds, clubs, hearts, and spades. Therefore, the weakest card in the game would be the 3 of diamonds, and the strongest is the 2 of spades.
STEP ONE
To start the game, gather three other players – you can also play Dai Di with two or three players but four is ideal – and distribute a shuffled deck between yourselves equally, any extra cards can be put into the "pass" pile. The player with the weakest card (3 of diamonds) starts the round by putting the aforementioned card down (either singly or with whatever combination it can make) onto the table facing up. Said player also determines the number of cards each player must play during that round – if the first player plays with only one card, all other players must play with one card; if the first player plays with a combination, all other players must play with the number of cards in that combination.
STEP TWO
The other players take turns clock-wise to climb above the value of the previous card(s) that were put down by their opponents. For example, if a 6 of diamonds was put down, a card of a higher value must be used to beat it – this includes a 6 of any higher suit, or a card with a numerical above 6; if a pair of cards were played, then a stronger pair must be used to beat it (more elaboration under the "combinations" section). If a player is unable to beat a card or combination, they may pass the turn over to the next player – and draw a card from the pass pile (if any). Once all players pass, the player who put the unbeatable card or combination starts a new round with whatever they choose. However, do note that a player is not allowed to finish their hand with a two of spades played singly.
HOT TIP
To make the game more interesting, add some gambling money into the mix. Dedicate how much one card costs. Then, once there is a winner – a player who finishes their hand – all other players must pay the cost of all the cards left in their hands to the winner. For example, if each card costs $1, and you have three cards left in your hand when the game is over, you give the winner $3.