Little India after dark
Home to endless supper spots, hip bars and plenty of late-night activities (some less savoury than others), the streets of Singapore remains a hive of activity long after the sun goes down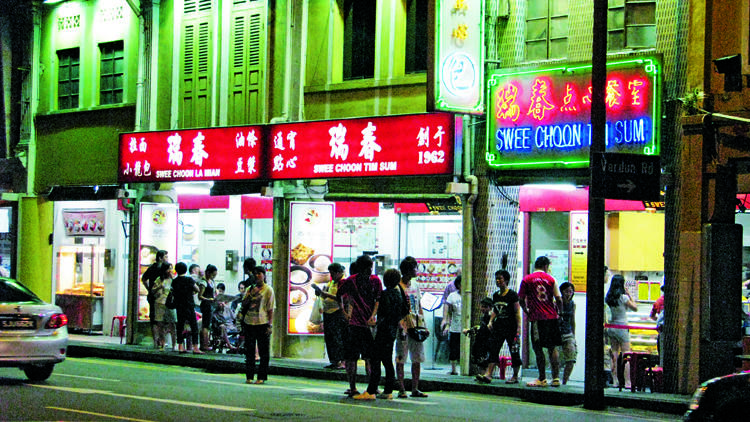 Home to the legendary 24-hour behemoth shopping complex Mustafa, which draws plenty of locals and some curious tourists alike (need some pet food or a new TV at 3am? No problem!), Little India's streets buzz with activity into the wee hours of the morning.

There's undoubtedly a seedy side to the streets afte rdark as well, with Rowell and Desker Roads forming one of the oldest red light districts in town – it's not uncommon to see crowds of men peering into the stairwells and back alleys of the area's brothels – but it all adds up to one of the most vibrant areas of town after dark, with plenty to eat, drink and see.

EAT
Indian roti prata might be a supper staple elsewhere in the city, but in Little India, the after-dinner meal offers an encyclopaedic range of the subcontinent's and international cuisine, including both Northern and Southern-style fare along Syed Alwi and Deskar Road, plus a smattering of Nepali food along Upper Dickson Road. For a good general range, Indian Mom's Kitchen (16 Desker Rd , 6602 8079, www.momskitchenonline.com; Daily 11-2am) is a popular hangout for its reasonably-priced selection of Northern Indian staples like tandoori meats (from $5.50) and a range of vegetarian dishes (from $6.50), as well as for the numerous beer girls that work the restaurant's patrons in the adjoining alley.

On the other side of the main thoroughfare, there are several Chinese options. Don't be surprised to find a queue well into the early hours for a seat at Swee Choon Tim Sum, a 50-year-old establishment that occupies five ground-floor shophouses to keep up with the demand for their signature mee-suan kueh ($1/two), Portuguese egg tarts ($1.50/two) and custard-rich liu sha bao ($3.60/three). Hainanese cuisine Beach Road Scissor-Cut Curry Rice (229 Jln Besar, 6292 3593; Daily 11am-3.30am) also has its fair share of fans dedicated to its hearty one-plate rice, meat and vegetable combinations, drenched in a classic sloppy sweet curry gravy.

DRINK
Drinks-wise, Little India is a draw for hipster bar flies looking for an unpretentious, alternative night out. On the backpacker-friendly Dunlop Street, hostels like Prince of Wales and The Inncrowd (73 Dunlop St, 6296 9169, www.the-inncrowd.com), as well as the newly-revamped Spanish tapas marisqueira (seafood fare) and Carlsberg flagship Zsofi Tapas Bar, are all chilled-out watering holes with cheap drinks and international exchange.

On the weekends, DJ-driven live music is a feature at Suprette.

SHOP
While the aforementioned Mustafa Centre has sated many a random late night craving or retail urge, selling everything from watches and perfumes to American hot sauce and poppadum chips – the two-building complex even has its own pharmacy, travel agency and currency and gold exchange open all times of the day, allowing you to literally shop until you drop.

As the megastore stretches across the length of several blocks, there's plenty of action spilling out onto its adjacent streets, which remain crowded past midnight. If for some random reason, you find yourself needing a bunch of vegetables and spices past 10pm, skip the crowds and try the stores along Dunlop Street or Desker Road instead. The two streets feature a good range of shops showcasing their verdant leaves of Indian-cuisine specific greens and the occasional fruit store, often illuminated with the brightest of spotlights, until 11pm.

SEE
The crowds along Lembu Road are also a major contributor to the area's logjam of traffic at night as people gather under the glow of the 32-inch television screening Bollywood blockbusters at DVD-store Terry Trading (23 Lembu Rd). Those with a little more money to spend on a film can catch a midnight screening on weekends at the Rex Cinema (2 Mackenzie Rd, 6337 1893, www.rexcinema.sg; Sun-Thu 11am-10pm, Fri & Sat 11am-1am).

The canopied area between the Lembu Road Open Space and the back of a kopitiam serving Northern Indian and Bangladeshi food (29 Desker Rd) is also a draw for spectators and players looking for a late-night carrom match.