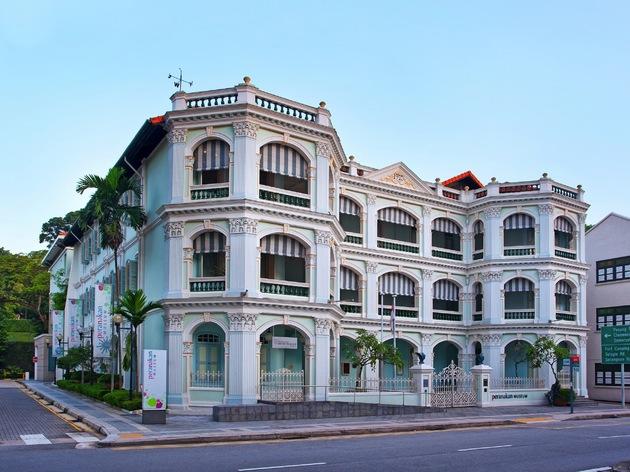 The name Peranakan describes both a rich culture and a unique ethnic group, arising from the meeting of Chinese and Malay peoples. This ten-gallery exhibition venue houses the world's largest and best overview of Peranakan life over three floors. Explore documents and artefacts – jewellery, silver, furniture, textiles and crockery predominate – brought to life through interactive and multimedia stations. The introductory gallery defines the Peranakan culture of Singapore, Malacca and Penang in broad terms; the second level is devoted to the Peranakan wedding and its associated rituals and accessories; and on the third level explore religion, public life and food.

See more:
Strait out of the past: a Peranakan culture guide

Things to See
Conversations Gallery
As Peranakans re-examine their culture and identity in the face of modernity, this gallery serves as an introduction for the public by showcasing a myriad of Peranakan clothing, food, jewellery and artefacts.
Nonya Gallery
Domesticity has always been a prominent trait of the Nonyas. The importance of the sarong kebaya, the traditional Nonya attire that's exhibited in this gallery, will be revealed as it not only highlights the skill involved in beadwork and embroidery, it's also a preoccupation of the traditional Peranakan woman.
Religion Gallery
Step into the mystical world of Peranakan spiritual beliefs. See how the mix of Taoism, Buddhism, ancestral worship and other components of the supernatural world evolved through the years.
Wedding Gallery
The traditional Peranakan wedding takes place over the span of 12 days. This exhibit shows just what goes on during that time – besides plenty of sleepless nights for the bride and groom. Wedding-specific jewellery, beadwork and furniture are on display.
Origins Gallery
These days the word 'Peranakan' is used fairly liberally to refer to the culture formed through the mixing of Malay and Chinese traditions. But did you realise there are many types of Peranakans? Come find out more about the Chitty Melaka, Baba and Jawi Peranakans at this fascinating gallery. $6; family $25, joint ticket with Asian Civilisations Museum $12.
Venue name:
Peranakan Museum
Contact:
Address:
39 Armenian St
Singapore
179941

Opening hours:
Sat-Thu 10am-7pm; Fri 10am-9pm
Do you own this business?
Amek Gambar: Peranakans and photography

Trace the evolution of photography in Southeast Asia through the lens of the Peranakan community as you admire the collection of over 200 photographs, donated by Mr and Mrs Lee Kip Lee, that runs the gamut from old school monochrome images to dazzling...

Photography

Until Sunday February 3 2019

Free

Straits Family Sunday – Live Long and Prosper

Gather the entire family a Chinese New Year celebration – Peranakan style. Ring in the Year of the Pig with cooking demonstrations of traditional Peranakan dishes, character tours at the Peranakan Museum to prep for the tok panjang (a long table for family...