Those keen on picking up pottery but who feel daunted by the out-of-reach locations of many studios now have an option right in the heart of town. Am I Addicted, a Korean pottery studio and vegetarian café, has opened at Capitol Singapore. Tucked away in the mall's basement, this 6000 square foot studio is a spacious and swanky pottery playground.
The dream team heading down for a Ghost reenactment are Delfina, the editor, Dawson, our food and drink writer, and myself. After some minor confusion, we're greeted by our teacher today – Darren, who graduated with a diploma from the Nanyang Academy of Fine Arts (NAFA) majoring in Ceramics.
RECOMMENDED: We tried a Zouk DJ masterclass – here's what went down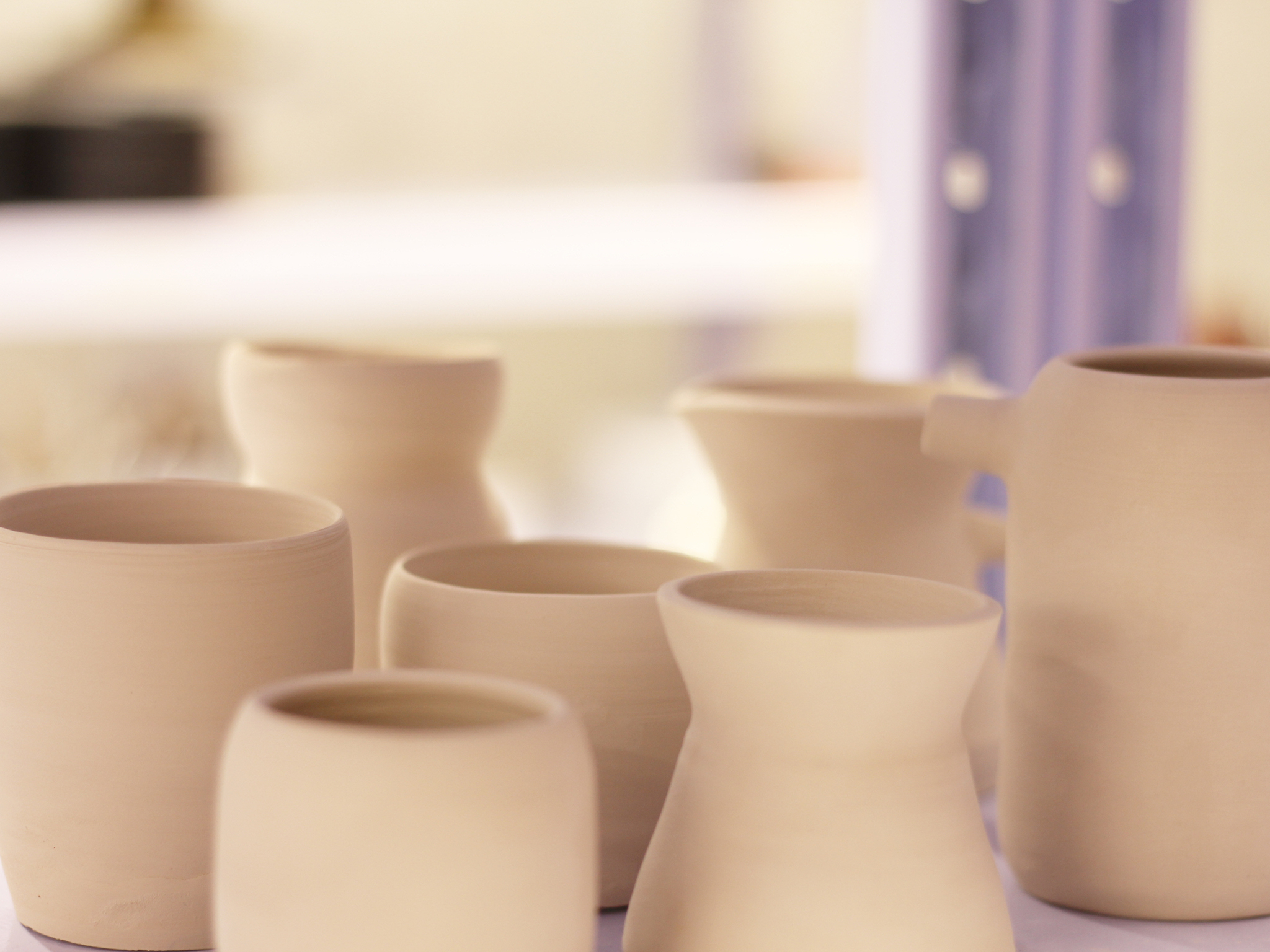 Potting with pottery
Am I Addicted has one of the most aesthetically pleasing studios this writer has seen. Low stools and pottery wheels are arrayed in front of a faux brick wall, lit up with an "Am I Addicted" sign and accented by feathery potted plants. There are work tables further back, shelves of fired clay pieces lining the right wall, and a washing area around the left corner.
Class starts with a demonstration by Darren, who takes us through the steps of centering, coning, opening up and pulling the clay. We watch with awe and a smidgen of envy as he effortlessly moulds the clay into a cylinder, a vase, and a bowl. "You'll be okay," Darren assures us. We're not so sure.
Next, it's our turn. As first-timers, Delfina and Dawson can't help giggling at themselves as they try to remember the steps. Centering and coning the clay is essential – but so much harder than it looks. How much water is enough? How do we place our hands? Why is the clay still wobbling? Sweat drips as our fantasies of a relaxing, zen-like experience float out of our grasp.
Like most one-off beginner classes at pottery studios, Am I Addicted provides three balls of clay for students to practice on (the difference is, theirs is imported from Korea). Thankfully, we start to find our groove around the second ball of clay – even sinking into a quasi-meditative state as the wet clay spins hypnotically under our hands. This isn't my first rodeo, so I manage a vase that looks like something out of Mesopotamia, a tall jug and a bowl in quick time. Delfina and Dawson pull 'unique' vases with mushroom-like mouths and quirky bowls. As Darren says, "No one wants to create something perfect."
After two hours of pleasant toil, we get to choose from Am I Addicted's beautiful glazes, including clear turquoise, jeans-like blue, pretty pink and maroon (some formulated by Darren himself). Students can bring home one work for free and a second one at a top-up of $10.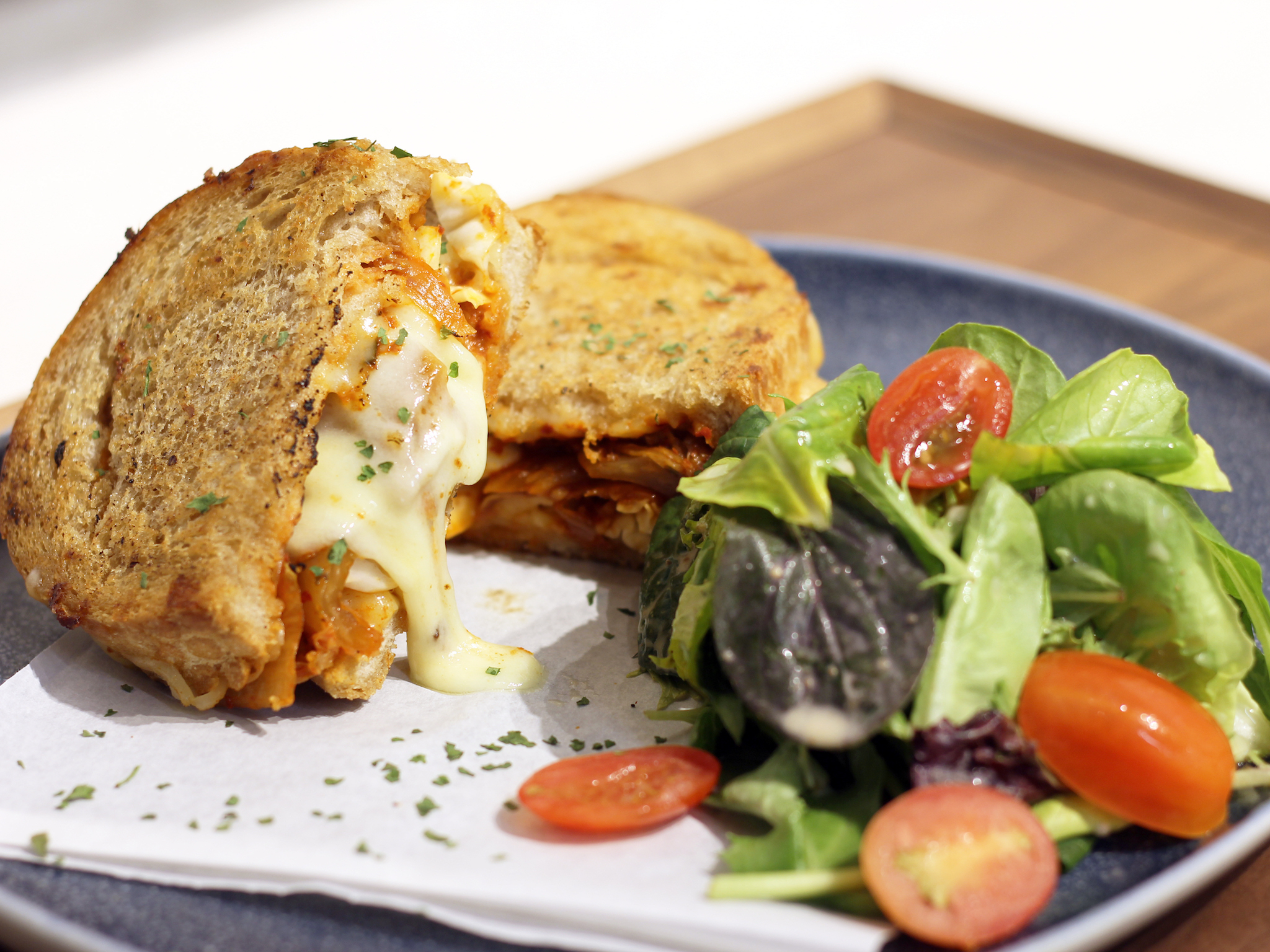 Going vegetarian at the café
Now that we've worked up an appetite at the pottery class, we're super chuffed that the Am I Addicted Café is just next door. We're greeted by a plant-based menu boasting Korean-Western influence, dominated by beautifully arranged raw and cooked vegan plates with unique punchy flavours.
We have the Le Aubergine ($12) to start, a well-rounded eggplant dish served in bite-sized morsels that are almost too pretty to consume. Each tender bite has clean vegetal notes, faint nuttiness from the in–house Ssamjang sauce, balanced with balsamic vinegar and a touch of spice from the fresh chillis. A valiant display of nutritious cooking with no lack of flavour, texture and quality.
What's a Korean spot without kimchi? We unanimously call for an order of the Grilled Cheese Kimchi Sandwich ($16). Crisp buttery bread hugs spicy crunchy kimchi and creamy vegan cheese to deliver a crowd-pleasing sandwich. We only wish that they were more generous with the kimchi as it felt a little scant after two bites in. The Torta Di Riso Pasta ($22) comes highly recommended by the waitress but after a nibble, this laudable attempt at a Tteokbokki-esque pasta paired with limp pieces of vegan-based squid and shrimp fails to inspire.
With a myriad of beverage options from ades, smoothies to signature chungs – a preserved marmalade drink – what stands out is the Sweet Potato Latte ($7). Reminiscent of childhood Horlicks, it drinks malty and subtly sweet with a silky mouthfeel that kept us going back for more after every sip. We deem this as the one to return for.
Wheel-throwing classes start at $50 per pax; freestyle studio usage packages start at $20 per pax; advanced class packages start at $743 for 5 sessions. Keen to visit? Check the pottery studio and café out at amiaddicted.sg/.