When Trifecta opens in Singapore in 2023, it will be Asia's first snow, surf, and skate attraction. Helmed by adventure sports company The Ride Side, the attraction will have facilities, classes and activities for familiar board sports like surfing, snowboarding, skateboarding – and one that's experienced a recent surge in popularity in Singapore – surfskating.
Surfskating is exactly what it sounds like. It's like surfing – but with wheels, and on land. Also known as carveboarding, the sport came about precisely so surfers could practice their moves on land when the waves are flat. You can see the sport's appeal for avid surfers – and also snowboarders – in 'waveless' and 'snowless' Singapore.
The sport has blossomed beyond the surfing community in Singapore, with many picking it up despite having never stepped on a surfboard before. In an email interview, co-founder of The Ride Side Daphne Goh shares, "Lockdowns and travel restrictions have spurred people to look inwards locally for excitement and entertainment on a more regular basis, instead of the occasional vacation or weekend trip."
And with everyone doing it, we just had to try it for ourselves.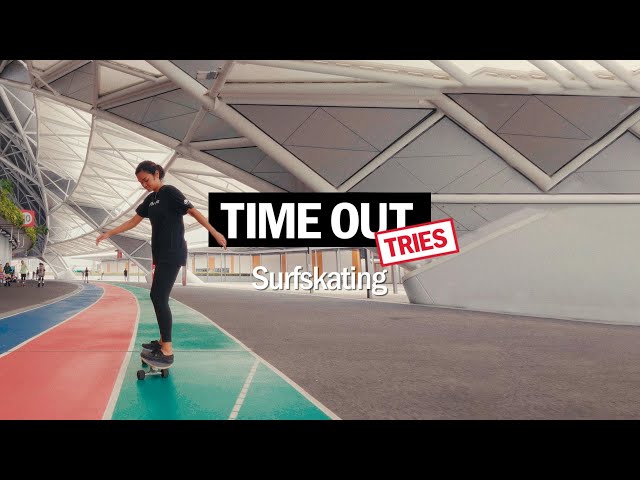 RECOMMENDED: Time Out Tries: Taxidermy and The best unique and fun date ideas in Singapore
Picking up the basics
It's safe to say that The Ride Side has been leading the recent wave in board sports in Singapore (other notable shoutouts include 19Dreams – founded by local surfers – and Odyssey Boards – though they focus more on longboarding). The company has been actively bringing top-notch surfskate brands – Yow, Slide, Smoothstar, among others – and nurturing the community through free riding sessions and lesson programs.
So, naturally, we arrange for a Fundamental class and surfskate Basic lesson with them. We meet our instructor, Eugene, on a sticky Sunday at the covered track at the National Stadium. To start things off, he gives us a succinct introduction to the different types of boards – surfskates, longboards, and skateboards – and a quick rundown of what to expect from class.
Before we know it, we're on the boards. The fundamentals lesson is all about the basic building blocks that are applicable across most board sports. So Eugene first focuses on our riding stance, push offs, glides, stops and heelside and toeside turns.
What sets surfskating apart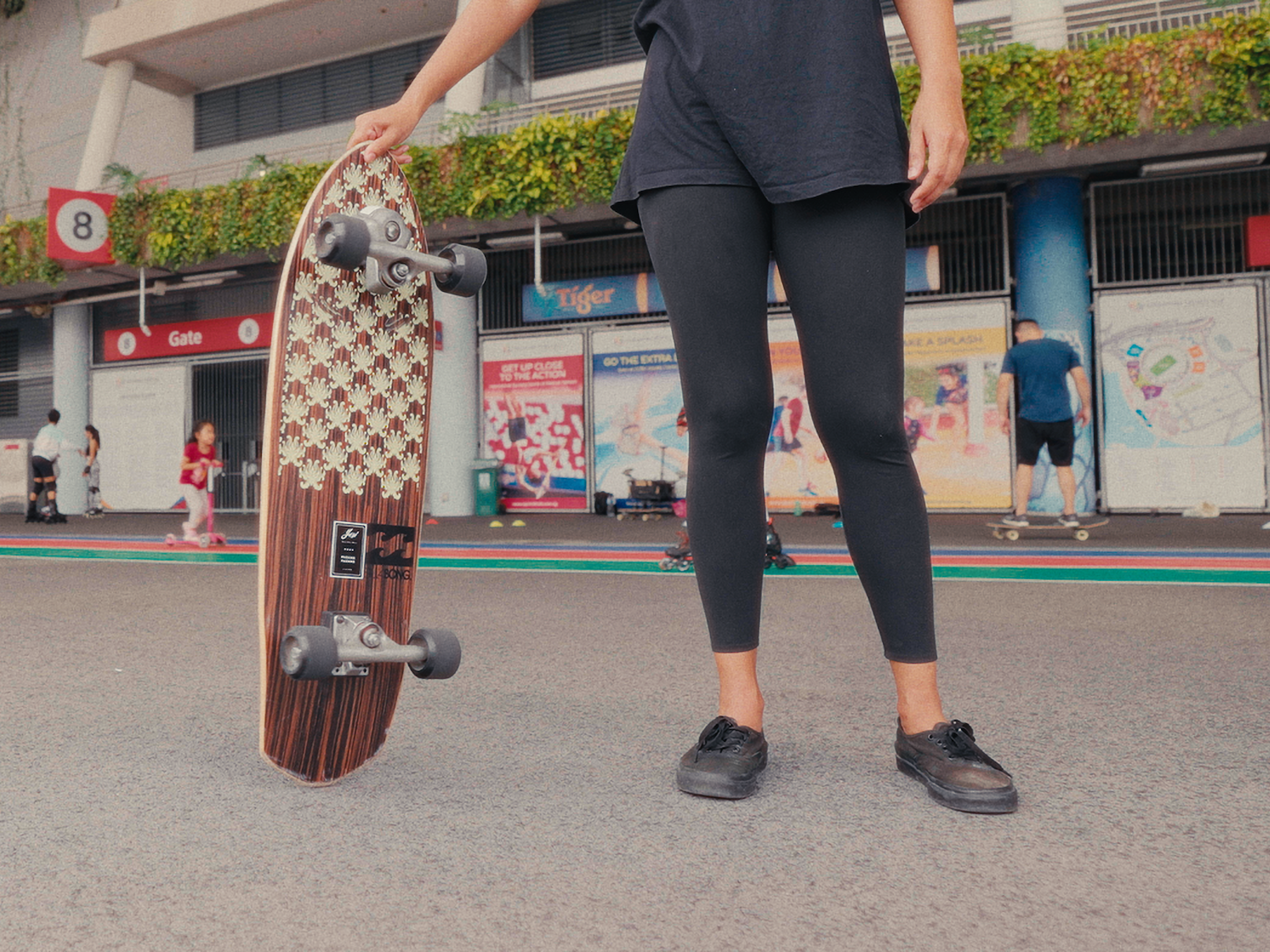 Even for someone with skateboarding experience, stepping on a surfskate can be jarring. The difference is in the trucks – the mechanism that attaches the wheel to the board. Surfskates have a specialised adapter that give the boards an aggressive lean, allowing skaters to generate momentum without stepping off the board to push, and to perform deep turns that look a lot like surfers carving up a wave.
As Daphne describes it, "The style is more elegant compared to the edginess of street skateboarding, and more dynamic compared to the fluidity of longboards." You can see this in (what Eugene humourously names) the 'wiggle'. This involves shifting rapidly from heelside to toeside – propelling you forward for an endless surf-like feel. It's a contrast to the powerful kicks and sharp turns you see in more traditional skateboarding.
As total novices, we're not quite so graceful yet. Eugene teaches us to how to take a surfing stance with our arms up, and to use our shoulders to help shift our weight and get the board weaving hard under our feet. "It should feel like falling," he says. "But the board will catch you." The advice is oddly helpful, and – on a wing and a prayer – we're soon 'wiggling' our way up and down the line of practice cones.
Getting started with the sport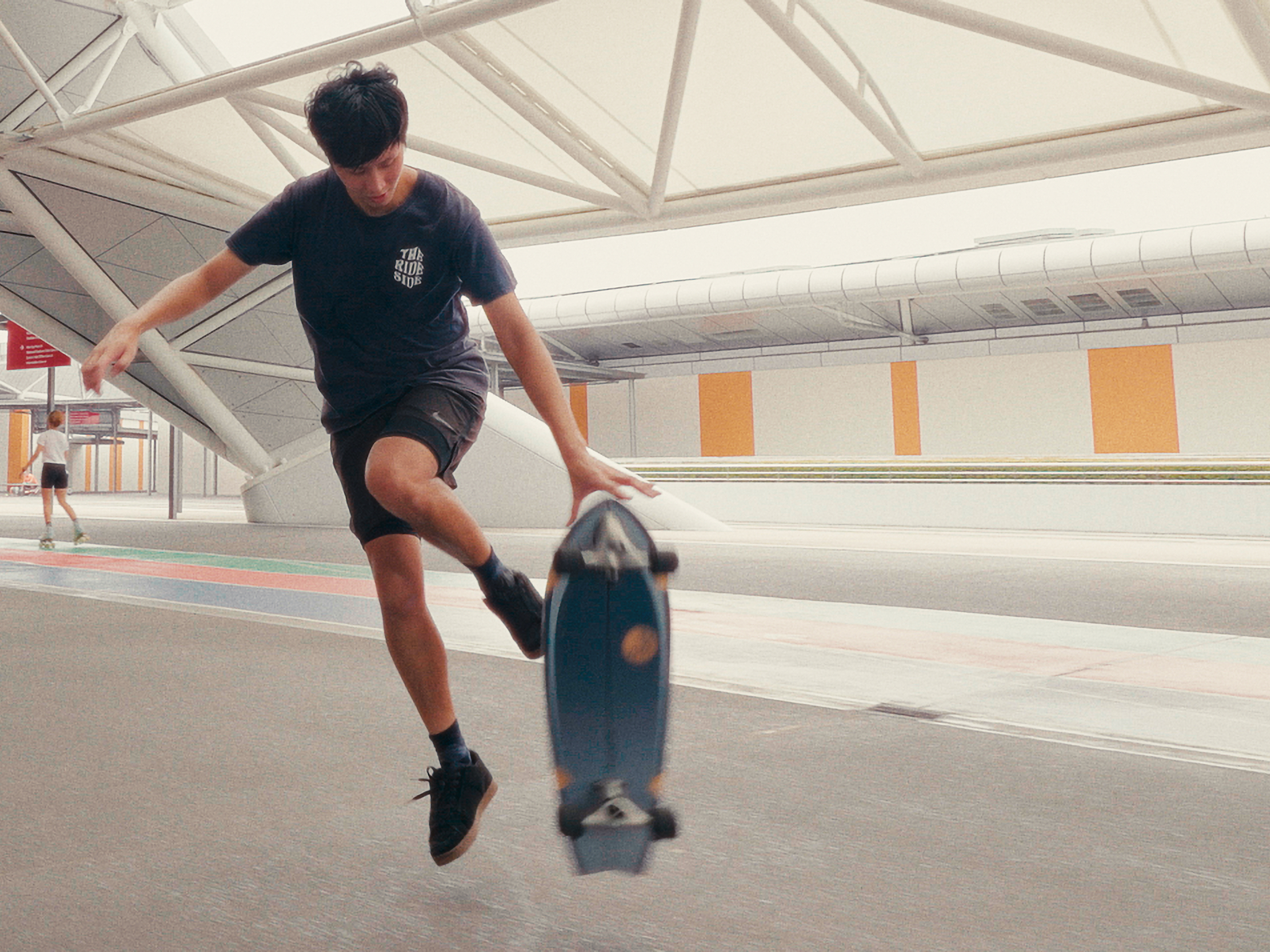 Later, we dabble in making turns while performing a board grab (a challenge for my bad knees and inflexible hamstrings). And if we were to progress to levels two and three, we would have the chance to pick up more surfing-inspired techniques and tricks like cut backs, turns/snaps, drifts, and more.
If you're keen to pick up surfskating, it's easy enough to get a board and practice the basic skills before signing up for lessons. At The Ride Side retail shop, staff are always around to help you pick the right board for your height and weight, and to hold you steady as you test the surfskates. Take it from Daphne too: "The culture is still young, but the community is open, friendly, and supportive." You certainly feel that – from instructors like Eugene, to fellow learners in The Ride Side classes, and people of all ages going solo at the National Stadium.
Pandemic fads like sourdough baking have come and gone. But Daphne reckons that surfskating – and board sports in general – will have staying power. "Surfskating has been around for over 15 years, so it's not a 'new' sport - but we are seeing more people picking it up due to the ease of learning compared to other board sports, and surfskating provides a entry point into aspirational sports such as snowboarding and surfing."
Failing that, The Ride Side will make sure it sticks around. Says Daphne, "With Trifecta opening in Somerset in 2023, there will Singapore's first surfskate circuit-bowl which will provide a key infrastructure to grow surf-skating, which will help to propel the sport locally!"