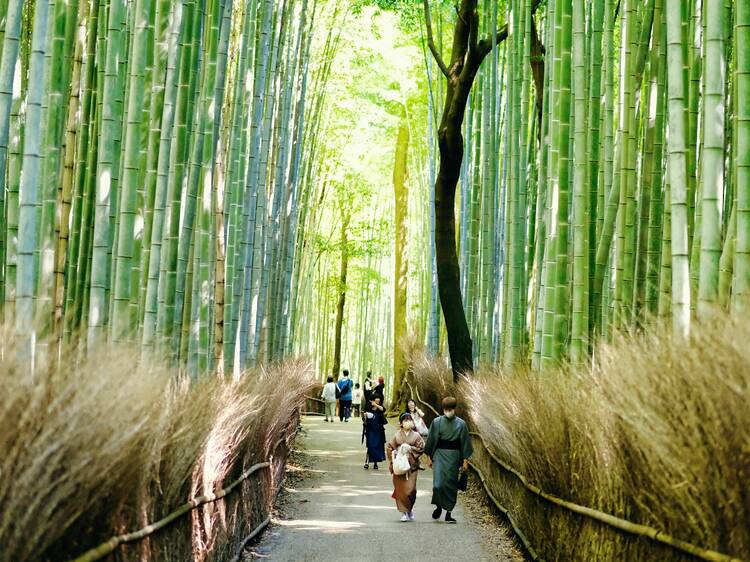 Photograph: Unsplash
Journey west to Arashiyama
Start early with a brisk hike in one of Kyoto's unmissable sights, the Arashiyama Bamboo Groove. Immerse yourself amongst the towering stalks of bamboo and clean fresh air. Along the Sagano walking path, you will soon stumble upon Nonomiya Jinja, a small shrine with plenty of history.
Here, you will find many native Japanese couples or singles coming to seek a blessing for love. After all, it enshrines Shirafuku Inari Daimyōjin, a matchmaking deity. Meander around the property and you might uncover a charming moss garden around the back away from the crowds.

Don't miss out on Tenryu-ji Temple, which is right around the corner. Ranked first among the city's five great Zen temples, the world cultural heritage site houses a legendary painting of a striking cloud dragon on the ceiling of the Dharma Hall. Head out back and you'll find yourself in the alluring Sogenchi Garden, one of Japan's oldest gardens kept unchanged since the 14th century.
Flanked by Mount Arashi as the backdrop, the lush landscape makes it one of the best sights to witness, especially during spring and autumn. Consider walking the sacred grounds where you'll be treated to verdant greenery and dainty flora and fauna.