The 12 best places to go shopping in Stockholm
Stock up on food, gifts and clothes at the best places to go shopping in Stockholm, from markets to department stores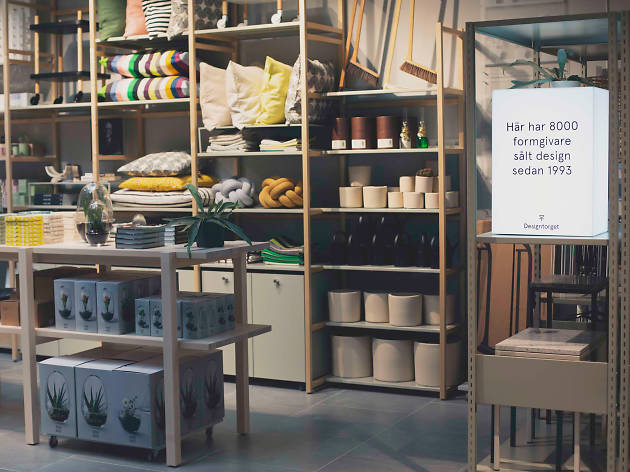 You might know it as home of H&M and IKEA – and the Swedish capital doesn't disappoint when it comes to affordable design with pretty much universal appeal. But in between the museum-sized furniture superstores and high street fashion outlets you'll find in neighbourhoods worldwide, Stockholm has artsy corners brimming with one-of-a-kind gifts, homeware and clothes.
Garm-shopping in Stockholm? Frankly, there are few better things to do in this city – and that's saying something. The vintage shopping scene is huge here, especially on Södermalm island's village-like cobbled streets. Less budget-friendly (but incredibly charming) is Naturkompaniet, the city's most renowned department store in opulent eastern Östermalm. The antique shops of neighbouring, restaurant-packed Vasastan also cater to the luxury-loving locals, but are worth anyone's window-shopping time. For those who'd rather rummage for a bargain (then head to a food truck), try the flea markets on Hötorget or Hornstulls Strand, which bring these outdoor spaces to life from early spring weekends until the end of August. And in winter, head indoors for Christmas markets that take over medieval squares and, in one case, a former prison. So grab a tote and get ready to splurge – these are the very best places to go shopping in Stockholm.
RECOMMENDED: Full guide to the best things to do in Stockholm
Best places to go shopping in Stockholm
Filled with the latest pieces from up-and-coming Swedish makers, Designtorget's compact stores are the perfect place for gift-hunting. From decorative homeware to classic Swedish novels in English, artsy postcards to eye-catching wall-hangings, expect to walk away with a one-of-a-kind souvenir (sorry – present for someone else). The retailer's relatively new but expanding fast, and there are now small outlets in several Stockholm shopping malls. The flagship is at Sergels Torg, on the basement level outside the giant Kulturhuset cultural centre.
2
Photograph: IKEA
The world's second largest IKEA
Based on the architecture of New York's Guggenheim, the original IKEA superstore at Kungens Kurva feels like at once a shop and a museum. The outlet's five expansive floors lead you in concentric circles through their latest, sure-to-be-iconic products. There's a café on every level, but definitely save room for the giant restaurant at the top – it serves everything from vegan cake to Christmas dinner buffets. A free IKEA bus runs hourly from Central Station.
From late April to late August, Hornstulls Strand (the promenade along the south-west edge of Södermalm island) hosts a flea market every Saturday and Sunday afternoon. Here you can find charity stalls, food trucks, and stands selling secondhand clothes, books and records. If the sun's out, there may even be a band playing.
Take home a Swedish noir thriller or a chunky compendium of local recipes from this intimate and friendly bookshop. Their sister store in Uppsala has won international awards (and drawn comparisons to Paris's legendary Shakespeare and Company), and this Stockholm store down a cosy side street in the SoFo area replicates that at-home feel. Doctor Who or Harry Potter fan? The store also offers a geeky range of franchise paraphernalia.
5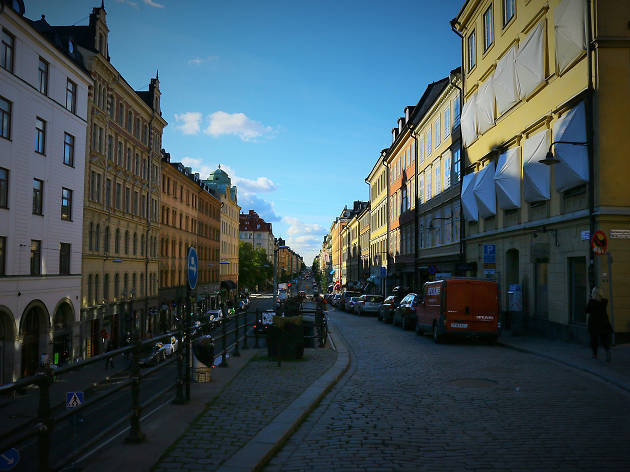 Photograph: Øyvind Holmstad / Wikimedia Commons
Art and secondhand shops on Hornsgatan
Crossing Södermalm from east to west, Hornsgatan is where to head for small, gallery-like stores displaying local artworks (there's a good run of them starting around Slussen station). Just beyond Mariatorget, there's a handful of secondhand and charity shops like Stockholm Stadsmission and Myrorna, which make this area a great place to rummage for bargain vintagewear too.
NK (pronounced a bit like 'encore') is Sweden's answer to Selfridges or Macy's. Under the rotating gold 'NK' sign that juts into the skyline, you'll find this gorgeous, storied department store at locations including Kungsgatan, the avenue linking Norrmalm and Östermalm. Inside, there are luxurious food halls, pricey mini-boutiques and the occasional Swedish celebrity signing books. On a budget? You don't have to splash out to enjoy the experience – it's worth going just to browse.
7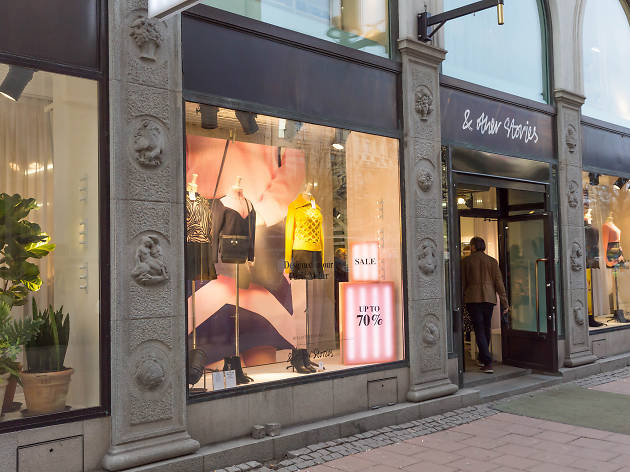 Photograph: Marco Verch / Flickr, www.flickr.com/photos/30478819@N08/32497462595
Swedish high street fashion
You're never more than a street or two away from an H&M in the Swedish capital (though that's increasingly true of any city nowadays). This being said, the Scandi clothing giant has several other brands, like & Other Stories and Weekday, that haven't enjoyed global renown on the same scale – yet. Their Stockholm outlets epitomise local fashion tastes: simple block colours, retro flourishes, and rows upon rows of denim. Look up your nearest store and stock up that wardrobe.
8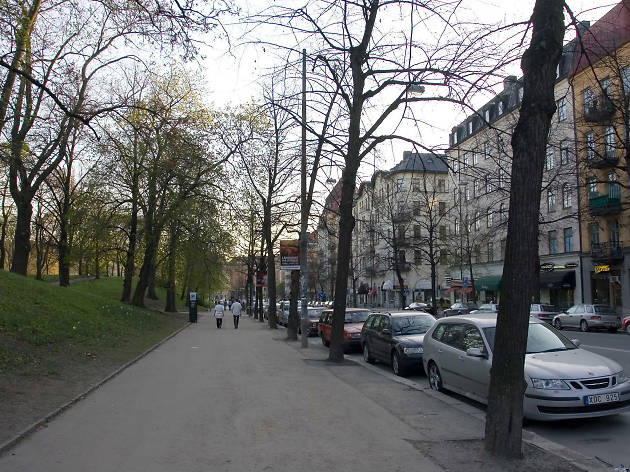 Photograph: Sergey Ashmarin / Wikimedia Commons
Antique stores in Vasastan
Vasastan is fast becoming one of Stockholm's most desirable central neighbourhoods, the sort of place where wealthy yopros are flocking en masse to snap up studio apartments – and indulge in its increasingly buzzy food scene. Walkable from the central station, but with a cosy suburban feel, here you'll find a cluster of fascinating antique shops specialising in all sorts, from Swedish designer lamps to all things nautical. A feast for the eyes, for sure, but wallet-emptying if you want to take any of it home.
Dating to the 1880s, this food hall in Östermalm is a staple of Stockholm's shopping scene, plus a fabulous example of Nordic Classicism. The striking main building has been closed for renovation for a couple of years, but its temporary home hosts the same array of local cheeses, jams, pickles, fish, bread and other luxury deli goods. Check the website for updates on the old building.
Beyond Retro's sprawling vintage emporiums can be found in Shoreditch, Brighton or in a handful of places across Sweden, two of which are in Stockholm. The Drottninggatan outpost is Sweden's largest vintage shop, with two floors of floral dresses, denim jackets and sequins galore. The Zinkensdamm store on Södermalm, which has a warehouse feel, is perhaps better located for its 1990s Adidas-loving locals. Beyond Retro also organise clothes-swapping events in parks, so check their social media for updates.
An opulent square of art deco hotels, a neoclassical concert house and grand cinemas, Hötorget (Haymarket) is the scenic backdrop to a weekend afternoon market brimming with secondhand books, homeware and antiques. That's in addition to the fruit and flower stalls that set up here every day, even in winter. The square's also opposite the superb Kungshallen food court on buzzing Kungsgatan.
12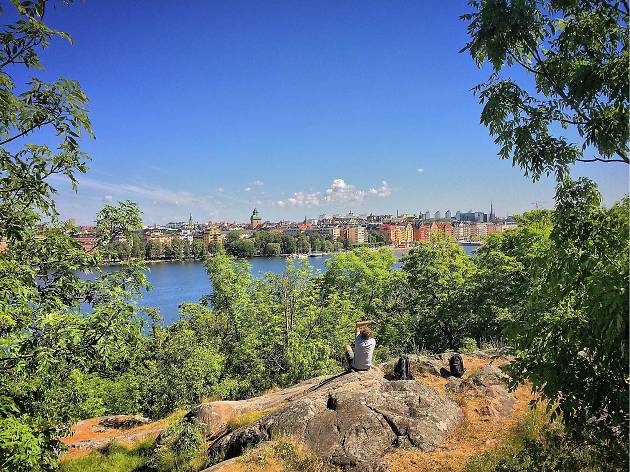 Photograph: Николай Семёнов / Wikimedia Commons
Längholmen's seasonal markets
The castle-like structure on Långholmen island, once home to a prison, is now a hotel-cum-theatre-cum-museum that hosts seasonal markets and craft stalls on weekends. In December, it draws crowds away from the Old Town square to its maze of artsy stalls overflowing with typically Swedish gifts, accompanied by the whiff of mulled wine and sausage. Check the website for upcoming events.
And here's where to bag a bargain blowout...
You can do brunch in Stockholm one of two ways. Of course, there's your traditional Swedish buffet, often served in a beautiful old 'host house' – these are still going strong. But there's also an emerging American-influenced brunch scene, where the meats are out and acai bowls very much in.