The 14 best Airbnbs in Stockholm
Get your hygge-fix and live like a local at these stunning Scandi apartments that we consider the best Airbnbs in Stockholm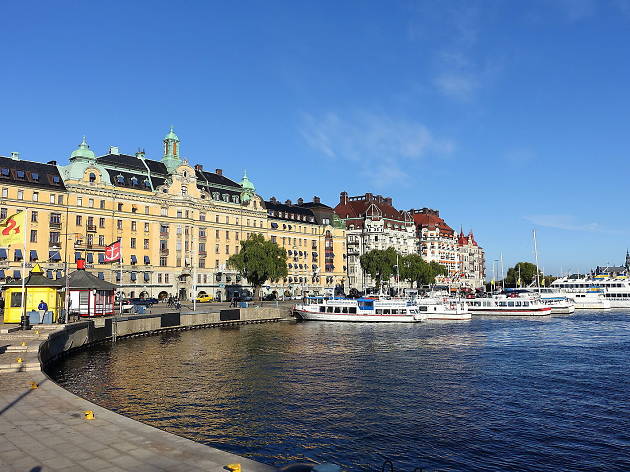 It's the Scandi capital where tradition meets technology, where Abba super fans rub shoulders with fika-loving creative types, where jaw-dropping attractions, cool bars and incredible restaurants sit side-by-side. Plus, it's the perfect place for anyone on the hunt for the true meaning of hygge, of course. And what better way to find it than by renting your very own cozy home? The Swedish capital isn't the cheapest of cities, so make your kroner go further (and feel more like a local) with a stay in a sleek Scandi-cool studio or a lakeside eco-village—or, if you're feeling really fancy, you could opt for the grandeur of a castle (seriously). Your call; the best Airbnbs in Stockholm pretty much have it all.
Stockholm's best Airbnbs
Charming two-bed apartment in Södermalm
Rub shoulders with artsy types in independent coffee shops, take20-minute stroll into the old town or peruse the beach-side food stalls before retreating to this adorable historic apartment. While the original 1929 parquet boards are perfectly lovely, it's the heated floor in the bathroom that has us excited.
Image ©Airbnb
Beautiful boutique home in Vasatsan
According to one guest, the photos don't do the place justice. But with those impossibly high ceilings, signature Scandi furniture and natural light by the bucketload, we'd be happy to take the risk. And those with big feels for felines will be pleased to see Mossan the house cat occasionally make an appearance.
Image ©Airbnb
Stylish family-friendly apartment in Södermalm
This top-floor apartment is so fly, its Airbnb photo album is full of shots taken during an interior design mag shoot. But don't worry about tiptoeing around the place, the owners have two young kids so your little'uns will have plenty of toys to keep them occupied while the big kids can cosy up on the balcony sofa with a glass of red. Bliss.
Image ©Airbnb
Centrally-located penthouse in Gamla stan
Sure, there are far fancier penthouse suites out there. The vibe here is more shabby chic than Scandi-cool but you'll be hardpressed to find a four-floor apartment at this location, at this price and one that serves panoramic views over Stockholm from its rooftop terrace that are THIS sexy.
Image ©Airbnb
Super slick one-bed studio in Kungsholmen
This uber modern, and 'spotlessly clean' (according to one happy camper) studio is just a 15-minute stroll from the central station. Plus, there are loads of local eateries to grab a bite in and a snug balcony to curl up on after a day's wandering. Perfect for couples or lone travellers.
Image ©Airbnb
A plush castle in Södertälje NV
If it's the royal treatment you're after, you could do worse than Viksberg Castle. It retains the faded grandeur of a building erected in the 1660s but (thankfully) comes with all the mod cons you and your work pals need for a comfy stay – ie a billiard table, piano, games room and that all-important jacuzzi.
Image ©Airbnb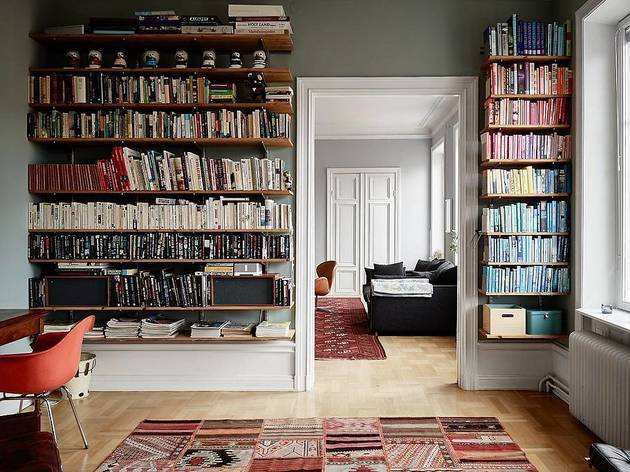 Vintage three-bed in Ostermalm
Feeling flush? You will be after a stay on the top floor of this former bank. It's strictly coasters only (ring marks on that antique furniture probably wouldn't go down too well). And there's a handily located fireplace to plonk yourself in front of, plus a wall of books to devour while you're there.
Image ©Airbnb
Swanky one-bed apartment in a Södermalm skyscraper
For a slice of the high life and uninterrupted views over Stockholm that are practically begging to populate your Insta feed, it has to be this sleek-looking flat, located at the top of a 21-story building. And with all the best bars and restaurant spots are laid at your feet all you have to do is tear yourself away from that gorgeous view. Good luck!
Image ©Airbnb
Totally zen one-bed in Södermalm
After a hard day flitting in and out of boutiques, making coffee-stops and soaking up the fresh air in Stockholm's parks, (it's a tough life) what you really need is a tranquil spot to return to. This compact condo is light, airy and ideal for couples. It's just a stone's throw from the subway and a 15-minute stroll from the Old Town – if you can persuade each other out of that extremely comfy bed.
Image ©Airbnb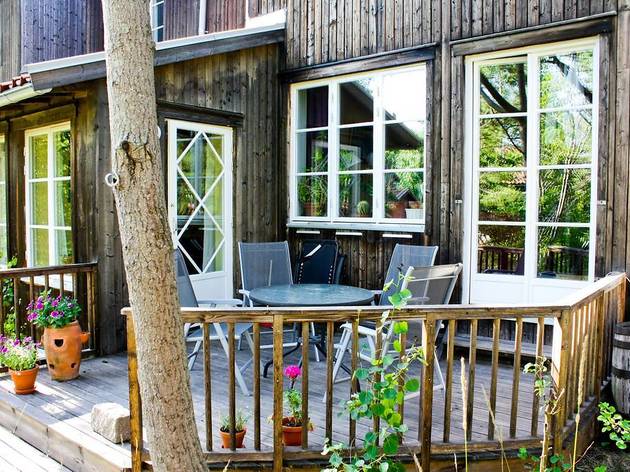 Eco-friendly B&B just outside the centre
If solar panels, lake-side saunas and environmentally friendly materials have got your sustainability senses tingling, make a beeline for this beautiful B&B, located in an "eco-village", which has a nature reserve right on its doorstep. And with the city just a 15-minute train ride away, it's easy enough to pop into town if you've had enough of all that awful fresh air.
Image ©Airbnb
Arty modern two-bed in Gamla Stan
Culture vultures will love this cosy apartment, which sits above an art gallery on a charming cobbled street in the historic Gamla Stan area. The Royal Palace and other sights are within walking distance and there are plenty of bars, cafes and restaurants in the vicinity so you don't have to wait long to get your Swedish fika-fix.
Image ©Airbnb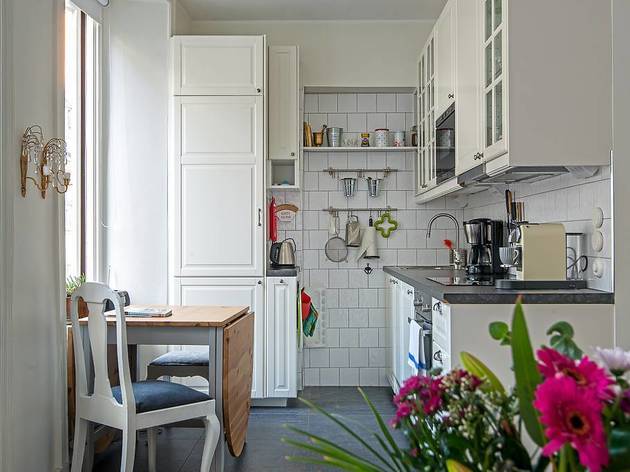 Cosy one-bed in Gamla Stan
Super central, this lovingly refurbed apartment is a great place for travellers looking to be in the midst of the action. Explore the grandeur of Stockholm's Royal Palace before treating yourself to a right royal steaming in the sauna, located in the building.
Image ©Airbnb
Character-filled one-bed near the Central Station
This colourful, characterful apartment fits three (if someone doesn't mind the futon), and you can be in the old town in ten minutes by public transport. Plus, one major perk of staying in a property owned by a tour guide is it's full of guidebooks and tips for making the most of your Stockholm stay. Result.
Image ©Airbnb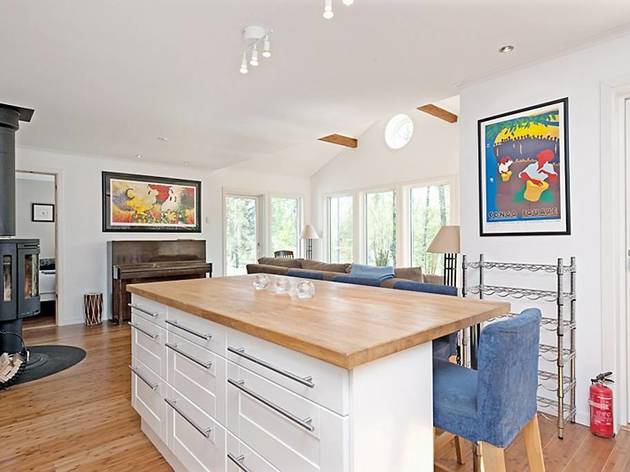 Six bed island getaway in the Österåker Municipality
Stockholmers don't call their city 'beauty on water' for nothing. Soak up the natural wonder of the Archipelago at this enormous island getaway. This modern three-bed (which sleeps six) is surrounded by woodland, within walking distance to two beaches and comes with its own hot tub. Pretty neat eh?
Image ©Airbnb
Find the right neighbourhood for you in Stockholm
High tail through the Scandic captial's lively, scenic neighborhoods with our guide to hotels, eateries and things to do
More to explore