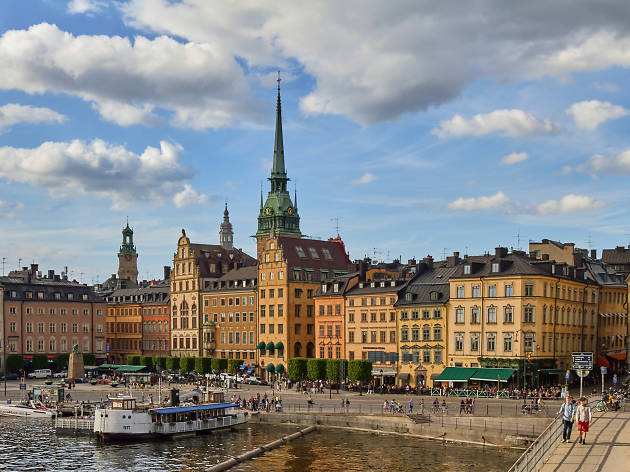 Your essential guide to where to stay in Stockholm
After a tip-top place to stay in Stockholm? Check out our guide to the best neighbourhoods in town and take your pick
Arriving in the Swedish capital for the first time can be a dizzying experience. With lakes, pine trees and secluded beaches that contrast effortlessly with its world-class architecture and attractions, this higgledy-piggledy city of 14 islands blends natural and man-made beauty with utterly charming results.
The question, then, is where exactly you should stay in Stockholm. The trick? To find an island whose character suits yours and go from there. That's where we can help. From historic Gamla Stan and the opulent royal park of Djurgården to Hornstull's thriving alternative scene, these are our five absolute favourite Stockholm neighbourhoods, packed as they all are with brilliant bars, restaurants and places to stay. Regardless of where you end up, each is worth dropping by once you're there.
RECOMMENDED: Full guide to the best things to do in Stockholm
Where to stay in Stockholm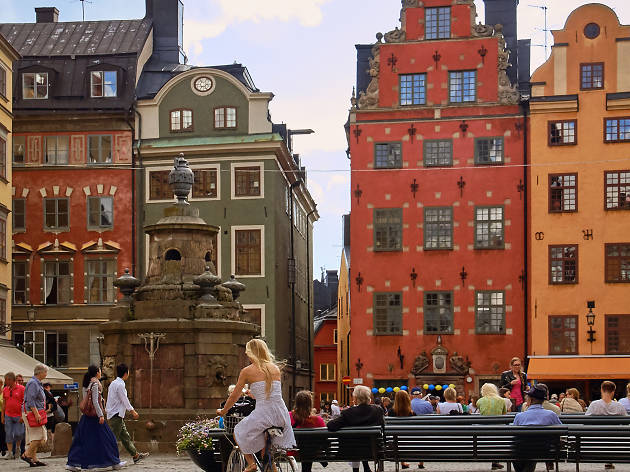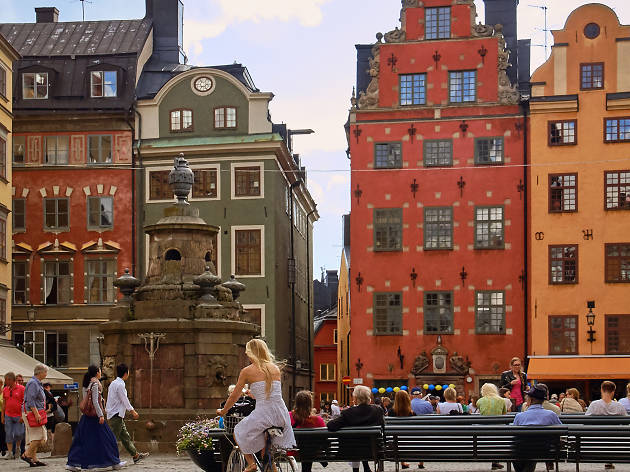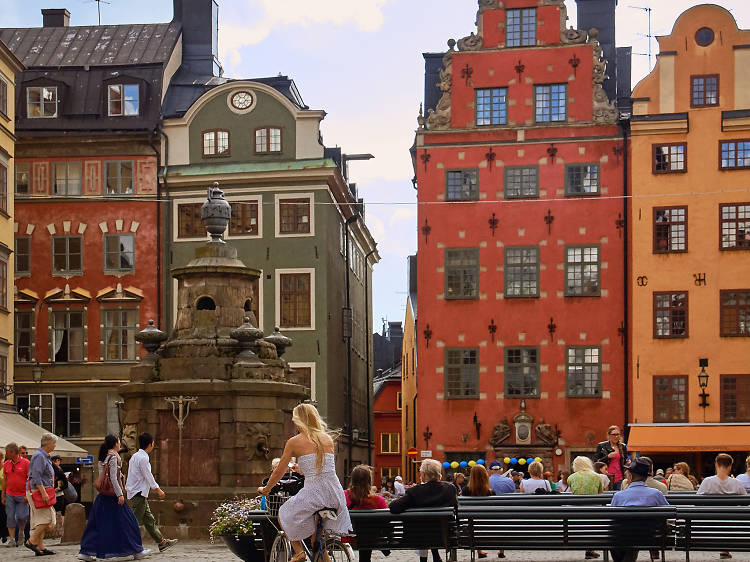 Photograph: Pedro Szekely/Flickr
Gamla Stan (or the Old Town) is Stockholm's medieval heart, and it remains the epicentre of the inner city. Here you'll find Parliament, the Royal Palace, Christmas markets, museums, colourful churches and narrow cobbled streets. The trouble is deciding where to begin.
Unlike the modern districts surrounding it, there's no logical order to the streets of Gamla Stan. The trick is to surrender to it and get lost within. It's utterly rewarding: on your way you'll come across cafés spilling on to side streets, tucked-away wine bars and boutiques selling hand-crafted gifts.
Gamla Stan is accessible from almost anywhere in central Stockholm, whether on foot across its bridges from either Norrmalm or Södermalm or via the metro station where both the green and red lines meet. On a sunny day, the best way there is by boat: the commuter ferry 82 nips between Gamla Stan and the islands of Skeppsholmen and Djurgården in just 10 minutes.
STAY
You're spoilt for hotels here, from the decadence and antique charm of the Victory Hotel to a cosy cabin on board the Mälardrottningen yacht hotel, moored just a couple of minutes from the metro station.
EAT
Gamla Stan is packed full of surprises and one of them is Naturbageriet Sattva on Stora Nygatan street, a small bakery that does vegan versions of Swedish goodies and has shelves full of herbal teas.
DRINK
Kornhamnstorg, a waterside square on the western side, brims with pubs. Engelen is a great choice for live jazz and blues, as is The Temple Bar for its cheap pints and indie playlists.
DO
Learn about Nobel Prize winners at Nobel Museum on Gamla Stan's main square, Stortorget. While you're there, take in the gorgeous old buildings that surround the square. This a great place to start any self-guided tour of the neighbourhood, if you don't get held up browsing a market first.
If you only do one thing…
Watch the sun set from the western edge of Riddarholmen, Gamla Stan's tiny sister island. It's quiet and the view across the water, with Södermalm to your left and Kungsholmen island to your right, is really quite striking.
The western corner of Södermalm island, in the south of the city, is home to Stockholm's trendiest residents. This is the area to head to if you're after alternative and LGBTQ-friendly culture. Hornstull is easily reachable via the red metro line, so there's little standing between you and an incredible selection of independent cafés, markets, bars, clubs and gig venues.
On any given day or night, you can grab a drink and a falafel wrap to enjoy on the island's mini beaches, relive the '90s at one of Debaser Strand's indie nights, or just chill out at a floating bar.
STAY
For a stay that'll leave you feeling like a local, find an Airbnb near Tantolunden park. Or go all-out in one of Långholmen's colourful traditional Swedish cottages.
EAT
If you're not sure what you want, head to the waterfront and take your pick of the food trucks. Veggies should beeline for Vegan Soul Train, a welcoming takeaway shack that makes vegan-friendly burgers, kebabs and ice cream.
DRINK
Stage Bar & Kök (kitchen) is always a safe bet for decent pub grub and regular live bands. Alternatively, for a bit of quirk, you should try Loopen, which you'll find floating on Årstaviken lake.
DO
Shop for perfect pieces old and new. For vintage vibes head to Hornsgatan and for a contemporary feel, browse Hornstull Gallerian. If you've still got loads of energy left after a day of shopping, dance the night away at Debaser Strand club.
If you only do one thing...
Take a stroll along the Strand, which runs besides the water and beach, and even take a dip if you feel plucky enough to brave the chilly Liljeholmsviken.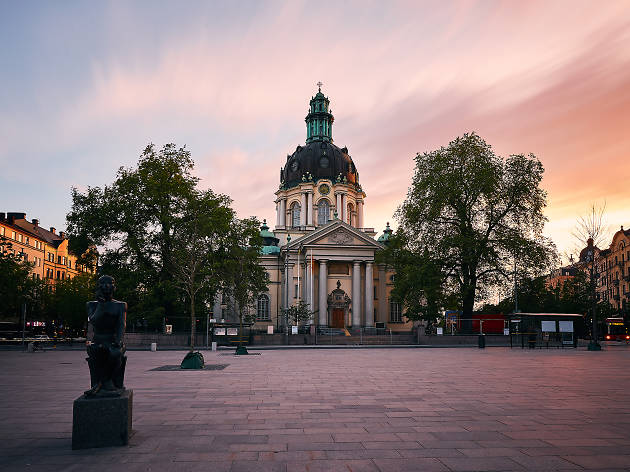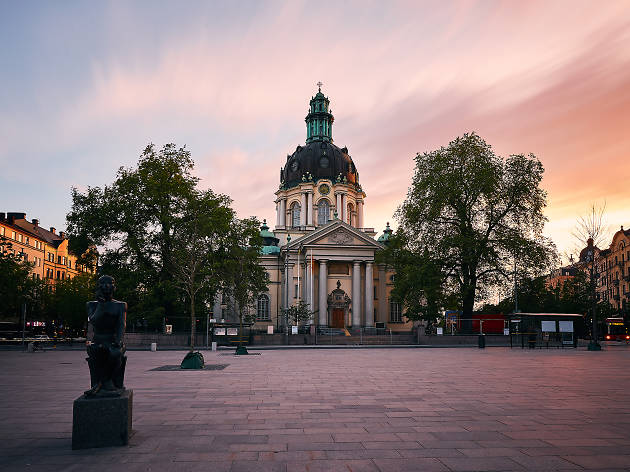 Photograph: James Losey/Flickr
The northern corner of downtown Stockholm might not be the oldest or prettiest, but it really can't be missed. Odenplan was already the central hub of the upmarket Vasastan district, but has recently upped its game with a shiny new commuter rail station, underlining its pride of place in the middle of the Swedish capital. Surrounding Odenplan are some of Stockholm's best-loved cafés, the national library and a smattering of brilliant vintage stores.
Effortlessly cool Odenplan is unavoidable if you want the full inner-city Stockholm experience. Simply walk up from Norrmalm, past the central station or along the buzzing Sveavägen avenue, and keep going uphill until you reach Odengatan street. If you're in a hurry, you can take the green metro line to get in from south or west Stockholm.
STAY
A few affordable international chains have opened up hotels by Odenplan. The local Hotel Ibis Styles is on a quiet street just off Odengatan, where some rooms have even kept a few of their original features.
EAT
Café Pascal is a badly-kept secret amongst coffee lovers in Stockholm, and its moreish cheese scones and cardamom buns deserve equal fame. The ironically named Greasy Spoon offers a catchy playlist alongside a great brunch menu and is a firm favourite among both Stockholmers who love a full English and expats who miss them.
DRINK
Tucked away behind Odengatan, RoQ bar is a delight for fans of rock music and arcade games. This one can keep large groups entertained long into the wee hours. Otherwise, make a right where Odengatan meets Sveavägen for a string well-loved pubs (most of which offer at least one affordable pint).
DO
Bookworms will be in their element at Stockholm's City Library, a curved menagerie of literary delights. When you're done browsing its titles, sift your way through second-hand garms at some of Stockholm's well-loved vintage and charity shops: Myrorna, Stockholms Stadsmissionen and Beyond Retro all have branches within a few minutes' walk of Odenplan.
If you only do one thing…
Stockholm Observatory is perched proudly on a hill just off Odenplan. Hiking up there is worth it for the view of downtown Stockholm alone, but the waffles at the café by the Observatory offer an extra reward for your stair-climbing efforts.
A short bridge away from Östermalm, the wealthy east side of the city, is one of Stockholm's most characterful islands. A royal parkland dotted with harbours, colourful Swedish cottages and delightful museums, leafy Djurgården feels more like a countryside escape than part of a capital city. Here you'll find museums that celebrate the best of Sweden and cute cafés clustered around the village-like centre of Skansen.
From Skansen, follow the coast around the island's edge for a gorgeous walk. Stop and watch cruise ships pass on their way to Helsinki from beaches just big enough for two. If you have the time, you can walk around the whole of Djurgården on foot, but tram 7 also goes half-way around the island and can take you back to the city centre afterwards if you're not feeling up to a trek.
STAY
For stylish, ABBA-themed rooms (yes, really), there's Pop House. Less famous than the pop quartet but just as evocative of Stockholm are the beautiful boat-houses: grab an opulent room on board the Prince Van Orangiën, moored between Djurgården and its off-shoot mini-island, Beckholmen. For something more affordable, Scandic Hasselbacken is right in the centre of Skansen, in a gorgeous old house with an impressive garden.
EAT
To sample fresh, traditional Swedish cooking, organic vegetable garden and café Rosendals Trädgård is a treasure on the quieter east side of Djurgården.
DRINK
Take a trip through an array of Nordic liqueurs at the Spirit Museum, set within an old naval building by one of Djurgården's lovely harbours. If that doesn't warm you up enough, in summer months the Nordic Museum has an outdoor bar with bright lights and palm trees, which can fool you into thinking you're spending your evening somewhere altogether more tropical.
DO
Delve into Scandinavian culture at the Nordic Museum, join the band at the ABBA Museum or head to the Vasa Museum to witness the resurrection of Sweden's least successful battleship, the Vasa, which sank mere yards from its maiden departure.
If you only do one thing…
Head to Skansen park, an outdoor museum that takes visitors on a journey through Swedish history amid lush green surroundings. Here you'll find beautiful deer, live demonstrations of traditional crafts and recreations of ancient Swedish houses from different regions, mapped out like the country itself.
Photograph: Madeleine Hyde
Just north-west of the city, Sundbyberg is the smallest yet most populated neighbourhood in Stockholm County. It started life as a swampy, agricultural stretch of land that began getting gentrified from 1870, when the first plot was bought. Nowadays locals still refer to it as 'Sumpan', but in an affectionate way.
It's also one of the most affordable areas thanks to a swathe of '70s social housing, drawing in creatives and offering a wealth of great bars, cafés, shops and other attractions. A particular highlight is Signalfabriken, a former telephone cable factory in central Sundbyberg that's been developed into modern housing, retail premises and a charming library.
Recently updated transport links to Sundbyberg mean it's now just 10 minutes from Stockholm Central Station by commuter rail, making this peaceful escape from the inner city a quick and easy one, and giving 'Sumpan' the place it deserves on the Stockholm map.
STAY
We've given it a mention already, but Signalfabriken's Story Hotel offers industrial chic for a mid-range budget. It's worth comparing prices if you're already looking at hostels or Airbnb.
EAT
No trip to Stockholm would be complete without trying Swedish pastries. A great place to do this – and give fika, traditional coffee or cake, a go – is Princess Konditoriet. You'll find this cute café on Sturegatan, the area's high street. If you're hankering after something a little heartier, head to pizza joint Delibruket Flatbread, in an old water tower.
DRINK
The Public, a cava bar within the red-brick Signalfabriken, adds some Mediterranean flair to Sundbyberg, with an exciting tapas menu and inviting outdoor seating throughout summer. Soak up the midnight sun with a glass of bubbly in hand.
DO
Shop till you drop – or until you max out your card on upmarket Scandinavian design – at the second-largest shopping centre in the Nordics. The prosaically named Mall of Scandinavia contains more than 200 stores – so you'll be absolutely spoilt for choice. It's just a short hop on the Tvärbanan tram to boot.
If you only do one thing…
Head to Marabouparken art gallery, which hosts exhibitions of thought-provoking contemporary art from Sweden and beyond. An added bonus: arts students get in free.
Simply want to tick off the sights?
When it comes to camera-ready sights, you could hardly do better than photogenic Stockholm. With its 14 island coastlines, the majestic parks and gardens that cover a third of the city, and excellent cultural things to do every which way you turn, this compact metropolis crams in top attractions like Swedish Surströmming (herring).