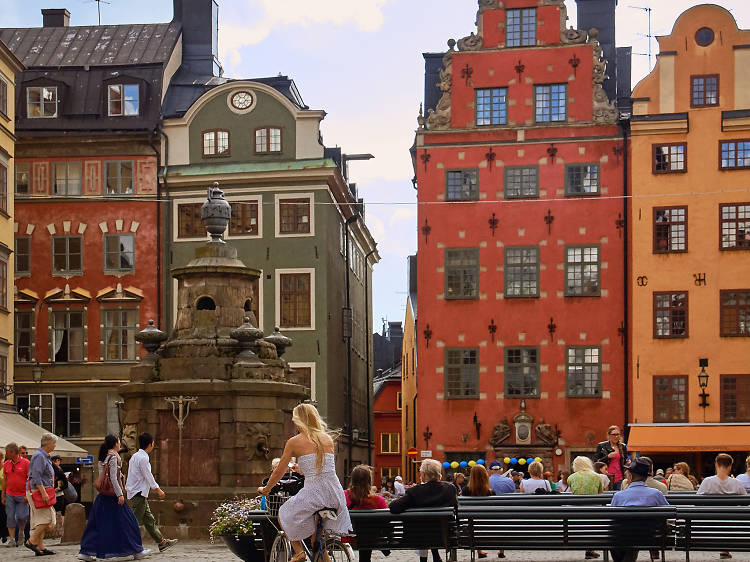 Photograph: Pedro Szekely/Flickr
Gamla Stan
Gamla Stan (or the Old Town) is Stockholm's medieval heart, and it remains the epicentre of the inner city. Here you'll find Parliament, the Royal Palace, Christmas markets, museums, colourful churches and narrow cobbled streets. The trouble is deciding where to begin.
Unlike the modern districts surrounding it, there's no logical order to the streets of Gamla Stan. The trick is to surrender to it and get lost within. It's utterly rewarding: on your way you'll come across cafés spilling on to side streets, tucked-away wine bars and boutiques selling hand-crafted gifts.
Gamla Stan is accessible from almost anywhere in central Stockholm, whether on foot across its bridges from either Norrmalm or Södermalm or via the metro station where both the green and red lines meet. On a sunny day, the best way there is by boat: the commuter ferry 82 nips between Gamla Stan and the islands of Skeppsholmen and Djurgården in just 10 minutes.
STAY
You're spoilt for hotels here, from the decadence and antique charm of the Victory Hotel to a cosy cabin on board the Mälardrottningen yacht hotel, moored just a couple of minutes from the metro station.
EAT
Gamla Stan is packed full of surprises and one of them is Bröd & Salt, where you'll find pastries, breads and bowls of beautiful brunch food that are almost too pretty eat. Almost.
DRINK
Kornhamnstorg, a waterside square on the western side, brims with pubs. Engelen is a great choice for live jazz and blues, as is The Temple Bar for its cheap pints and indie playlists.
DO
Learn about Nobel Prize winners at Nobel Prize Museum on Gamla Stan's main square, Stortorget. While you're there, take in the gorgeous old buildings that surround the square. This a great place to start any self-guided tour of the neighbourhood, if you don't get held up browsing a market first.
If you only do one thing…
Watch the sun set from the western edge of Riddarholmen, Gamla Stan's tiny sister island. It's quiet and the view across the water, with Södermalm to your left and Kungsholmen island to your right, is really quite striking.