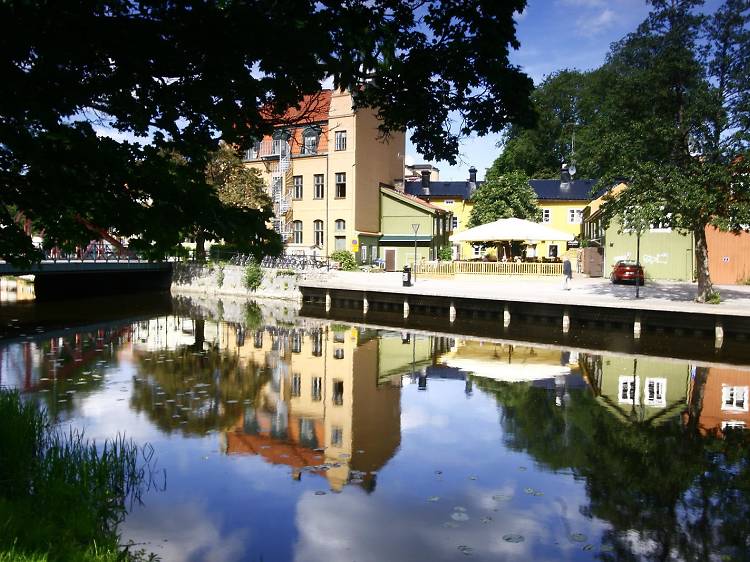 Photograph: Michal Gorski/Flickr
Uppsala
Just 30 to 40 minutes north of Stockholm by train, Uppsala is home to the oldest university in the Nordics, founded in 1477. More than 40,000 students study in Uppsala every year, adding significantly to the population of Sweden's fourth-largest city. It's a walkable, picturesque place with a relaxed yet dynamic vibe and plenty of attractions for a day trip or a longer stay.
Uppsala's skyline is dominated by the city's medieval cathedral and 16th-century castle, west of Fyrisån, the river that divides the town. Many of the university's buildings are located in the same area, including the university administration building, the botanical garden, and the main library, Carolina Rediviva.
Uppsala was an important site long before the arrival of the university, with a history as a religious centre going back more than 1,500 years. Several runestones brought from their original locations in the region stand outside the cathedral, with additional stones in nearby University Park.
EAT
Relaxed and unpretentious, Hambergs Fisk serves up fresh, flavorful seafood in a casual, snug riverside restaurant that doubles as a fishmonger's. Quality wines and an excellent dessert and cheese selection round out the experience. Reservations are recommended.
DRINK
Housed in Uppsala's old train station, Stationen is a three-part venue, housing a brasserie (Paris), a café (Rome), and a bar (London). Specialising in gin, London also serves pub food, weekend afternoon tea, champagne and other drinks. In the evenings there's sometimes a DJ or live music. Stationen also has a large outdoor seating area during summer.
DO
The oldest university building in Sweden, Gustavianum (temporarily closed) is now a fascinating museum housing archaeological artefacts from the Viking era and ancient Egypt, as well as art, ancient coins, and other objects relating to the university's history and the history of science. At the top of the building is the Anatomical Theatre, built in the 17th century and formerly used for public dissections. Closed Mondays.
STAY
In the heart of historic Uppsala, Hotel Villa Anna is a small boutique hotel with 11 rooms, housed in a lovely 19th-century building close to Uppsala Cathedral, Museum Gustavianum, and other attractions. The breakfast buffet has hot and cold items, with many ingredients sourced from local farms.
If you only do one thing...
Visit Uppsala Cathedral. As long as it is tall, this red-brick structure with soaring spires is the largest church in Scandinavia. Built between 1270 and 1435, it's the seat of Sweden's only archbishop, the head of the national church. Numerous important historical figures are buried here, including Sweden's most famous king, Gustav Vasa, and his second son, Johan III, as well as Carl Linnaeus and other notable figures. The cathedral also houses the shrine to Sweden's patron saint, Erik IX.