1/3
© The Andy Warhol Foundation for the Visual Arts
Miss Dior shopfront, c. 1955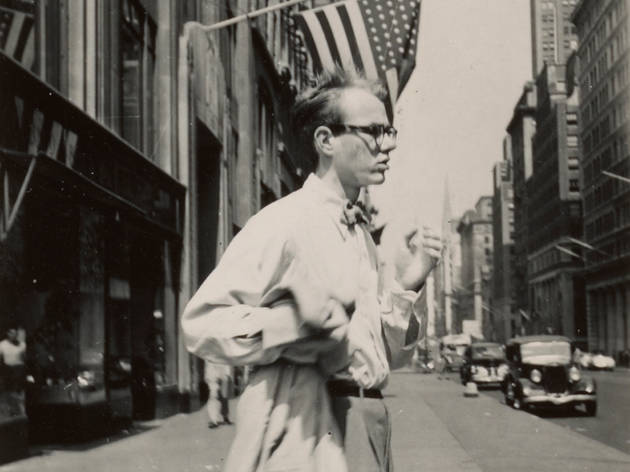 2/3
Photograph: Philip Pearlstein/Smithsonian Institution
Andy Warhol in New York City c1949
3/3
© The Andy Warhol Foundation for the Visual Arts
Bottom left: 'Barne', c1957
This exhibition of works from the Andy Warhol Museum in Pittsburgh represents a comprehensive survey of his pre-Pop art practice
Andy Warhol's three-decade career might have left an indelible impression on art – and design – but this exhibition of his pre-Pop output reveals a very different artist and individual from the one most of us know. It focuses instead on the '50s commercial illustrator whose early 'fine art' works betrayed influences including Picasso, Matisse and Jean Cocteau, and mined his sexuality for content.
Comprised of more than 300 objects from the Andy Warhol Museum in Pittsburgh, curated by AGNSW's Nicholas Chambers, Adman: Warhol Before Pop is dedicated to roughly ten years of practice from the time the young Carnegie Tech graduate arrived in New York from Pittsburgh, to the first blush of his Pop art epoch – and the last gasp of his career as a commercial illustrator.
Warhol Museum curator Jessica Beck points to the artist's self-mythologising streak as one of the underlying themes of the exhibition: "As soon as he gets off the bus in New York he's [crafting his persona]; he's ambitious, and even though he comes from this quite meagre upbringing in Pittsburgh – the youngest of three boys, a working class family – he knows where he wants to go."
As we enter the exhibition, we see a wall-sized photograph of the young Warhol – pre-fright-wig, sporting short hair, a bow-tie and an ill-fitting suit; further down the wall we see a candid snap with his mother Julia Warhola, who was influential in his life and work.
Later in the exhibition, materials from Warhol's personal archive reveal the man behind the myth. Opera tickets purchased in Italy (during his two-month 1956 world trip with friend Charles Lisanby) reveal highbrow tastes he disavowed in public. Receipts for printers reveal that he was printing massive runs of his books – but then, unable to offload them, dropping them off at various book-sellers, unsolicited.
Within the first room of Adman, we see early graphic designs for record covers, and typographic work inspired by his mother's handwriting; and in the second room of the exhibition we see his self-published art books (the cover for 'Fat Fairies' features a rubenesque, cupid-like figure; scroll through an iPad to see 25 Cats Name Sam and One Blue Pussy).
Even as the exhibition moves deeper into Warhol's fine art practice (a series of simply drawn, gently homoerotic portraits of men, for example), it is interspersed with illustrative commissions for Vogue, ads for I Miller shoes, and reconstructed shopfront designs for 5th Avenue department store Bonwit Teller, among others.
The two Warhols – artist and adman – co-existed for some time, and in some ways informed each other (as you can see in commercial illustrations where he plays with 'serialising' images for the first time). The latest work in the show, from 1966 (four years after Warhol exhibited 'Campbell's Soup Cans'), is a commission for leathergoods company Fleming-Joffe.
The final room of the show is dedicated to Warhol's shoe work – both commercial and artistic. It includes his most lucrative career assignment: a series of ads for I Miller that ran 1955-1959 in the New York Times (and thus constitutes one of the major platforms for Warhol's illustration during that era). He won many awards for the series, which was fuelled by a productive tension between adman and artist: "Often, they're not didactically illustrating the object being advertised," Chambers notes. "They have a very conceptual, humorous approach to advertising."