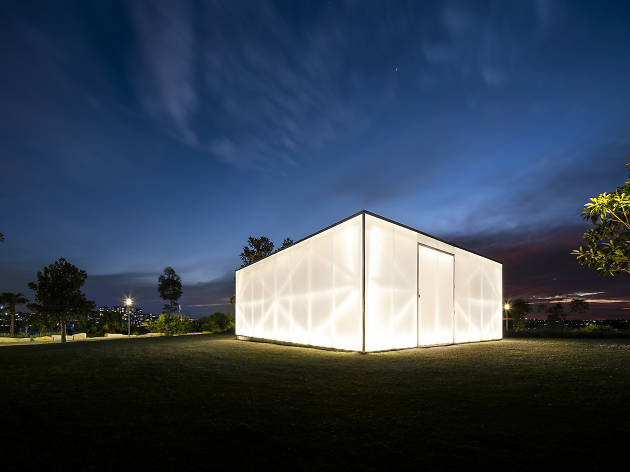 1/2
2/2
Listen deeply to First Peoples' stories in this custom built harbour-side pavilion
If you're hanging out at Barangaroo Reserve in June you might wonder what's inside the curious big white box that's set to be installed. Called Blak Box, it's a pavilion for art and sound by the boundary-pushing Urban Theatre Projects, telling the stories of the Indigenous people who've lived in the area for tens of thousands of years. Audiences of up to 30 at a time can step inside the dramatic but minimally lit pavilion and listen to a half-hour audio track featuring spoken word, natural sounds and music, played in state-of-the-art surround sound.
This is the first of three years that Blak Box – designed by Kevin O'Brien, a leading architect of Kaurereg and Meriam descent – will be installed at Barangaroo.
The first year's program is curated by Radio National host and Indigenous visual arts commentator Daniel Browning, and is called 'humechochorus' (hum echo chorus). It features 15 separate pieces from contemporary Aboriginal voices exploring oral histories of the precinct from pre-1788.
Browning said: "If the speed of sound warps our sense of time then we can still hear the crackle of fires lit thousands of years ago on the foreshore of the world's most magnificent harbour. The presence of the First People is inscribed in the acoustic memory of the place they now call Barangaroo. Contemporary voices share stories of country. Are you listening?"
Entry to Blak Box is free but it's recommended that visitors book ahead. Bookings are open here.