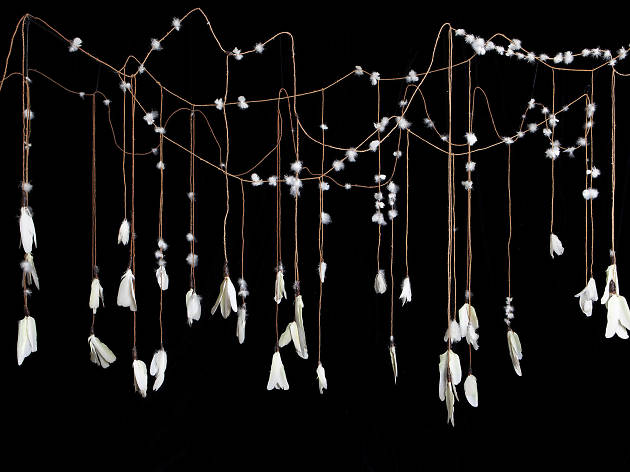 This MCA exhibition places works by Indigenous and non-Indigenous women artists in conversation with one another
Australia's major galleries always draw in their biggest audiences with blockbuster exhibitions of artworks brought in from across the world. But many of them have extraordinary artworks hidden away in their own collections, and regularly curate those rarely seen pieces in new and intriguing ways. Those exhibitions can be every bit as rewarding as the major blockbusters – and they're nearly always free, like this one is.
Compass is curated by the Museum of Contemporary Art's Clothilde Bullen, who's responsible for the gallery's Indigenous and Torres Strait Islander collection. As you might expect, there's plenty of work by Indigenous artists in this small but punchy exhibition of women artists in the MCA's smaller first floor gallery. Highlights include Lorraine Connelly-Northey's 'Three rivers country', a huge sculpture of corrugated iron, tin and barbed wire that's a map of the Murrumbidgee, Lachlan and Macquarie Rivers, Frances Djulibing's 'Yukuwa' sculpture of cockatoo feathers and banyan tree bark, and three of Lindy Lee's "weather drawings": huge suspended scrolls that have been exposed to the elements and weathered in beautiful ways.
You can also see Maria Kozic's 'Bitch', an early music video exploring how women are labelled and defined, and Gosia Wlodarczak's 'A Room Without a View', which documents a durational performance that the artist performed in Melbourne in 2019. It's made up of nine panels that made up a windowless box, in which she lived for 17 days. She drew all that she could perceive and see across the surfaces of those panels.