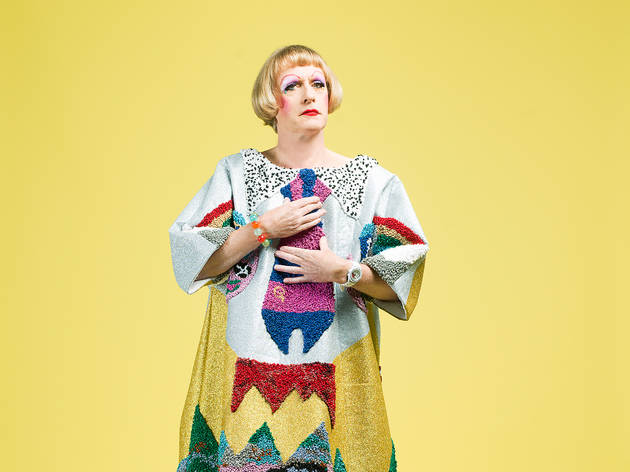 1/6
Photograph: Pål Hanson
Portrait of the artist as Claire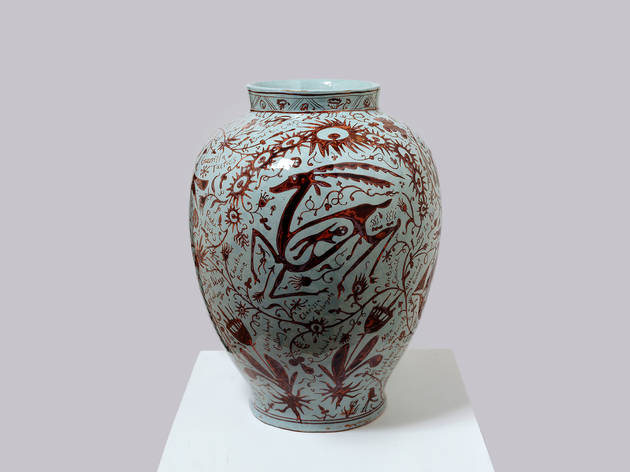 2/6
Photograph: courtesy the Artist and Victoria Miro, London
'My Pretty Little Art Career' (2003)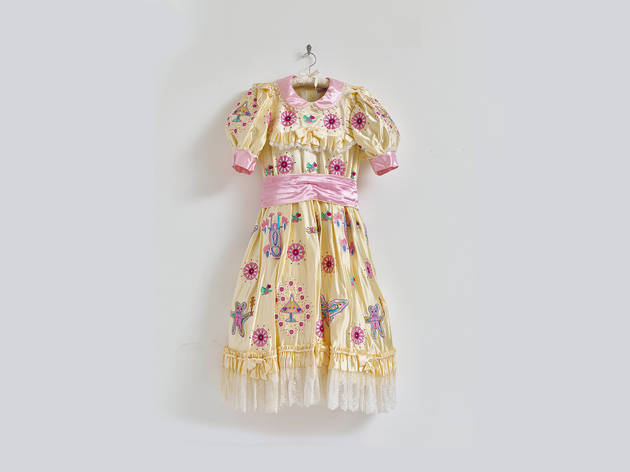 3/6
Photograph: courtesy the Artist and Victoria Miro
'Claire's Coming Out Dress (yellow)' (2000)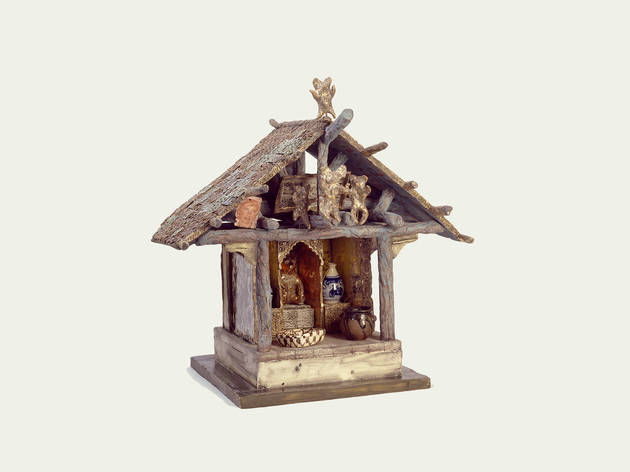 4/6
Photograph: courtesy the Artist and Victoria Miro
'Shrine to Alan Measles' (2007)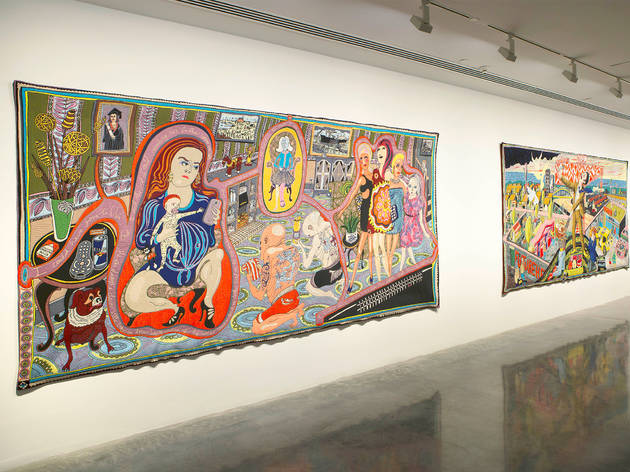 5/6
Installation view 'The Vanity of Small Differences' series (2012), MCA 2015.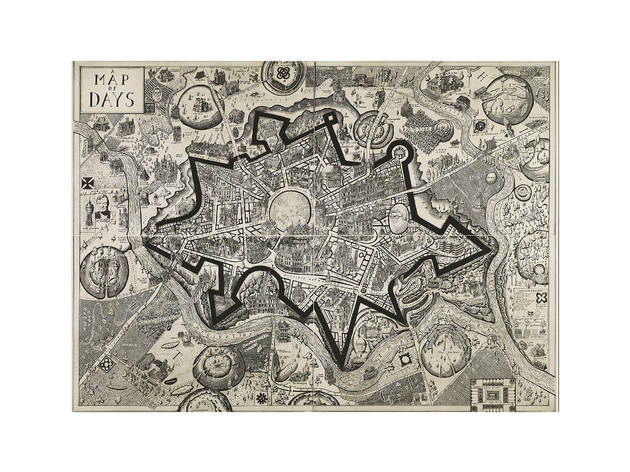 6/6
Photograph: courtesy the Artist and Paragon Press, London
'Map of Days' (2012-2013)
Grayson Perry: the guide
What you should know about the Turner Prize-winning transvestite potter before you hit up his Pretty Little Art Career at the MCA.
Grayson Perry: My Pretty Little Art Career runs at the Museum of Contemporary Art until May 1. Below we unpack a bit about the prize-winning potter that will help you make head and tail of this behemoth exhibition.
Who is Grayson Perry?
MCA director Elizabeth Ann Macgregor describes Perry as a "humble potter who has risen to great heights." That's because the Essex-born artist got his start with night-time pottery classes at the local tech, and made his way to a Turner Prize, a CBE, a BAFTA, and an exhibition at London's grand old dame herself: the National Portrait Gallery.
Perry was born in 1960 and spent most of his youth in small-town Essex. He has said that one of the key events in his life was the break-up of his parents' marriage when he was 5 years old. Subsequently, he found himself living with a violent stepfather, and developing a rich fantasy life to escape into.
These days, he's a minor celebrity in the UK thanks to his Channel 4 series All In The Best Possible Taste with Grayson Perry and Who Are You, and his numerous TV and radio spots.
In terms of identity – which is a major ongoing concern in his work – he counts transvestism and his working-class upbringing as key to his art. He also has an alter ego called Claire, who has a fabulous and often lurid sense of fashion.
What does he care about?
Simply put, Perry's work is fuelled by his investigation of class, gender and identity. Specifically, he's consistently interested in 'Britishness', the concept and construction of 'taste', and issues of 'high' and 'low' culture. His 2013 BBC Reith Lectures, titled 'Playing to the Gallery', were essentially an expose of the workings of the high art world, created for an audience of laypersons.
His work
Perry started with film, collage and performance art, in the early '80s. When he started pottery classes he began to produce ceramic plates, followed by the pots for which he is now most famous. His tapestry works are more recent, first appearing with the 2012 series The Vanity of Small Differences.
In her introductory catalogue essay, MCA curator Rachel Kent aptly describes Perry's work as "An amalgam of imagery and references, drawn variously from his personal history, popular culture, folk art and the ancient world."
In the same essay, Perry is quoted talking about the two parts of his personality that work in cooperation to produce his art: 'the hobbit' and 'the punk'. "I always try to balance my love of intricate historical detail (the hobbit) with social comment on my own time (the punk)," says the artist.
Five works to understand:
1. My Pretty Little Art Career (2003)
Near the beginning of his career, Perry asked a curator for advice on how to make it in the art world. They came back to him with a shopping list 50 items long, detailing key galleries, curators, prizes and collectors that he should target. He made that list into a pot, which was refined later into this more sophisticated urn, which functions as a ceramic CV.
2. Claire's Coming Out Dress (2000)
When Perry made this dress, he was two years into therapy – and only just, at the age of 40, confident in his transvestism. He made the dress for a staged 'coming out party' at Laurent Delaye Gallery for his family and friends, which took place in October 2000. It was also the beginning of a new stage in his alter ego Claire's personality: as Perry put it, Claire now "distilled the essence of femininity" – or, "the absolute antithesis of the macho".
The 'little girl' dress, in taffeta, is embroidered with a primitive iteration of Alan Measles, Christ butterflies, planes and penises.
3. Shrine to Alan Measles (2007)
Who the hell is Alan Measles? Originally, a teddy bear belonging to the child Grayson Perry. But Alan became a character in Perry's elaborate childhood fantasy world, and was carried into adulthood – and art – as recurring motif of heroic masculinity. In 2010, Perry undertook a motorbike pilgrimage to Germany with Alan on the back seat.
Throughout the exhibition, Alan appears on pots, in tapestries and sculptures – sometimes as the main subject, other times as a bit player. And he even has a ceramic shrine, inspired by the Shinto shrines of Japan.
In an interview for his 2011 British Museum exhibition Grayson Perry: The Tomb of the Unknown Craftsman, Perry said "I like presenting myself as a sort of one man civilisation… [And] if I was going to present myself as a civilisation, I needed a religion, and Alan was the absolute undisputed candidate for that… Alan is a test bed – he is a figure on whom I can apply all my thoughts about religion."
4. Vanity of Small Differences (2012)
This six-tapestry cycle was inspired by William Hogarth's suite of paintings A Rake's Progress (1733), which detailed the ascension and rapid decline of a figure called Tom Rakewell. Perry's suite, set in contemporary England, details the trajectory of Tim Rakewell – from birth through to spectacular death; from working class roots to fortune as a tech entrepreneur, tabloid infamy, excess, and finally, death by Ferrari.
The tapestries, drawn by Perry but manufactured by mechanical loom in Belgium, look spectacular – but make sure you don't miss the text buried within each work, belonging to one character or another. Not only does it tell the story and crystallise the ideas Perry is homing in on, but there's poignancy and poetry in it.
At the time the tapestries debuted, Perry said of his choice of medium: "One reason is that I could put on a large exhibition relatively quickly. It would take me two years to fill this room with pots, whereas the drawings for the tapestries took me three months. But I also chose tapestries because they were the status symbols of the super-rich, and they tell the stories of big national dramas and battles. I thought it would be interesting to show more everyday drama on them."
5. The Map of Days (2013)
It looks pretty innocuous: a black and white print from an etching. Pay close attention, though: it's actually a self-portrait of the artist, as a kind of walled city in which his constituent parts and preoccupations are mapped.
Perry created the work in conjunction with his Channel 4 series Who Are You, in which he profiled a variety of Britons who were at a point in their lives where they felt they needed to define themselves. As part of the series, Perry made a portrait of each person or group he encountered – and the resulting works were displayed at the National Portrait Gallery, alongside this self-portrait.