John Mawurndjul: I am the old and the new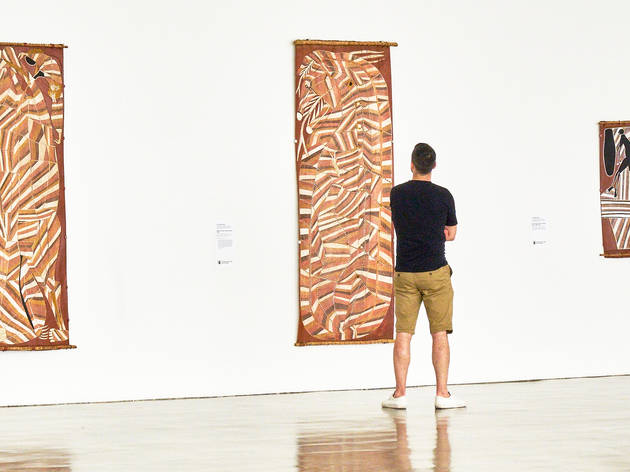 1/5
John Mawurndjul works in Luminous MCA Collection, 2015
2/5
John Mawurndjul, 'Ancestral spirit beings collecting honey', 1985-1987
3/5
John Mawurndjul, 'Nawarramulmul (Shooting star spirit)', 1988
4/5
John Mawurndjul, 'Ngalyod', 2012
5/5
John Mawurndjul, 'Nialyod (Female rainbow serpent)', 1988
One of Australia's most internationally successful artists of recent decades gets a wide-ranging retrospective at the MCA – with 165 works
Bark painting is among the most recognisable Aboriginal art, but you mightn't know that it was only popularised in the 1930s. Until then, the familiar imagery was used as body paint and in caves. Occasionally the patterns were painted onto bark as a record of the designs, but it's only relatively recently that the bark has been considered its own canvas.
One of the greatest exponents of bark painting – and one of the greatest exponents of Aboriginal art in general – is John Mawurndjul, who rose to international fame in the late 1980s and '90s. The Kuninjku artist, based in Arnhem Land, is getting a major career retrospective at the Museum of Contemporary Art, made up of 165 works.
They'll take over the third level of the MCA this winter, the same space where English artist and provocateur Grayson Perry presented a blockbuster show in 2015. At the time, Perry sparked debate when he controversially said Aboriginal art should not be considered contemporary art.
Clothilde Bullen, one of the curators behind Mawurndjul's exhibition and a Wardandi (Nyoongar) Aboriginal woman, strongly disagrees. "I think all Aboriginal art being made here and now is contemporary, and I'd absolutely stand by that," she says. "But it's OK that [Perry] is given the opportunity to say those things at the MCA, and we have this kind of rebuttal."
Not only is Mawurndjul one of the major pioneers of the bark medium, he has evolved and pushed traditional practices, like rarrk, which refers to a close and meticulous cross-hatching that creates an almost shimmering effect on the bark. And he has been deeply involved in shaping the narrative and layout of this exhibition, which explores elements of Kuninjku culture and then covers parts of his country in Central Arnhem Land.
"In a sense, you're working through country in the way you should – in the way John would want you to walk through," Bullen says. "We've had a collaborative approach, and allowing the artist to guide what we do rather than us being the gatekeeper – that's a very contemporary approach to Aboriginal curation."
The exhibition will also show his evolution as an artist, starting with figurative works which show natural elements like barramundi, frogs and turtles. In his mid-career, he started to push his use of 'rarrk' even further with paintings of the weeks-long Mardayin ceremonies that take place in Arnhem land. In the later stages of his career, his work became more abstract.
Bullen says that although both Mawurndjul and the MCA consider his work contemporary, his output stands on its own terms. And while his work is imbued with stories and images stretching back thousands of years, visitors shouldn't be worried about interpreting the paintings incorrectly.
"It's actually okay – it's an artwork and people will have different experiences with it and different takes on it, and can interpret it in lots of different ways. I think people need to drop that fear."