Six artists to collect at the Homeground Arts Market
Discover original art, craft, homewares and jewellery made by First Nations peoples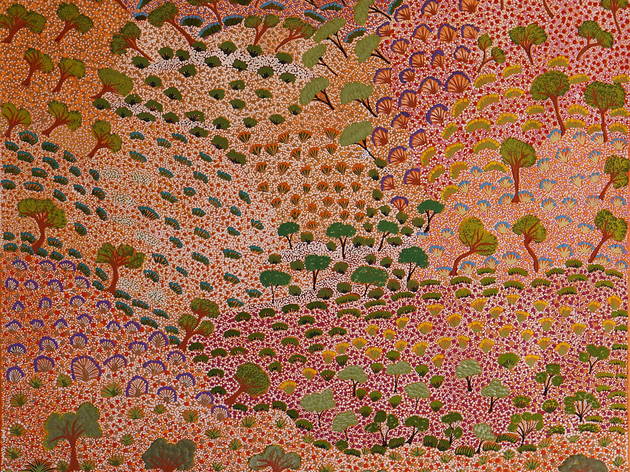 Returning to Homeground Festival this year is the arts market, where visitors will be able to view and purchase art, craft, homewares and jewellery created by First Nations people from across Australia and the Pacific Islands. Held over two days on the Opera House's forecourt, it's an opportunity to acquire original art, learn about traditional practices and meet some of the most respected Indigenous artists in the country.
Whether you're looking for something to wear, gift, display or collect, there's sure to be something at the market that will capture your eye or imagination. Here are six artists and collectives to look out for.
1. Vernon Ah Kee
Conceptual artist Vernon Ah Kee's wide-ranging practice includes everything from emotive large-scale pencil portraits of family members to politically-charged text-based works, paintings, sculpture and video. A member of the Kuku Yalandji, Waanji, Yidinji and Gugu Yimithirr peoples of Far North Queensland, his most impacting works confront contemporary race issues and white normativity using the history and language of colonisation. Many use puns and wordplay to highlight undercurrents of racism in Australian society to discomfiting effect. Ah Kee represented Australia at the Venice Biennale in 2009, and has had held solo exhibitions around the world, including the US, New Zealand, Canada and most recently as part of the last Sydney Festival with Not an Animal or a Plant.
2. Andy Snelgar
Ngemba artist Andy Snelgar uses traditional practices that have lasted since the Dreamtime to carve intricate designs on hard and soft wood shields, boomerangs and clubs. Hailing from Taree in New South Wales, his practice explores storytelling through objects, creating tools and weapons that held functional use for his ancestors – such as hunting, gathering and corroboree – and now artistic purpose. Snelgar uses chisels and tomahawks to carve, and natural ochres and resins to paint designs that recall the stories of his ancestors and depict connections to the land, ocean, wildlife and spirituality. His work has been exhibited widely around NSW, and he was an artist in residence at the Art Gallery of NSW in 2016.
Photograph: Supplied
3. Mulapa
Mulapa means 'true' in Pitjantjatjara. It encapsulates this not-for-profit organisation's guiding principle of providing authentic, ethically-sourced art that returns profits to Indigenous organisations such as the Indigenous Literacy Foundation. Judi Muller, Mulapa's founder, has said that she believes people should not buy art unless it "makes your heart sing". At Homeground they'll be representing several art centres from the Central Desert region of the Northern Territory, including Iltja Ntjarra Many Hands, a collective of watercolourists from Alice Springs carrying on the Hermannsberg tradition, as well as Warlukurlangu Artists, who are known for their bold and bright colour palettes.
4. Mowanjum Aboriginal Art and Cultural Centre
These artists from the Mowanjum community outside Derby, Western Australia are united in their belief that Wandjina – cloud and rain spirits from the Kimberley region – are a sacred force and the creators of the land. The right to depict Wandjinas is only permitted to those who have been through years of initiations and ceremonies, and as such these artists are the official custodians of Wandjina law and iconography. One of the most striking figures in art from the region, Wandjinas have large eyes and no mouth, and are often painted with headdresses that represent different types of storms.
Photograph: Supplied
5. Ampilatwatja
Established near Alice Springs, the artworks of the Ampilatwatja community are distinctive in their use of fine dots within bright, figurative depictions of the land. Paying homage to traditional bush medicine, plant and animal life, their works all convey a deep connection to country. In accordance with religious laws, which permit the communication of only small amounts of knowledge to the uninitiated, Ampilatwatja artists use visual narratives and delicately layered dots to mask and conceal sacred information, creating numerous layers of meaning that can be gleaned depending on the ritual standing of the viewer – there is an "outside" story for the public to see, and an "inside" story for those that are initiated.
6. Kay Lee Williams
Specialising in palm baskets and wearable art scarves, Kamilaroi woman Kay Lee Williams creates objects that harbour a deep connection to identity and place, whether through weaving with gathered Bangalow palm fronds or eco-dyeing with harvested botanicals and minerals. Her works represent elements of water and earth, and she often integrates materials from the land such as gum tree leaves, grevilleas and kangaroo paw into her practice.
Photograph: Supplied
The Homeground Arts Markets will be open 1-8pm Saturday November 25 and 10am-7pm Sunday November 26 on the Opera House Forecourt.