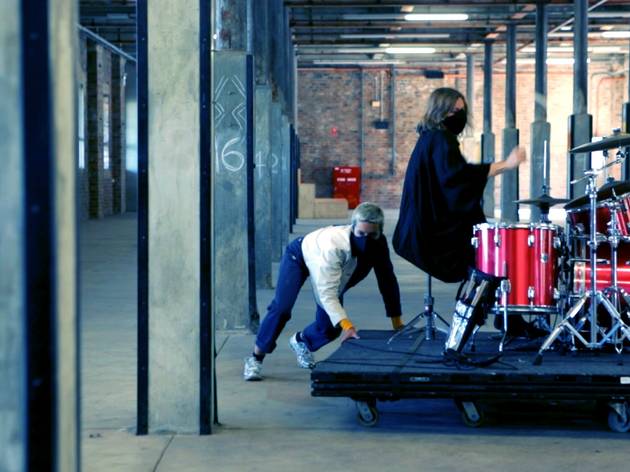 Time Out says
If you feel beat up about the way 2020 went down, pound it all out with this stomping video art at Carriageworks
If last year pulled you from pillar to post and left you wanting to thrash it all out, then a thrilling new video installation screening at Carriageworks during Sydney Festival totally feels you.
Tina Havelock Stevens, the 2018 Blake Prize-winner, has always fused music with visual and site-specific art. Her latest work, Thank You For Holding, marches to this beat. Literally. The footage centres on her masked up and dressed all in black riding atop a platform on wheels bearing a red drum set. As she pounds down summoning raging sound, co-performer Ivey Wawn drags the mobile stage around the concrete and red brick warehouse space that is Carriageworks' The Clothing Store. It's oddly soothing in a shake it out kinda way.
The idea came to Stevens while she was knee-deep in the anxiety of 2020, and she decided the approach was the best way to beat out the uncertainty and make merry music full of hope. Spaced out audiences will be able to soak up little grabs of the improvised work on a non-linear loop as they make their way through the gallery, with the drummer-mobile on the go until January 24.
Details