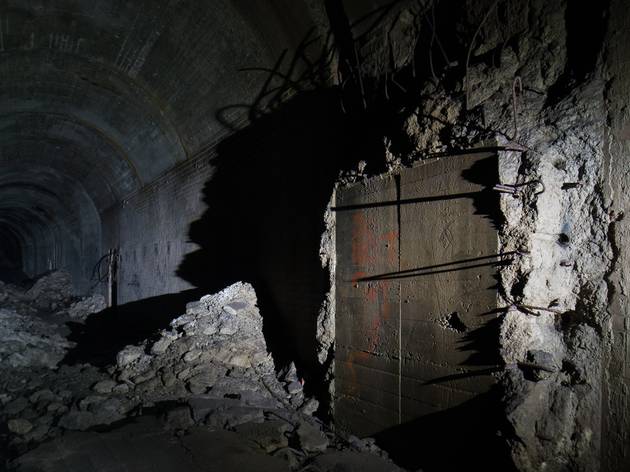 Time Out says
There's a whole new world of wonder lying forgotten just beyond the gateway of St James' station
Every city has an underworld. A vast network of dark and ghostly tunnels that stretches out in every direction beneath our unwitting feet, spiralling like the intricate silken web of a spider. You'll be able to catch a glimpse of this secret mirror universe far below thanks to a brand new exhibition at the University of Sydney architecture school's Tin Sheds Gallery.
Reopening the space on January 21 after the year that never was and running until February 19, Thresholds is a collaboration between artists Julia Davis and Lisa Jones that peeks behind an innocuous green door in Elizabeth Street's St James station and dives headlong into the abandoned labyrinth beyond. The exhibition is comprised of goosebump-inducing photography of these silently brooding, spooky places alongside large-scale drawings inspired by the artists' explorations and a video installation work that allows you to travel through the long lost times of subterranean Sydney.
Torchlight tracks across surfaces layered thick with dust to reveal the subsumed histories of our built environment; the jagged pill of twisted metal and dynamite-blasted rubble, forgotten graffiti and old scores carved into concrete and sandstone. Walls glisten with crystalline forms a drip-dripping over decades, and old tree roots reclaim what was lost to them, curling around underground lakes that have never seen the sunlight.
It's basically a training manual on how to become Gollum. Just add the one ring to bring them all, and in the darkness bind them.
Details