Vampires, Cargo Pants, and Other Important Stuff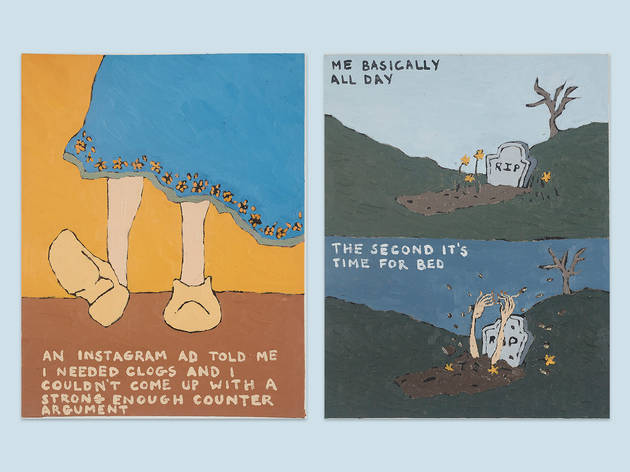 Time Out says
These meme-able artworks showing at Gaffa Gallery are a hoot
Advertising copywriter turned artist Lauren Ami has a gift for distilling millenial concerns into simple but effective oil paintings, with sardonic, caption-style messages scrawled on in marker pen.
Titled Vampires, Cargo Pants, and Other Important Stuff her debut solo show, at Gaffa Gallery from March 18-29, is a beaut. Even if this November-born writer is simply appalled at the work depicting a book cover emblazoned with "Yikes! My friend just started dating a Scorpio." Fine.
The otherwise extremely cute, poppy works are influenced by meme culture and the snappy way this generation dissects complicated issues. One painting depicts online dating as a sushi train of heads rated maybe, no or sure – but our favourite? Probably the one that shows her advertising hand. Depicting a person wearing a blue dress and yellow clogs, it says, "An Instagram ad told me I needed clogs and I couldn't come up with a strong enough counter argument." Mood.
Quirky and relatable, this exhibition is exactly the fun we need in our lives right now.
Details