Versailles: Treasures from the Palace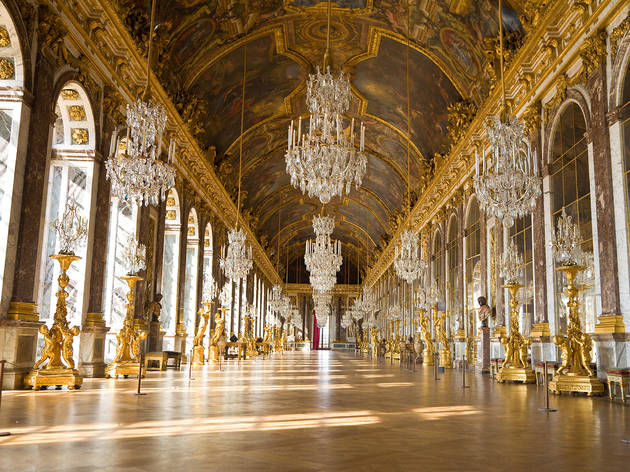 Time Out says
The opulence of pre-Revolutionary France comes to Canberra in a unique exhibition of 17th and 18th century riches
Opened the same week that Trump won the US election, the National Gallery of Australia's summer blockbuster is, on face value, an exhibition fit for the 45th President: expensive, gold-gilt, opulent; a collection of personal items, furniture, art and objects from a time and place where expenditure was unbridled.
But Versailles: Treasures from the Palace is also a testament to a time and place in which a world power put art and culture at the very centre of its identity – something that is quite hard to imagine in contemporary America – or indeed Australia, where 2016 saw massive federal funding cuts for the arts sector.
The journey through the exhibition starts with the architect of the Versailles vision: Louis XIV, the self-styled 'Sun King'. He transformed the palace into a flagship of architecture, design and art for all Europe, in competition with Italianate traditions. Poaching Flemish and Italian artists and artisans, and setting up workshops for tapestry (Gobelins), silk (Lyon) and ceramics (Rouen, Nevers), he eventually made Versailles the model for the rest of Europe, and thus proclaimed a French apex of power – through culture. "If there were no Versailles, world culture would be quite different," says exhibition curator Lucina Ward.
As you make your way through the exhibition the cultural excellence remains in evidence (from the craftsmanship of furniture, to plans showing the sophisticated hydraulics for the gardens) but the story becomes one of changing social mores, and shifting power – not necessarily an overt narrative, but present in the hidden iconographies and histories of objects and artworks.
In paintings, look out for ladies drinking hot chocolate (a sign they want to be seen as à la mode) and drinking milk (a fetishisation of the 'simple' peasant life that betrayed their ignorance of it); and the transition from the symmetrical and formal 'French' gardens, to the cultivated wildness of English 'pastoral' landscapes. Generally, portraits of the aristocracy depict them in more 'informal' poses and settings – the equivalent of the carefully cultivated 'casual' selfie.
In the objects and furniture on display we see a shift in materials from marble and painted surfaces of Louis XIV's era to wood and soft furnishings under his successors, Louis XV and XVI. "They didn't dare change the public or ceremonial spaces that Louis XIV had produced," says Ward, "but they created a whole series of private apartments that they could live in, which were cleverly hidden behind tapestries and parquetry. There was this transition towards a more intimate, private – and what we would think of as 'modern' – way of living."
This was also central to the decline of the monarchy: whereas Louis XIV had styled himself as a god ('sun king' alluded to Apollo), and made himself constantly available to his subjects, his successors increasingly desired the freedom of private citizens – without relinquishing any of their power, privilege or assets. As France approached bankruptcy in 1788, this made them an easy – albeit appropriate – target.
But if Versailles has a message or warning, it's not overt. A brief epilogue of text deals with the revolution and ransacking of the palace, and the auctioning of many of its treasures. The exhibition ends, elliptically, with Henri-Pierre Danloux's 1795 painting of a well-heeled Louis XVI in the Temple tower, writing his last testament – with nothing but a mild look of despair to suggest the circumstances leading to this point, and what was to follow.
Details
Users say