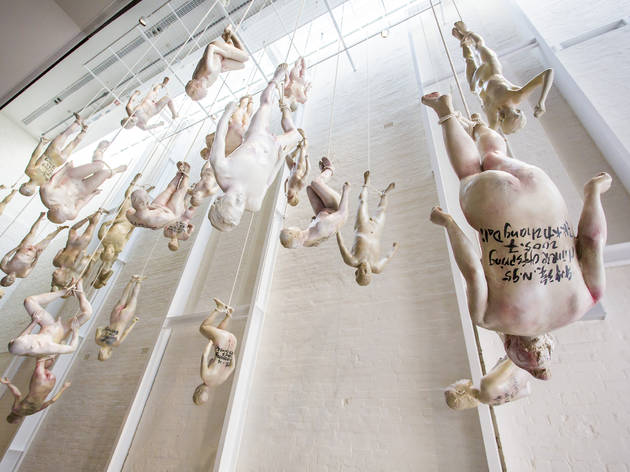 1/9
Photograph: Anna Kucera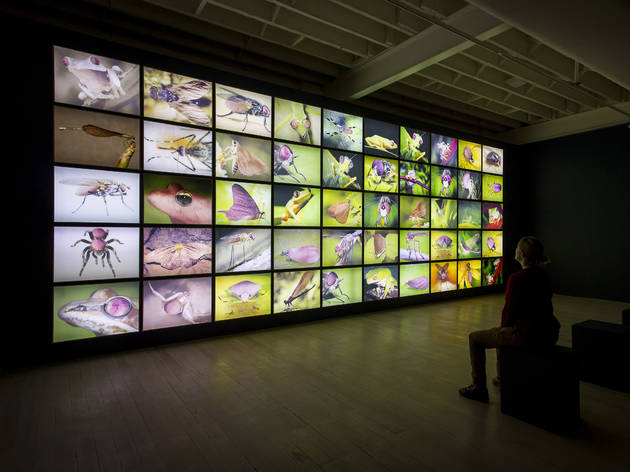 2/9
Photograph: Anna Kucera
Li Shan's 'Recombinant' series (2002-2006)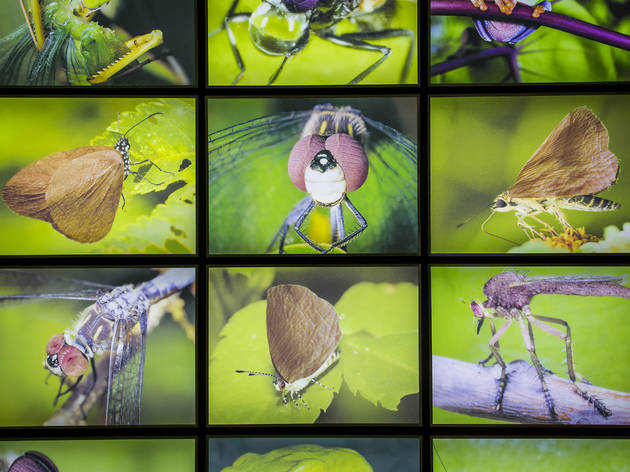 3/9
Photograph: Anna Kucera
Li Shan 'Recombinant' (detail)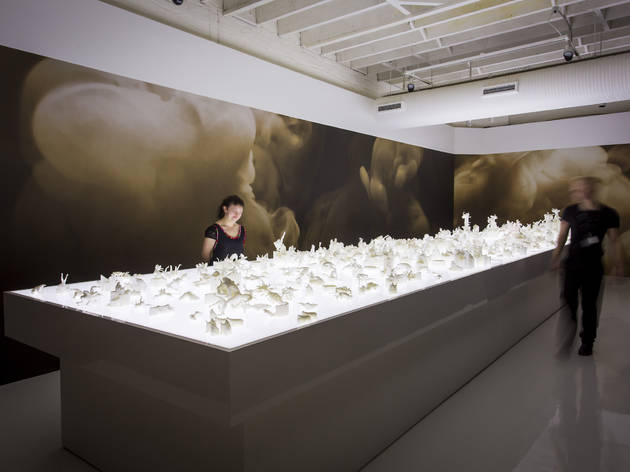 4/9
Photograph: Anna Kucera
Cheng Dapeng 'Wonderful City' (2011-2012)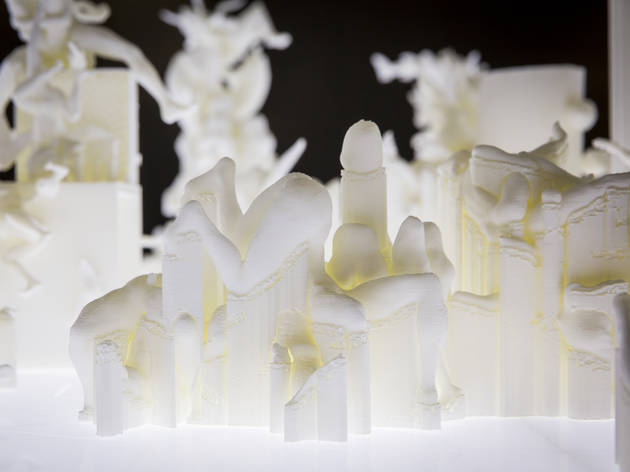 5/9
Photograph: Anna Kucera
Cheng Dapeng 'Wonderful City' (detail)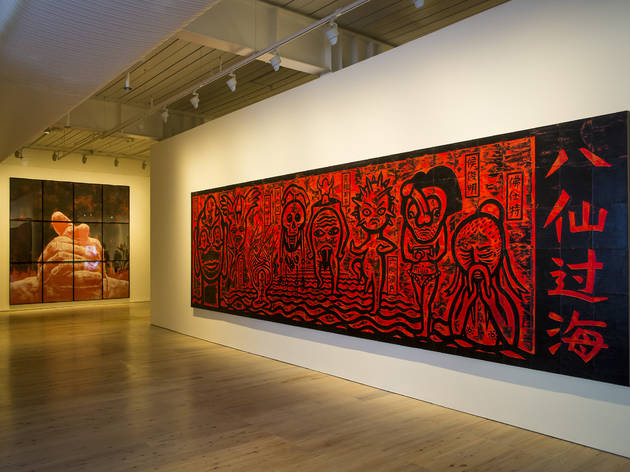 6/9
Photograph: Anna Kucera
Hou Chun-Ming 'Eight Immortals Crossing the Sea' (2008)
7/9
Photograph: Anna Kucera
Cang Xin 'Exotic Flowers and Rare Herbs' (2007)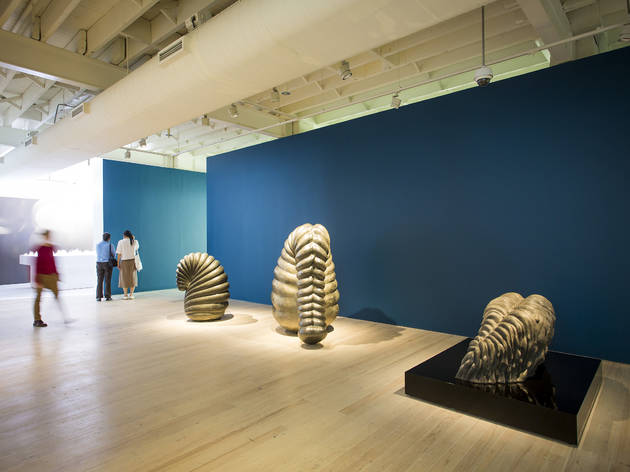 8/9
Photograph: Anna Kucera
Zhu Zhi 'Long Nose', 'Short Nose' and 'Mudding Sheep' (2014-2015)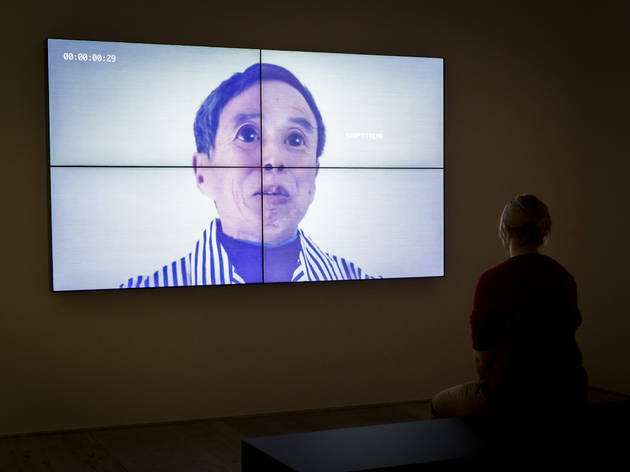 9/9
Photograph: Anna Kucera
Lu Yang 'Krafttremor' (2011)
Time Out says
With record attendances, White Rabbit Gallery are presenting something altogether more challenging...
As we stand contemplating Zhang Dali's hanging installation of human 'carcasses' in the foyer of White Rabbit Gallery, a young couple enters the building and one of them exclaims "What the f*ck is that!?" – laughing, slightly incredulous. And the sight IS incredible: 30 figures trussed and hanging from the four-storey high ceiling as if they were in a butcher's shop.
Zhang, a former graffiti artist based in Beijing, paid 30 immigrant workers $50 (the equivalent of a week's wages) to be covered in plaster (with only breathing tubes sticking out) to make 'Chinese Offspring' (2005), which seeks to draw attention to plight of hundreds of thousands of rural migrants who flock to China's cities each year seeking work. These migrant workers not only face social prejudice, they are prevented by the hukou (household registration) system from accessing public services, and are at the mercy of a fickle job market and often unregulated work conditions.
Vile Bodies is themed around the idea that the "fantastic beasts" of Chinese mythology have been replaced by very real "monsters" created by the country's scientific, social, political and environmental experiments.
Across 4 levels and 30 works, 22 Chinese artists conjure dystopian futures and biological experiments, subvert conventions of beauty, depict actual vile bodies (a praying mantis with two penis tips collaged onto its eyes is a highlight, by which we mean a low-light), and explore the ways in which we construct groups of people – migrants or (in the case of a work by young Shanghai-born video artist Lu Yang) people with Parkinson's – as the frightening "other".
Curator David Williams concedes that Vile Bodies is more confronting than previous exhibitions. "[With record attendances for Heavy Artillery] it's a good time for us to challenge ourselves and our audiences," he says. "Even though that show had challenging works, it was quite beautiful – and it didn't have the deeper meanings that that the works in this show have."
Most of the works and artists in Vile Bodies are new to the White Rabbit stable, with the only previously-exhibited works being Cheng Dapeng's 3D-printed installation 'Wonderful City', Cang Xin's 'Exotic Flowers and Rare Herbs' sculptures, and Xia Xiaowan's terrifying experimental glass painting 'Man and Woman'.
The line-up also includes Taiwanese artist Hou Chun-Ming, Mongolian-born artist Su Xinping, senior Shanghai bio-artist Li Shan, and Beijing-based photo-realist painter Wei Rong.
Li Shan's 'Recombinant' series, featuring his bio-art mash-ups of insects and human body parts across 50 photographs mounted on lightboxes, was the starting point for the entire show. Other early picks were Qiu Anxiong's (pronounced Shu Anjong) 29-minute animated video 'New Book of Mountains and Seas Part 2' (recently bought by New York's Museum of Modern Art), and Zhu Zhi's cheekily suggestive sculptures 'Long Nose', 'Short Nose' (made of marble and weighing 1.5 tonnes) and 'Mudding Sheep'.
Besides Zhang Dali's striking hanging installation in the foyer, the prize work of the exhibition is probably the brand-new commission from Taiwanese collective Luxury Logico, hanging on level 3 (which is typically a high-drama/beauty site within each White Rabbit exhibition). Like the mechanical skeleton of a future fantastic creature, its undulating movements suggest something swimming in space.
But one of our favourite pieces – returning after a previous outing at White Rabbit – is 'Wonderful City', an installation of white 3D printed sculptures that calls to mind the miniature sets of old King Kong and Godzilla films. Artist Cheng Dapeng is also an architect, and his installation intentionally looks like planning models used to sell property developments to investors. Instead of buildings, he offers monstrous mutants comprised of animal, body and building parts. You could spend an hour in there easily, as every tiny model is its own artwork.
Details
Users say