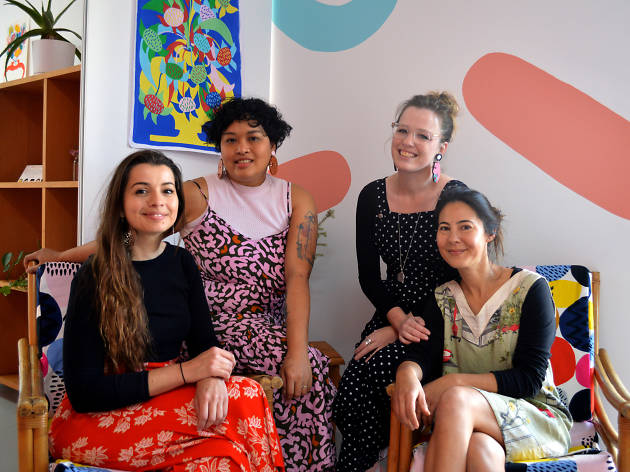 Time Out says
Friendly warning! We're working hard to be accurate. But these are unusual times, so please check that venues remain open.
This creative space offers a relaxed environment for learning and social inclusion in the Inner West
There are four vibrant young women behind Lewisham's creative, inclusive community engagement space New Moon. Rosell Flatley, Kim Siew, Amy Mills and Eleni Christou developed the project after collaborating on exhibitions, community art programs and creative initiatives around Sydney.
They each have specialised skills that they bring to the centre, which offers free workshops and events led by these go-getters, as well as monthly exhibitions and artist-run classes.
Time Out shared a coffee with the ladies, who told us how they turned their creative vision into reality by incorporating their own interests with a themed program.
"Eleni does [Cypriot style café space] Kafe as Poume, Kim does book binding and storytime, I do yarn and stitch and Rosell does a creative dinner and zine making," say Mills, who has a background in performance and textile arts.
"We also invite artists in to hold workshops – those ones are ticketed events so we can pay them."
New Moon is curating the space known as the Yanada Room, and as Yanada means Moon in Dharug language, the team chose to reinvent the artistic space each month, following the lunar cycle. Since opening in July, they've run a program with local creatives and community groups to monthly themes of 'food', 'storytelling' and 'sustainability', which have been scheduled to coincide with other locally celebrated events like Book Week and Good Food Month. They're planning to run with the themes 'art', 'craft' and 'celebration' to round out the year.
"This month it's being sustainable," says Siew, who's New Moon's resident storyteller. "The artists that we'll have in the gallery are inspired by nature or use natural products – Ainsley Warner's a sustainable basket weaver and Peta Morris uses the landscape to inspire her work. Then we'll have a clothes swap later on, and we've already had a succulent planting workshop."
Flatley, who wears the many hats of graphic designer, curator, visual artist and community engagement worker, says people are often put off when they see an artist residency, as they don't feel like they can relate to them or interact on a meaningful level. "So we wanted to say that this is a space that we, the artists, are facilitating and showing you new skills and giving access to our knowledge," she says.
Many of their creative teachers have never run a workshop before, so the centre formats the classes with a focus on inclusion and "exchanging skills" rather than professional posturing.
"Something really nice about the space is that it brings together a lot of new residents and others who've been in the area a long time," say Christou, who runs the friendly, Cypriot style café meeting space Kafe as Poume.
"I think people feel really proud that there is a space like this in Lewisham and that they don't have to go to Newtown or Chippendale," she says.
Sadly, New Moon is only a part-time gig and the program, which is supported by the Inner West Council, will wrap-up come Christmas 2018. Make the most of the space while you still can.
Details