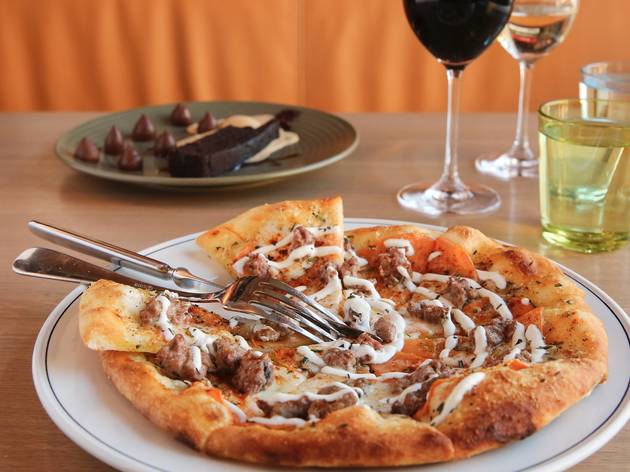 1/12
Photograph: Anna Kucera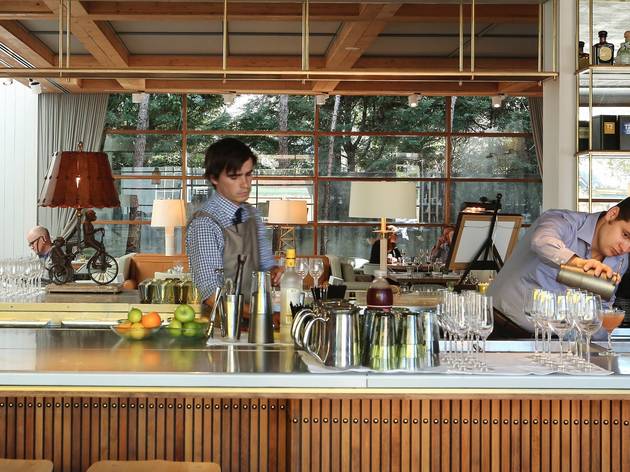 2/12
Photograph: Anna Kucera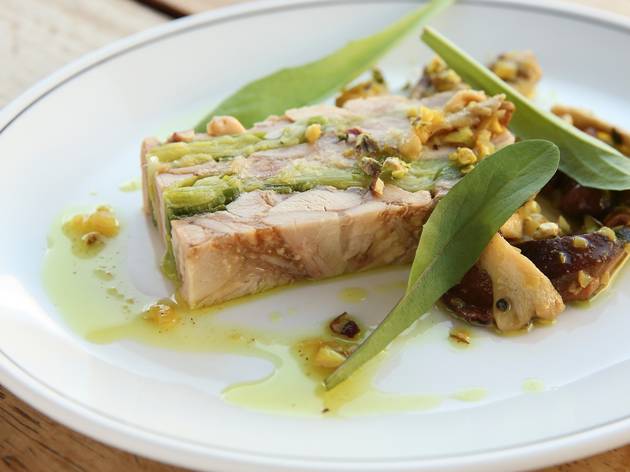 3/12
Photograph: Anna Kucera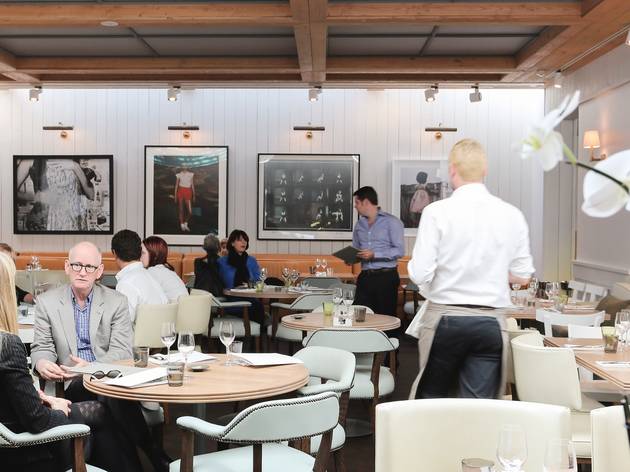 4/12
Photograph: Anna Kucera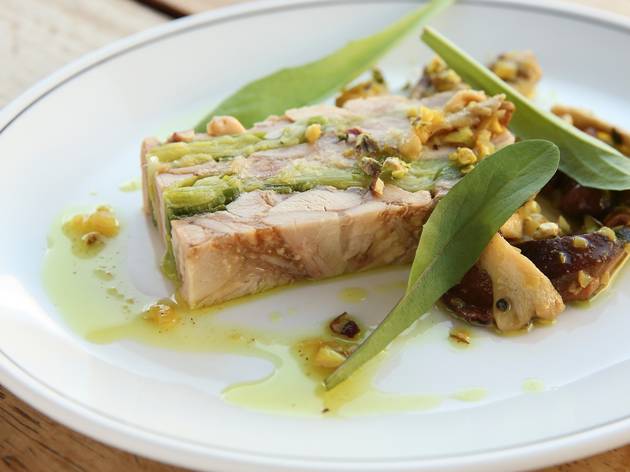 5/12
Photograph: Anna Kucera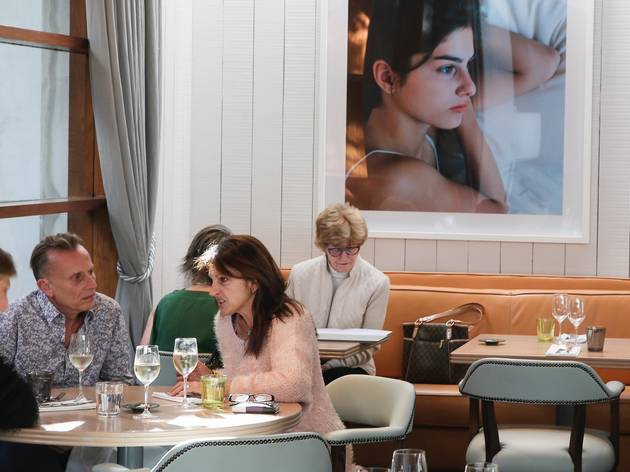 6/12
Photograph: Anna Kucera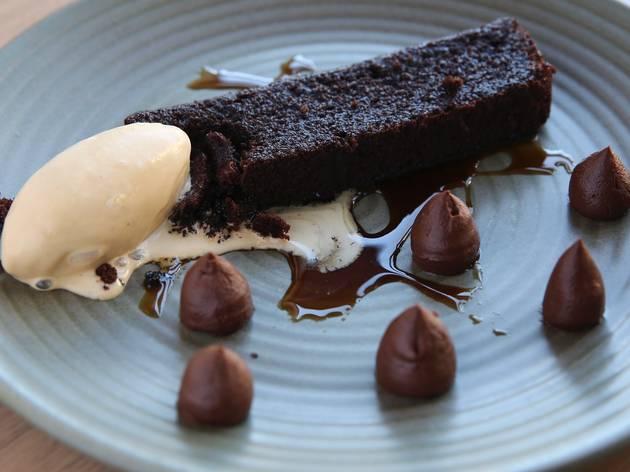 7/12
Photograph: Anna Kucera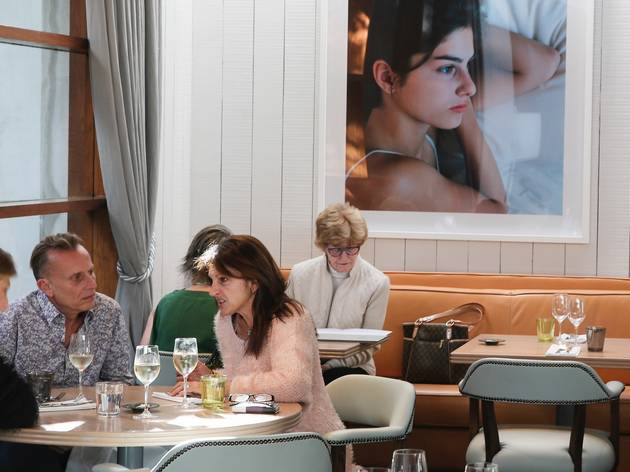 8/12
Photograph: Anna Kucera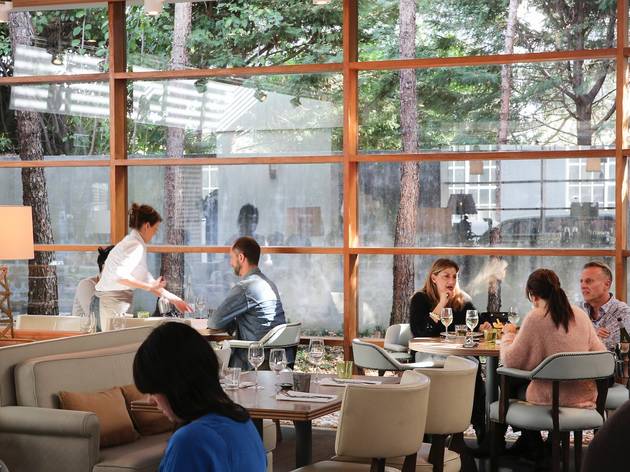 9/12
Photograph: Anna Kucera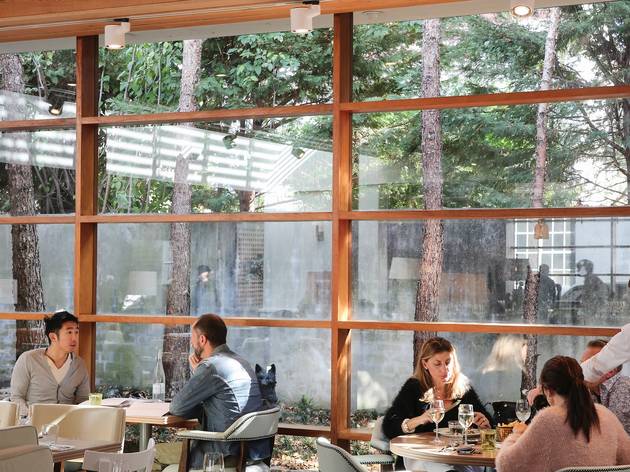 10/12
Photograph: Anna Kucera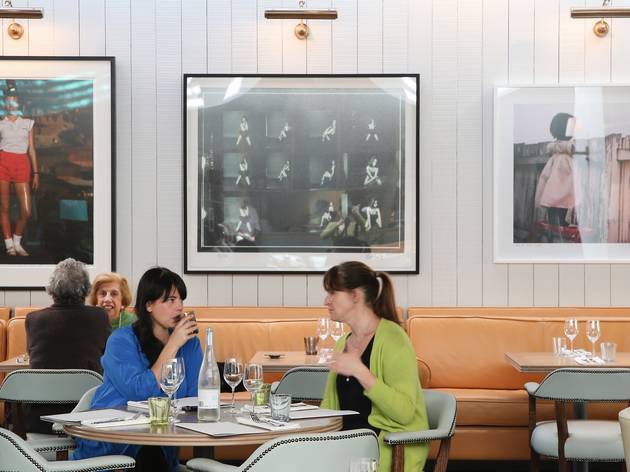 11/12
Photograph: Anna Kucera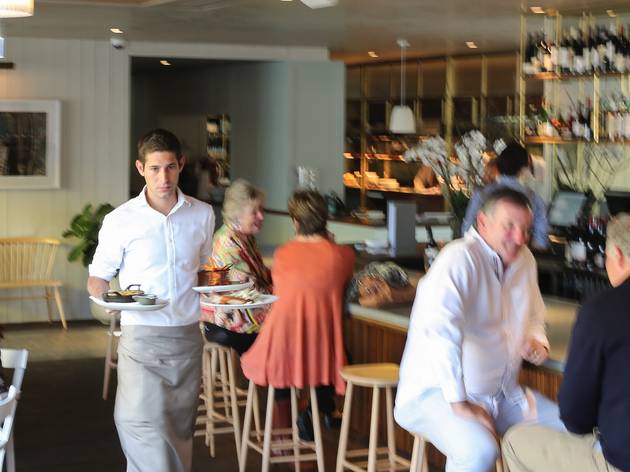 12/12
Photograph: Anna Kucera
The old Centennial was a prime example of the hard-edges, cold-finishes renovations of the '90s. But fortunately those slick refurbs have been steadily rolling back and now the Centennial is having its swan moment, transforming into an elegant, designer hotel where everything looks expensive, and everything is. Wander past the giant orchid display in the formal entranceway and you'll find yourself in a tricked-out public bar that looks like it should be hosting Russian oligarchs and old-school Wall Street tycoons. The walls are gunmetal grey, the seats are upholstered in leather or velvet and are so well padded you will never want to stand again. At one end of the bar sits a raised dining table that stretches the width of the room. It's their high table: a communal dining concept they run Mondays through Wednesdays where people all sit down together and enjoy the day's repast as a group. Behind the bar they've put the beer taps off to one side and on our visit have no labels (beer is probably not the focus of a pub that has a market for half-bottles of Krug at $195 a pop).
Once you get the low-down from the attentive and affable staff things are looking good. There is 4 Pine, Young Henrys and Trumer Pils on tap, and Stone and Wood Lord Nelson, Murray's and Feral Hop Hog in the fridges. A Carlton costs $7.50 and the Feral is $10 at the higher end. You can order individual little canapés like devilled crab and steak tartare from the bar, or dishes of juicy, miso-glazed pork belly pieces; but the main event is in the light, bright dining room where clothing is well-tailored and ex-Bécasse chef Justin North is in the kitchen. The Centennial is a perfect reflection of its location: a high-class pub for a high-end suburb, and judging by the crowds the people approve.
Dining room review
So. Pub-ish restaurant, or restaurant-ish pub? You certainly wouldn't see a quote like "modern comfort food is the elegant simplicity of good food, done well" on the front of the menu at the Hero of Waterloo or the Friend in Hand. (And are we alone in thinking it has a bit of a Derek Zoolander ring to it? "Moisture is the essence of wetness and wetness is the essence of beauty".) But then, neither of those pubs can boast a chef like Justin North manning the deep-fryers.

The demise of North's Bécasse business made front-page news, and now, after keeping a relatively low profile since the loss of his flagship fine-diner, North is back working as a hired gun at this recently razzed Woollahra pub. It's a really attractive design, in a neutral palette of creams, light olives and blues with a large wooden-panelled island bar taking pride of place. Pub by name and pub by nature, though, and the two spare chairs at our dining table are swiftly nicked as the bar gets busy.

To that end, you'll really want make a reservation. It takes us a couple of weeks of constant phone-stalking to nab a table and even on a Tuesday night it's bumper to bumper. Well-heeled Woollahra locals are piled in three deep, ordering off the large menu, which name-checks products such as Pepe Saya butter and Victor Churchill biltong.

If you were hoping for Becasse-in-a-pub, or even Quarter 21-goes-bistro, you might want to reset your expectations. And that includes your drinking options. There's certainly some scope on the larger by-the-bottle wine list, but the by-the-glass selection (hey there, Marlborough sauvignon blanc) is a pretty strong argument for ordering a schooner of Young Henry's natural ale. It's a bit of a puzzle in an area saturated with restaurants, bars and pubs known for their sharp wine lists.

Pan-fried haloumi dressed with honey is delicious in theory, but it really needs to be a savoury-leaning honey to sing. The sweetness of whatever they're using here just smothers the cheese. But then there's the excellently-crunchy-and-fresh salad of cold broccoli and flat beans tossed with crushed up toasted almonds. All-at-once cooling, bright and gutsy, we haven't stopped thinking about it since.

Sadly, we won't be making a repeat visit for the chicken breast schnitzel and tiny side salad. It might be cut from a Holmbrae bird, but it arrives pre-sliced for no reason we can see, cooling rapidly on the plate. But then there's the very grown up chocolate ale cake. The puddingy, and ale-sour choc is joined on the plate by little treacle flavoured dollops and a scoop of salted caramel ice cream. It's almost worth a visit in itself.

One thing Justin North has always done in the past is attract talent and a tight front-of-house package was a constant. The guys at Centennial, though friendly and nicely uniformed, are not up to the demands of a packed restaurant. For most of our visit we're pretty much forgotten, with empty glasses and uncleared plates haunting the meal from snacks onwards, and flagging down a waiter for a drink or the bill is a challenge.

But it's early days. Maybe, like a smart general, North is standing back surveying the landscape before implementing his kill plan. In which case, look out, Sydney.
Venue name:
Hotel Centennial
Contact:
Address:
88 Oxford St
Woollahra
Sydney
2025

Opening hours:
Mon-Fri noon-midnight; Sat 10am-midnight; Sun 10am-10pm