Meet the brewers
We chat to a collection of Sydney brewers making top-notch beers for your drinking pleasure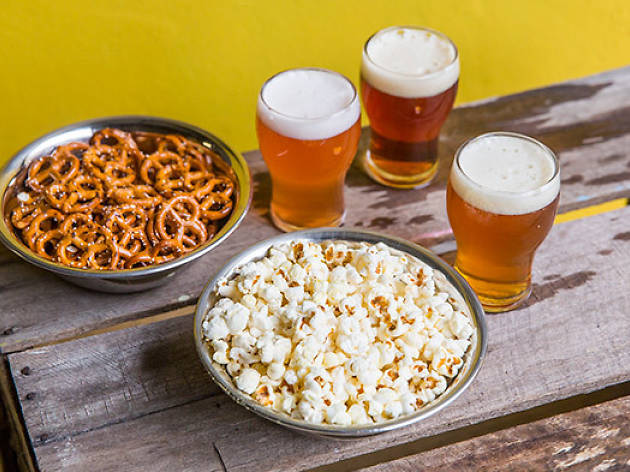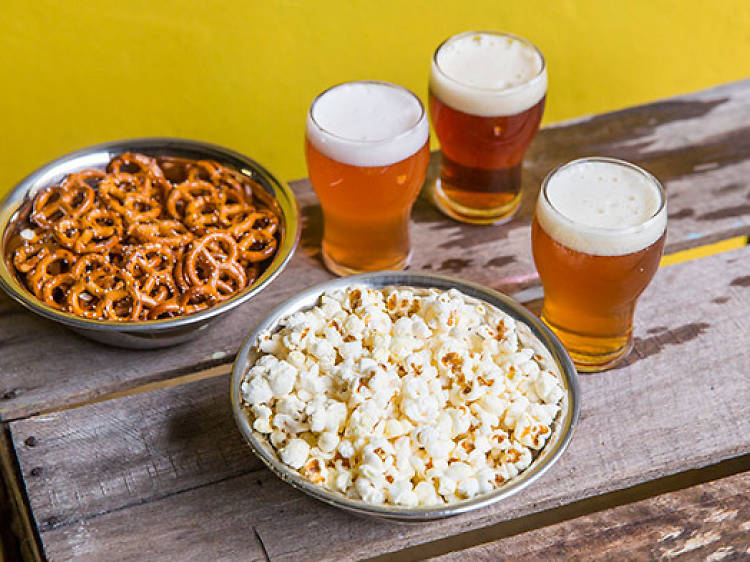 The Wayward brewers chat to Time Out about why the world doesn't need another pale ale.
It took four years for Peter Philip, the founder of Wayward Brewing Co, to find the perfect location, but he and head brewer Shaun Blissett (ex-Illawarra Brewing Co) are finally set to open their Camperdown brewery.


Theirs may be the latest brewery to join the bustling a hub of craft operations in Sydney's Inner West (James Squire is on the opposite block and Young Henrys is over the other side of the tracks in Newtown), but the Wayward space has an unusual backstory. The warehouse was originally an old winery, with wax-lined cellars stretching under Pyrmont Bridge Road.


But now the space is being brought back to life as a community tap house. "We want to draw a virtual fence a couple of kilometres around the brewery and support our area and get involved," says Philip. Their plan involves a 'craft for the community' initiative that will encourage beer enthusiasts to raise a glass for a good cause. One proposal is to have patients and staff from cancer treatment centre Chris O'Brien Lifehouse up near the Royal Prince Alfred Hospital help brew a beer that will be available at the brewery's tasting bar. "It's a virtuous circle," Philip says of the idea, which has guests donate to the treatment centre for a few fun sips.


In addition to charitable efforts, Philip wants to pay forward for his time as a gypsy brewer by making his brewery available to up-and-comers. They would also showcase those beers on the 12 taps in the 150-person tasting bar, complete with "obligatory food truck", says Philip.


Getting Wayward off the ground has been a matter of perseverance. "It's really, really, really hard to find a good location, the right location," says Philip. And then there was a two-year trademark dispute with multinational brewing company SABMiller, who thought the Wayward name too similar to its Haywards beer. Philip took them on, arguing the latter brand was hardly known in Australia. The court agreed. "It cost us $15,000 but I wasn't going to do something just because these guys are big and scary. I had to defend it; it had to be done," he says.


The Wayward site is still a work in progress but Blissett couldn't be more excited about what's ahead. "Our number one goal is to open this brewery. This has been seven months of building for us... every single little piece is designed perfectly for Pete and me. It's the perfect brewery," he says.


There are plenty of craft beers on the market, so what is it that makes Wayward different? For one, they haven't done a pale ale... yet. "The world doesn't need another pale ale," says Philip.


"Our range at the moment is not what you would expect from the first four beers to come out of a brewery," says Blissett, who just celebrated his fifth year as a brewer after graduating with a degree in politics. "The idea of having your own brewery is to be able to push those new styles and keep pushing new ideas, new flavour combinations."


Which is precisely why if you fancy a Wayward brew, you should prepare to down a kellerbier, a Bavarian lager, an India red ale or an oatmeal IPA. Galaxy hops can wait their turn.

By Vy Hoang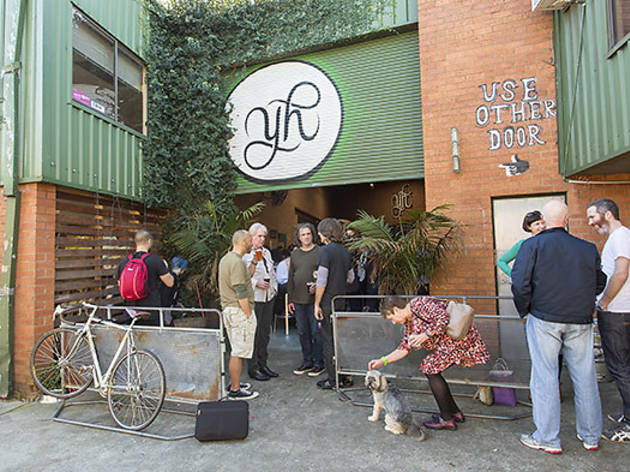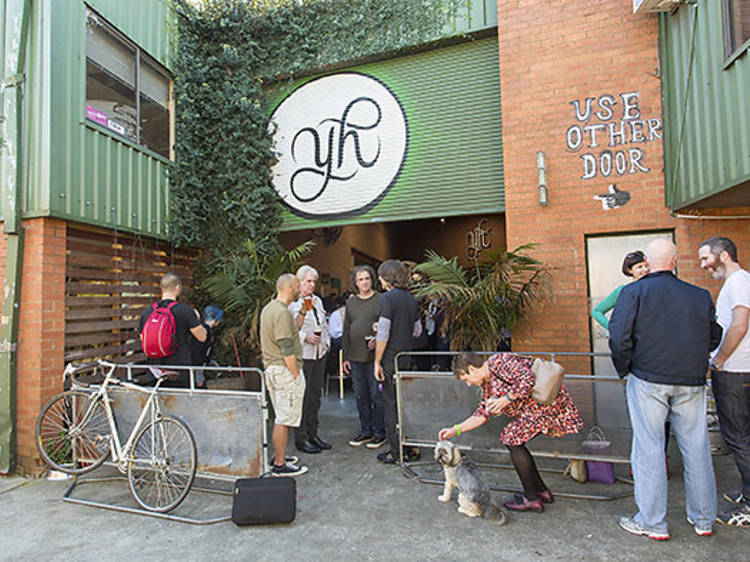 Show passion, be dedicated and be ready to work your arse off. That is the advice for would-be brewers from Sam Füss, 40, currently the head brewer at Young Henrys. With 14 years of experience amongst the malts, Füss knows her way around a brew house.
She started off her boozy adventures at Little Creatures in WA before taking on duties at Schwartz Brewery in Sydney, with a few pit stops in Melbourne pubs along the way, including the popular brew bar True South. Füss used her collected knowledge to aid in the design of True South's headquarters and became their head brewer for a time, but the road was calling. "I just wanted to spread my wings and get a bit of air under them."
In 2012, she set off to do what she calls "walkabout brewing". She travelled the country for two years brewing with mates from the likes of Prickly Moses and Red Hill. During this time she started a project to capture the "emotion of the ocean" in her sea-inspired craft brew, Old Salt, before finally settling down in old Sydney town.

After stepping into the ring at Young Henrys, Füss pulled no punches when it came to flavour. "It's got to be big, ballsy... something different, something out there," claims Füss. "Every batch of beer is not the same; it's all going to have its own little heartbeat, signature and fingerprint… that's the beauty of it."

From grain to glass, brewing the perfect craft beer can take around two weeks and supply can sometimes falter, but Füss refuses to compromise on quality. "We want to make and consume better beer, and since craft beer is 100 per cent natural – no additives or preservatives – it takes time," says Füss, "But I feel better consuming something that someone's put love into."

Füss may (for now) be one of just a handful of female commercial craft brewers, but insists there's always more room by the mash tun. "I started off as one of the only female brewers in Australia, which was cool," says Füss. "Now I just want to share the knowledge I've gained – and be a mentor." Füss is already vice president of a worldwide, nonprofit organization called The Pink Boots Society, which offers classes, inspiration, and even scholarships for female beer professionals and those just getting their start in the industry. She is also part of the Women of Beer Collective, which sees 15 females annually gather for what Füss calls a big "hoo-ha" that results in a collaborative brew. "It's a really great platform for women to get energised in the industry; we encourage any women who love or are interested in beer to come along and have a chat with like-minded people."
By Julia Staley
Scott Brownless and Chad Husko, Angstrom Brewing
Physicists by day and brewers by night, Scott Brownless and Chad Husko are two of the brains behind Ångström, Sydney's tiniest brewery.
The Ångström Brewing boys aren't afraid to let their nerdflag fly. When Scott Brownless, Chad Husko and Felix Lawrence, three physicists by trade, decided to make the move from homebrew to commercial brewing Brownless landed on the name Ångström. For those who aren't quite up to scratch on the study of motion and matter, Ångström, Brownless explains "was a Swedish physicist, who also had a unit – the Ångström – named after him." We have microbreweries (micro being 10 to the power of negative 6), and nanobreweries (10 to the power of negative 9) but none on an Ångström scale (10 to the power of negative 10).


From there the science puns kept flowing. "We are trying to choose names that reflect the style of beer. For example one of our beers is called 'Maxwell's Demon', which was a thought experiment by James Clerk Maxwell, designed to show that the second law of thermodynamics can be violated. Because our beer required a great amount of temperature control, we thought a name about thermodynamics would be appropriate. And a name with demon in it works even better given the dark, smoky nature of the beer!" says Brownless.


The trio stress that there's a serious science behind brewing beer. "The amount of chemistry and physics that goes on behind the scenes is astounding. The whole process is incredibly experimental," says Brownless.


Ångström aims to take crowd-pleasing beers and see how far they can push them, while still keeping your average punter happy. "We are trying to make palatable beers a little crazy, and we're trying to get crazy beers and make them more acceptable – we want to be the gateway drug to weirder craft beer," says Husko.


But there's not much point in brewing if you don't have an audience thirsty for your beer. So the next step was finding tap space for their fledgling brews. "To get our beer out there we took samples around to Sydney pubs, starting with our regular haunts," says Brownless. Turns out being a barfly was a good business tactic. At the time of writing you'll find their beers on tap at the
Keg and Brew Hotel,
the
Dove and Olive
,
Kingston Public Bar and Kitchen
and the
Forest Lodge Hotel
. Cheers to the little guys.
By Emily Lloyd-Tait
A trip to Tassie inspired Mike Jorgensen to lay down the shovel and take up brewing full time.
Five years ago Mike Jorgensen was a 'cheapest six-pack' type of bloke who worked Monday to Friday as a landscaper. But a 2008 trip to MooBrew Tasmania completely changed the way this former home brewer looked at beer. "I was just blown away by the flavour. I came back to Sydney and wanted to get into brewing again", he says.
First there was a steep learning curve to summit. Jorgensen worked under the steady hand of Nick D'Espeissis (now relocated to WA's Eagle Bay Brewery) before deciding to brew under his own name. But 'Mike' didn't really have the mysterious vibe Jorgensen was going for, so he decided to flip it and reverse it. Thus Ekim was born.
A timely introduction to Colin Larter, who owns the Happy Goblin Brewery in Mount Kuring Gai, was what secured Jorgensen the tools and space he needed to go it alone. During the week he was still landscaping, but in his spare time he began brewing at Happy Goblin. By October 2009 he had made his first professional batch under Ekim, a Viking IPA. "I did it on afternoons after work. And for no money, just to get my name out there".
Things really took off when Jorgensen brewed his second beer, the After Battle Pale Ale. "It's now our mainstay in the range, the one that features on tap at the Welcome Hotel, the Royal Albert and Harts Pub. I had a very different beer lined up for After Battle, I took it up to Mark Mead at Warners and he um'd and ah'd about it so I binned that recipe completely and started again. I wanted a ballsy Pale Ale. I didn't want mediocre"
Jorgensen's second attempt came out as a citrusy, medium bodied pale ale. "After Battle just completely changed the way I was thinking about malt. That was a turning point." From there Jorgensen tried an American spin on English Porter he called the Vinlander, a black IPA called Hel and now his most in-demand brew, an amber IPA called Berserker. "We have a two-month waiting list for that one." Business is clearly good.
Towards the end of 2013 Jorgensen realized the 80L Brewery he was borrowing wasn't going to cut it. Larter took a step back and let Jorgensen take over and renovate. "We actually shut the brewery for six weeks, pulled most of it apart and put in a 1,200 L brew house. It's certainly knocking out the beer now."
By this point the evening hobby put his landscaping work on the backburner. "All of a sudden I found myself spending 60-70 hours [a week] at a brewery! And I couldn't be happier."

By Fearghal Shannon
Jayne Lewis is living the dream, brewing beer with her best friend and riding shotgun
The origin of Two Birds Brewing Co is the kind of aspirational tale that nine-to-fivers use to get through a particularly hard day of paperwork. It involves quitting your day job and hitting the road with your best friend to travel the US, get inspired and start your own brewing business.
Career-wise, Lewis had always worked with booze, first as a winemaker in Margaret River and then at Perth's Little Creatures. "I had been looking to move back to Perth and I always liked the idea of beer. I sat in Little Creatures, what feels like an eon ago now, and thought, 'I think I'm going to work here one day'. Then they advertised the job and I ended up getting it." Appropriately, Lewis calls the smooth transition into the beer industry serendipitous.
Conveniently enough, Lewis' long-time friend Danielle Allen shared her hopes of one day owning a company. "On our trip to the US – a number of years ago now – we both got to talking about what we wanted out of life. We both had similar goals, so we just decided that we would leave our jobs and start up Two Birds".
It happened in 2011. Owning a company with a best friend could have spelled disaster, but clearly delineated roles helped. Allen took charge of the business side of things, and Lewis was left to flex her creative brewing skills. "We've got really complementary skills… it's nice and well-defined where my job ends and where Danielle's starts".
Their first beer, a golden ale, was released in 2011 and was the first Australian beer brewed and owned solely by women. "I guess, if anything, [being a female brewer] has probably been a positive for me. It's a point of difference when I am getting into things like judging".
Of course, timing is everything – and Lewis and Allen's foray into the market coincided nicely with the craft beer boom. But Lewis reckons we've only seen the beginning of what Australia can bring to the table, citing a particularly telling figure. "I think craft beer is only up to something like 3 per cent of all beer consumed in Australia. There's a massive opportunity to expand further."

By Anne Ueki
Manly's microbrewery is thinking big: expanding their business and sending beer into space in their spare time. Time Out has a chat to Chief brewer Nick Button about taking their award-winning craft beer to infinity and beyond
They're an ambitious bunch at 4 Pines. Swinging open the doors on their Manly brewery and bar in 2008 they now have their sights set on expanding operations with a massive 50-hectolitre – 1 hectolitre equals 100 litres – brewery in Brookvale to complement their current 500 litre operation by the wharf. That is in addition to a little side project: space beer. "On face value it seems a bit tongue-in-cheek", says chief brewer Nick Button, who joined the 4 Pines crew in 2011. "But it really is a major project. We want to be the first commercially available beer in space."
Taking that giant leap for mankind was a suggestion by regular spaceman Dr Jason Held, a Manly local and director of Saber Astronautics. Saber are collaborating with 4 Pines Brewing Company to create Vostock stout – the world's first certified space beer. It has already undergone zero gravity testing in Florida but further development is still underway. "One of the biggest challenges with beer in space is that the liquids don't behave as they do on Earth. A lot of work is going into designing the container, so you can hold a beer in your hand and not have to drink it through a foil pouch."
4 Pines is serious about space beer, and Nick is serious about brewing it. Originally from the UK, he got his first pub job aged 16 in Somerset, England. Realising that he was a dab hand at brewing and good at science, "the two things are quite well matched", he's been a beer man ever since.
He is passionate about sticking to the traditional European techniques but isn't afraid to get creative when brewing. The 4 Pines Keller Door series sees the release of around 16 small batch beers with obscure flavours. "We've experimented recently with a beetroot Belgian. It wasn't designed to be a purple beetroot-tasting beer; it was a tribute to the heritage of brewing in Europe. They use a lot of sugar beet and there's not a lot of that available in Australia, so we picked the next best thing… short of having a koala in there, you couldn't get more Australian."

By Emma Joyce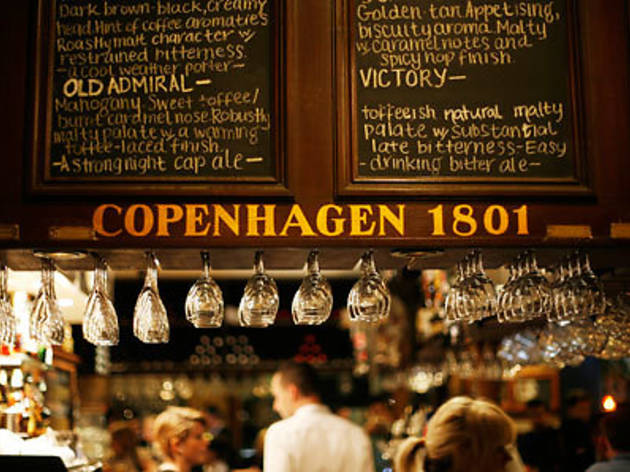 From grains to bottling, the Lord Nelson's Andrew Robson keeps the barrels turning on their famous ales
The Lord Nelson – hotel, pub and brewery – stands proudly on the corner of Kent and Argyle streets. This lovely old harbour pub has been steadily pumping out their six mainstay brews for the past 26 years, but Sydney's sudden crazed interest in everything craft beer has meant things have really ramped up. And now more than ever it seems Sydneysiders simply cannot get enough of their local brew.
How long have you been brewing?
The pub was established in 1841 but the brewery was opened in 1985; we had our 26thanniversary in September last year so we're actually the oldest microbrewery in Australia. Originally we started off with the six mainstay beers – porter, old ale, British pale ale, Australian pale ale, English bitter and summer ale – and added the seasonal ones. We've kept the tradition of an all-ale brewery; we don't brew any lagers. It's always been like that and we'll most likely be like that for the years to come. We're also an all-natural brewery so we don't filter our beers. We don't add any sugars, there are no preservatives, all the sugars that are brewed derive from malted barley so it's all natural.
How would you explain the beer spectrum, for people wanting to know more about craft beer?
It's more or less distinguished by the colour and the hop. To begin with, you can tell your lighter beers from the colour – they're very pale. You add roasted malts and crystal malts to achieve darker colours. There are multiple types of malts that you can use to achieve different colours. You can get orange, amber through to dark red and black. And that's all determined by which malts you use in your recipe. For example, the Nelson's Blood, our porter, has about six different types of other coloured malts in it. It's almost black, but it's got that really dark red thing to it as well.
The other thing that distinguishes beers is the hops. A lot of the American-style pale ales and also Australian-style pale ales have a floral, herbaceous edge to them. That's determined by which country of origin you choose your hops from. If you want a specific taste in each beer, you have to use specific hops from a specific area. That goes for the yeast as well.
How did you get involved with Lord Nelson?
I've been the head brewer here for about six months now but I started off as the assistant brewer about five years ago. It's one of the busiest breweries in Australia so I'm brewing about four times a week.
How did you get started?
My father was in the home-brewing industry. He owned a home-brewing warehouse and retail shop. I started working with him when I left school and that's what got me into the industry. I had a few contacts from my time there and that's how I got in here at the Lord Nelson.
What's your favourite beer to brew?
It's probably the Quayle [Summer Ale] because it's the easiest. It's sort of a European style – a very light, very sessionable, low-hops beer.
What makes it easy to brew?
It has the least amount of grain in it; it's much easier to stir. Because we do everything by hand here, it does make a difference when you're making a lot of beer.
What is the secret to the perfect beer?
Cleanliness is next to godliness in brewing, there's no doubt about that. You're never going to get a decent product out of a filthy brewery. You're dealing with a live organism and so there is always the threat of other live organisms getting into it. You've got to make sure the only thing you're allowing your beer to be exposed to is the yeast. It's so easy to ruin a beer; it's a helluva lot easier to do that than it is to make good beer.
So looking forward, what is next for Lord Nelson?
The demand for our beers is so great that there's not really any room for anything extra. The problem we have here is that because it's a heritage building, we can't just expand. We can't knock down walls or put new equipment in. Our number one priority is always going to be making sure we're putting the beers out, which can sometimes be a bit of a handful, especially around Christmas. It just gets drunk way too quickly.
And what do you do then?
Cross our fingers and keep brewing to capacity every week, non-stop.

By Aimee Ortiz
Gerard Meares, Pinchgut Brewing
When it comes to brewing, Gerard Meares is all about tradition.
While he's best known for his expertise with classic dark beers, last year's Willoughby Craft Beer Fair had Gerard Meares doling out a bright pink drink that looked a little like beer and a lot like liquid fairy floss.
"We wanted to try something different," says Meares, "so we threw a heap of beetroot in the kettle; it came up with a slightly earthy taste and a seriously deep pink tinge. We called it Stray Root for a laugh, just so people could go to the bar and ask for a stray root without being slapped!"
He may dabble in experimental colours and cheeky names on the festival circuit, but when it comes to his day-to-day brewing, Meares is staunchly faithful to the history and authenticity of his beers, and Pinchgut Brewery's pilsner is modelled off the Bohemian original as much as possible. "I did a work experience tour at the Pilsner Urquell brewery in the Czech Republic. I'd been brewing prize-winning pilsners before I left, but when I got back I threw everything out and started again."
The Czech Republic is also the source of inspiration for Pinchgut's black pilsner, which sprung from Meares's efforts to bring a true representation of the traditional dark Czech-style to Sydney. "I discovered it about 12 years ago in a Prague brew pub called U Fleků," Meares explains. "They'd been brewing it there for more than 600 years."
Its two beers may have developed with a strong Central European influence, but Pinchgut Brewery's spirit is 100 per cent Australian, taking its name from an oft-seen but little-known Sydney landmark.
"Pinchgut is a nautical term – a gut is a channel, and a pinch is a narrowing of the channels. In Sydney Harbour, where the channels narrow, there was originally a 50-foot-high sandstone pyramid called Pinchgut, and they quarried it down to the waterline and built Fort Denison on it. We chose it for our name because it's a very Sydney-centric location, but few people know the actual term."
Operating out of St Peter's Brewery as a "gypsy brewer", Meares hand-brews every 800-litre batch of beer himself, but he and business partner Jason Smith are scouting for their own space. With about a dozen premises around Sydney serving Pinchgut beers on tap, Meares is looking to expand their bottled beer business and keep up his appearances at craft beer fairs.
With only two lagers in production, Pinchgut doesn't brew as large a range as most breweries, but there's a sense of strength that comes with sticking to the tried and true. "That brew pub in Prague only has the one beer on tap," says Meares with a grin, "and they survived the socialists."
For anyone after a beetroot beer, these riffs on his pilsner theme are only brewed for special occasions, so keep an eye out for Pinchgut at Sydney's boutique beer events to score yourself a Stray Root.

By Jess Millen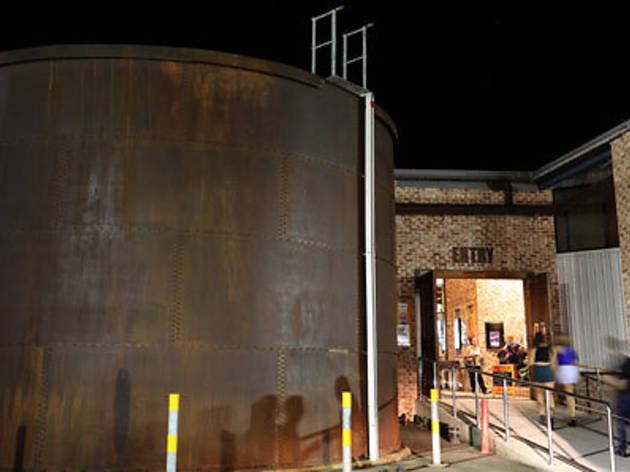 Putting craft beer in cans is better for beer survival, better for the environment, and all the cool kids are doing it, says brewer Neal Cameron.
The Australian Brewery Hotel's head brewer, Neal Cameron, has a burning question for brewers everywhere: 'Why on Earth would you put beer into bottles?' As the man behind the first craft brewery in Australia to be exclusively canning its beers, he seems genuinely perplexed by the stranglehold that glass bottles have on the beer industry.
"It must be close to 99 per cent bottles and 1 per cent cans at the moment," says Cameron. "In the States all the craft breweries – including the really cool ones like Sierra Nevada – are now using cans, realising that it is actually a better product."
It took some persuading to get Cameron to this point. "We got about 20 US beers sent across in cans just to convince ourselves it was the right move, and we found that the freshness and quality was far superior to anything we got in bottles – they just survived better," he says. "It's not like wine, where it improves and integrates over a period of time. We find that with cans, it's closer to the fresh draft flavour than botted beer. It gets less light and less oxygen, and those are two killers of beer."
Cameron reckons there's no good reason bottle beer in the first place. "It's more expensive, it's heavier, it's worse for the product, it's worse from an environmental standpoint, it's more dangerous, the equipment to do it is more expensive, the actual packaging itself is more expensive… there is no reason why you would put it into a bottle apart from habit, and perhaps aesthetics."
The brewer dismisses claims that canning changes the taste of the beer. "Historically, cans used to be steel and back then you may have got some contact between metal and beer. But with liner technology and lacquers now, it just doesn't happen. People will sometimes say with beer they get a taste variation from drinking out of the can, but no body seems to complain about Coca-Cola or Red Bull."
Brewing started out as a hobby for Cameron, who studied science as an undergrad and worked in operations and logistics management before turning to hops a decade ago. "I've always been a committed beer wanker – I did a post grad brewing course at Ballarat University just out of interest. Following that I happened to be out in Griffith and I got to know a lot of the De Bortoli guys there. When they decided that they wanted to put a craft beer offering out they asked me to start the brewery for them. Suddenly I went from running operations to running the William Bull brewery."
Now at the helm of the Australian Brewery Hotel out in Rouse Hill, Cameron has overseen the canning of their pale ale, pilsner, cider and a smoked IPA. While you probably shouldn't admit to having a favourite child, Cameron is only too happy to play favourites amongst his creations. And it's the pilsner that has a special place in his heart. "I just cannot leave it in the fridge. It's like at the beginning of Happy Days: the Fonz goes to comb his hair in front of the mirror and he puts his arms out and goes, 'Heeey' because it's perfect."

By Emily Lloyd-Tait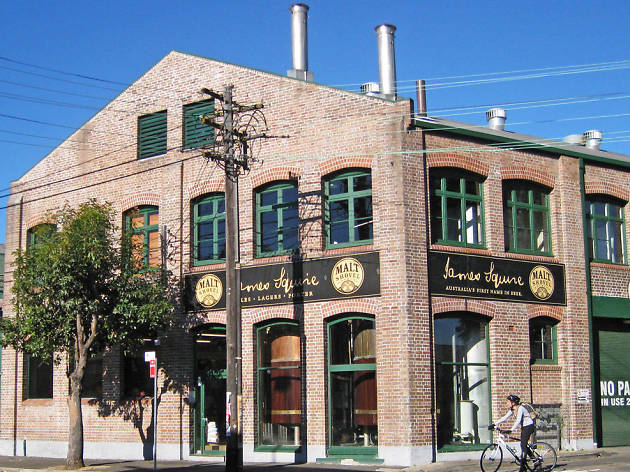 Get the inside scoop on what the Godfather of Australian beer thinks about...
Choosing beer over oil
I started drinking at 18 and started brewing at 25. I got a PhD in chemical and petroleum engineering from Colorado School of Mines in 1970. But I discovered you can't drink oil. The university was just across town from the Coors Brewery so we used to go there to taste beer – every university student wants free beer. I discovered I had a very sensitive palate to beer, so that's when I decided I wanted to stay in that business.
Branching out on his own
I left Coors to come out to Australia to run the Tooheys and Resch's breweries and then in '83 I tried to start my own small brewery but I couldn't get the financing for it. After three-and-a-half years in New Zealand with Steinlager I came back to start the Hahn brewery in Camperdown. Back then the Hahn brewery was independent. Lion Nathan bought us in '93 and I became chief brewer for the whole group, but I got sick of flying around all the time so I convinced Lion to let me go back to the original small brewery – the Hahn brewery – and start up a new brewing company, James Squire.
Naming a beer after himself
Hahn works because it's easy to pronounce, it's short and it has a German connotation to it. And everyone knows that the Germans make some of the best beers in the world.
Faking beer knowledge
When you're tasting beer and carefully assessing it, talking about it, and matching it to your food, it's called an organoleptic evaluation – that's always a good term. And if you're just drinking a lot of beer, it's called a piss-up.
Choosing beer over wine
The winemakers have really done their work by telling people that drinking beer with a meal was unsophisticated, but we've done a lot of things to convince people that beer is really the better way to go. If you're having spicy or salty food, or any sour characteristics or degree of acidity, beer is so much better.
Mixing work and play
Being originally from Colorado, I wanted to have a place in the mountains. We got a unit in Kosciuszko and put in small brewery, where we make the Kosciuszko Pale Ale. This gives me a good excuse to fish and ski and put a brew through and still call it work.
The ultimate bar snack
I love sausage rolls and meat pies; I think they're fantastic. They're full of calories and they can't be good for you, but they're beautiful with beer. You just can't beat a good pie.
Josh Lefers and Stephen Wools, Doss Blockos
Josh Lefers and Stephen Wools, YouTube superstars and the duo behind Doss Blockos beer, chat to Gemima Cody
Free Sh!t Men was about getting everything for free. What was your best score?
Steve: We got a free racehorse worth $60,000, and a house at the end of the series. We both got a Brazilian wax – and I've got a tattoo for life. Getting a coffin was the weirdest episode. We saw the chill room with the dead bodies, and then we walked off down the street with a coffin on our shoulders.
Do you still try to get everything for free?
Steve: That's how we started our businesses. We had all these ideas, no cash and didn't want to get a bank loan. We're both Dutch, so we're tight-arses.
Is that why the Doss Blockos brand is based on squatting in New York?
Josh: We spent time with some squatters in New York, who shared our ideals in terms of free living and doing what you want – not worrying about the commercial or financial aspects of life. So the beer's based on the romantic side of squatting – not breaking into houses and screwing over landlords.
Why brew? It's a big departure from your other work.
Steve: We're excited by products with awesome stories – we wanted to give people more, rather than just saying, "Hey, here's a beer." So, our ginger beer (Lick Pier) is based on beach culture and Fog City cider promotes urban foraging. And we like the drinks themselves. Personally, I don't like bitter, heavy beers. Doss is a North American easy drinking lager.
Josh: They're all sessionable. Full of flavour, but you could drink about a billion.
You do viral campaigns rather than commercials for promotion, right?
Josh: They're not viral campaigns. They're earnest action adventures. We decorated public toilets and left a six pack of Doss Blockos in there to give to the community in a fun, interesting way. We're talking with companies like SBS about a potential documentary – there's an abandoned brewery underneath New York city. We want to find it and set it up again.
What else are you working on?
Josh: Five feature films and TV shows; a vodka – that's hush hush. And we've just toured with Aqua.
By Gemima Cody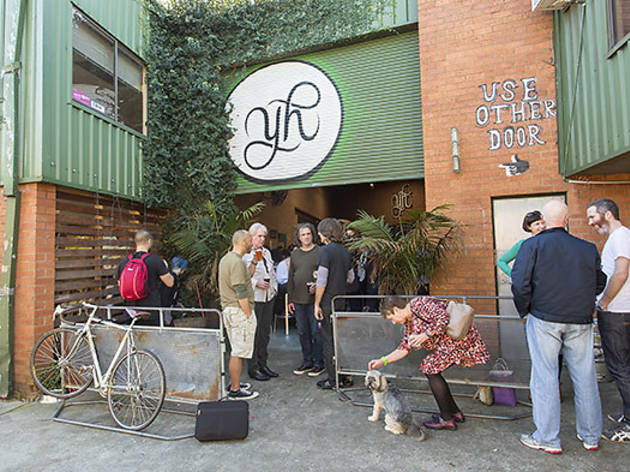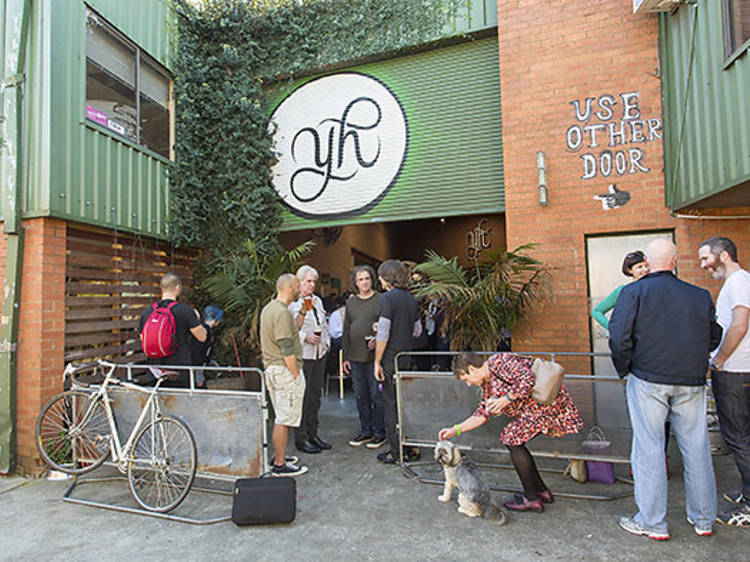 Rock'n'roll brewery and beer juggernauts Young Henrys have captured Sydney in a wave of natural brews and snappy IPAs

When Time Out spoke to head brewer Richard Adamson at the new craft beer brewery in the centre of Newtown, the number of Sydney venues selling their real ale had grown to over 20 bars and restaurants after just six months in operation. "We're definitely ahead of where I thought we would be," says the brewer, formerly of Barons Brewing in Woollahra. "I wanted to get back to doing small scale and be able to do more experimental stuff, as well as doing some really good, standard craft beers," says Richard.
Since the 12-hectolitre microbrewery opened in March Young Henrys has been creating speciality brews for the likes of Sydney Theatre Company, Black Star Pastry, Newtown restaurant Bloodwood and rock 'n' roll collaborations with Peter Fenton (from Crow) and ARIA award-winners Front End Loader. "Collaborating, doing one-offs, or what takes our fancy is what Young Henrys is all about", says Richard.
Their core range includes English-style bitter, an unfiltered natural lager, a "tart" cloudy cider and hop ale, similar to an English IPA. For Richard, opening his own brewery was just as much about having a laugh as it was about creating traditional beers. "Peter Fenton wrote a beer manifesto," explains the brewer, who created a beer called 'Black N More' in collaboration with the founding Crow member. "He wanted to embody Newtown and Enmore, 'smoky King Street late at night, rain on the road' – so we came up with a moody, dark lager for him."
For Front End Loader, things were a lot more straightforward: "They were like 'we want something strong, something punchy', [so] we ended up putting agave in it, because they always do tequila shots on stage…"As something of a former rocker himself, (Richard played keyboard for Hugh Wilson's Blue Phoenix back in the 90s), the brewer is combining his two loves: beer and music.
And he's not stopping there. For Craft Beer Week, Young Henrys is collaborating with craft brewers Two Birds to create a Japanese-inspired soybean brew called 'Otaku', and with FBi Radio for a (likely to be called) 'Redfern Red'. Plus, there are two more 'rock brews' in the pipeline for later in the year; one for experimental rock band PVT and a ten-year anniversary brew for fellow brewer Oscar McMahon's band, the Hell City Glamours. "[PVT have] been friends of mine for a long time," says the brewer, "So it's just trying to work out a beer that encapsulates their personality – that's the challenge."
The brewery's tagline, 'Serve the people', has quickly become a mantra for serving the people locally. With demand for Young Henrys two-litre 'growlers' continuing to grow, the brewer tells us that they've had to rethink their initial plans to open a bar inside the brewery, sticking to the open cellar door business for now. "We can't get enough bottles; we keep ordering more to keep up with the demand! We've had to buy three more large tanks [so] within the next year or so we'll probably have to start moving the brewery into this side anyway. We'll keep the cellar door as it is... but we're so busy brewing at the moment."

By Emma Joyce
David Purcell, Apple Thief
The apple doesn't fall far from the tree for apple grower and brewer David Purcell
It might have been predestined that David Purcell would have a career around apples, in whatever form – after all, the co-founder of Apple Thief Cider grew up on the Batlow farm that's been in his family for three generations. As a schoolboy, he would help out on the family farm on weekends and later he would go on to run one of the largest orchards in the Snowy Mountains.
A veteran NSW farmer, Purcell grew frustrated at the number of good apples refused a place in the supermarkets because of how they looked and started pressing the disregarded Batlow apples into juice. Soon, he started making cider. Not long after that, his Apple Thief became a premium cider brand.
While the Apple Thief ciders are Australian-grown and made, the story of the company's formation begins overseas: Purcell and British business partner Charlie Ostaszewski were brought together by a chance encounter in Thailand. "I worked at a vineyard with a girl who then went backpacking through Thailand for a few weeks," Purcell tells Time Out. "She met Charlie over there, and introduced us when I travelled across to meet her. He was interested in what I was doing and stopped by the farm [back in Australia]."
It just so happened that the day Ostaszewski, then an auditor, chose to drop by was the day that Purcell had just bottled a trial batch of cider, which he was brewing as a hobby. "We started having cider for breakfast, lunch and dinner, and the idea to start the Apple Thief evolved from there."
Today, the Apple Thief is sold in three flavours (Granny Smith, William Pear and Pink Lady) and is one of Australia's hottest high-end cider brands. And while its creator – who grew up with apples and can't seem to get away from them – says his favourite drink is cider, he's also a fan of craft beers like Endeavour and Mountain Goat. For Purcell, it's about keeping the quality up, no matter the beverage, and keeping it local. "It's great to see more and more Sydney venues stocking independent, local growers and brewers. We're proud to be part of the boutique brewing movement."

By Jess Millen
Sam and Rich Coombes, Batlow Cider
Booze brothers Sam and Rich Coombes quit the worlds of high finance and MTV to invent a sensational cider with 3.5 apples in every bottle
What was your first cider experience?
Our old man lived in the UK and that's where we discovered real cider made with real apples. Compared with the mass-produced sugary sweet options in Australia at the time, it was a completely different drinking experience to anything back home in Oz. Then, a few summers back we were sitting on the infamous Bondi grassy knoll having an imported cider when it struck us: Why are we all drinking cider that is foreign owned or imported by brands we can't connect with? Especially when we have access to the best quality locally grown produce? This triggered the dream of starting a wholly Australian cider using locally grown apples.
Batlow apples… weren't they the stickers on our school lunchboxes and lockers?
They sure are. Batlow Apples are a household name and the brand is truly iconic, going back to 1922 and still 100% owned by about 35 apple-growing families. We met with Batlow at Sydney Markets to share our cider vision – to create a premium quality cider made with the best local apples using the best cider-making practices. Cider happened to be in Batlow's long-term plans, so it was perfect timing.
How did Sam's MTV experience inspire your cool viral marketing campaign?
Contacts from MTV helped in sourcing music for the clip. We ended up securing tracks from local artists The Beautiful Girls, Delta Riggs & Killaqueenz and pulled in favours on the props and production side. With start-ups, people are generally keen to help out any way they can.
What qualities set Batlow Cider apart from the crowd?
Apart from being local and independently owned our cider is a very pure and actually has the freshness of a crunchy Batlow Apple. The flavour is a complex and earthy mix of green and red apples. It's crisp, clean and has just the right amount of sweetness. We only press apples as we make our cider, which ensures we retain as much of the natural aromas and flavours of the Batlow Apples as possible. We don't add any sugar, concentrates or flavourings like other ciders on the market, and it's also gluten free.
What Sydney bars and restaurants are using the Batlow brand particularly well?
To name a few, The Cottage in Balmain have planted a mature Batlow Apple tree in the front courtyard and offer Batlow fresh out of the keg in a nice farmhouse style setting. Bondi Hardware are serving up our cider in a variety of formats (including on tap, in a spiced rum-based cocktail and a spiced mulled cider). The Local Bar in Neutral Bay rotate several Batlow-based cocktails every week. The East Village in Darlinghurst does a great pint on tap matched with suckling pig. The Passage in Darlinghurst pairs Sliders & Ciders every Wednesday. Moonshine Rum & Cider Bar in Manly is perfect for a lazy Sunday afternoon schooner on tap looking across the ocean.
What are the biggest revolutions in the cider business these past few years?
The growth of cider has been incredible, but the emergence and popularity of locally-produced premium quality craft ciders in the last five years is the major development. In the UK, the cider category was re-invigorated by an increase in marketing activities by the big brands, and that's had a positive knock-on effect into Australia. People today want more from their drinking and dining experiences and they're looking for alternatives to their regular beer or wine choices. Cider is a very versatile option – it matches lots of foods and tastes great anytime, anywhere.
More to explore