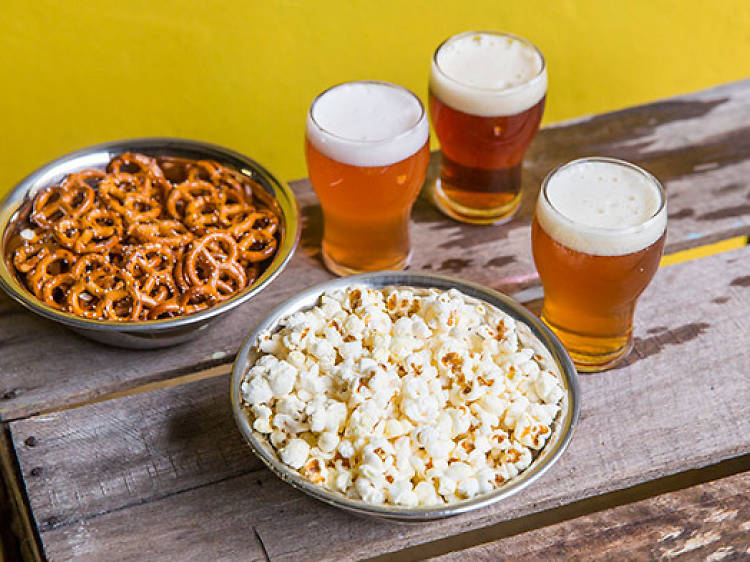 The Wayward brewers chat to Time Out about why the world doesn't need another pale ale.
It took four years for Peter Philip, the founder of Wayward Brewing Co, to find the perfect location, but he and head brewer Shaun Blissett (ex-Illawarra Brewing Co) are finally set to open their Camperdown brewery.


Theirs may be the latest brewery to join the bustling a hub of craft operations in Sydney's Inner West (James Squire is on the opposite block and Young Henrys is over the other side of the tracks in Newtown), but the Wayward space has an unusual backstory. The warehouse was originally an old winery, with wax-lined cellars stretching under Pyrmont Bridge Road.


But now the space is being brought back to life as a community tap house. "We want to draw a virtual fence a couple of kilometres around the brewery and support our area and get involved," says Philip. Their plan involves a 'craft for the community' initiative that will encourage beer enthusiasts to raise a glass for a good cause. One proposal is to have patients and staff from cancer treatment centre Chris O'Brien Lifehouse up near the Royal Prince Alfred Hospital help brew a beer that will be available at the brewery's tasting bar. "It's a virtuous circle," Philip says of the idea, which has guests donate to the treatment centre for a few fun sips.


In addition to charitable efforts, Philip wants to pay forward for his time as a gypsy brewer by making his brewery available to up-and-comers. They would also showcase those beers on the 12 taps in the 150-person tasting bar, complete with "obligatory food truck", says Philip.


Getting Wayward off the ground has been a matter of perseverance. "It's really, really, really hard to find a good location, the right location," says Philip. And then there was a two-year trademark dispute with multinational brewing company SABMiller, who thought the Wayward name too similar to its Haywards beer. Philip took them on, arguing the latter brand was hardly known in Australia. The court agreed. "It cost us $15,000 but I wasn't going to do something just because these guys are big and scary. I had to defend it; it had to be done," he says.


The Wayward site is still a work in progress but Blissett couldn't be more excited about what's ahead. "Our number one goal is to open this brewery. This has been seven months of building for us... every single little piece is designed perfectly for Pete and me. It's the perfect brewery," he says.


There are plenty of craft beers on the market, so what is it that makes Wayward different? For one, they haven't done a pale ale... yet. "The world doesn't need another pale ale," says Philip.


"Our range at the moment is not what you would expect from the first four beers to come out of a brewery," says Blissett, who just celebrated his fifth year as a brewer after graduating with a degree in politics. "The idea of having your own brewery is to be able to push those new styles and keep pushing new ideas, new flavour combinations."


Which is precisely why if you fancy a Wayward brew, you should prepare to down a kellerbier, a Bavarian lager, an India red ale or an oatmeal IPA. Galaxy hops can wait their turn.

By Vy Hoang