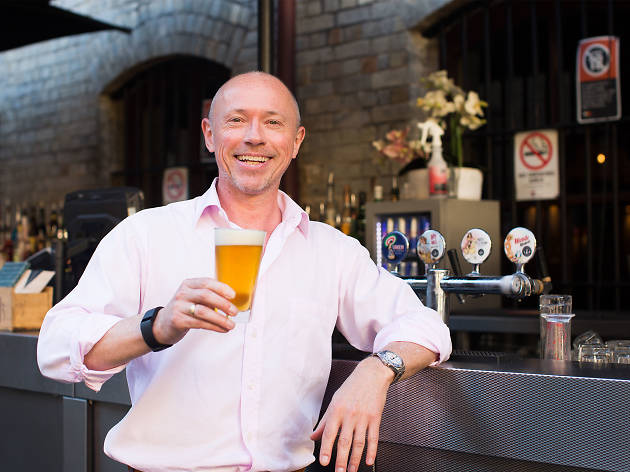 Meet the crafty Bavarian
There's a new craft beer range in town, and it's got an international accent
Did you know that the Löwenbräu Keller, now known as Munich Brauhaus, has been serving Bavarian fare and tall beers in Sydney for 40 years? In the oftentimes-cutthroat Sydney hospitality scene that's a near miracle, and Dom Dighton has been there for most of it.
Dighton, 50, has been working for the Urban Purveyor Group (UPG) for 25 years, wending his way up from the cellars at Löwenbräu to become the General Manager Urban Beverage Operations, and the hospitality group's resident beer professor. But his love for quality brews goes back even further than his tenure at the Sydney hospitality juggernaut. Like many fresh-faced school-leavers, Dighton took off to Europe when he was 20 and found himself at Oktoberfest. He was so enamoured with the famous Bavarian craft beer festival that he went back the following year with friends, and by his mid-twenties Dighton had settled into a role at the famous Sydney Bavarian-themed restaurant and bar.
Not long after that, in 1998, the Bavarian Hospitality Group's import licence expanded to include bottled beers as well as kegs for their venues, and Dighton was offered the opportunity to head up the new venture. "The chief executive at the time, John Szangolies, said 'Dom, I need someone to go out and sell this beer. Would you be interested?' I said 'yes, but I don't really know anything about beer'. So he sent me down to the University of Ballarat to do a one week live-in intensive short course in malting and brewing. It gives you a top line understanding of the brewing process. You brew beer, the lecturers are brewers, you visit malthouses and breweries. It's also an education in the sensory evaluation of beer." Since those early days of importing Löwenbräu Original and Franziskaner Wheat beer into the homogenous '90s beer market, UPG has expanded their portfolio to include an even dozen Bavarian brews. But in 2016 everything changed for the craftier, with the decision to launch a craft beer range and on January 7 the first steins of the Crafty Bavarian's Munich Lager, Blonde Lager, Hefeweizen And the Pale Ale were poured at the Munich Brauhaus venues.
In keeping with their German heritage and traditions, the Urban Craft Brewing Co launched with their Crafty Bavarian range, featuring four classic, Bavarian-style beers. "The emphasis is to make craft, Australian made, brewery-fresh beers for our venues that use Bavarian yeast strains, and German malts and hops where we can," says Dighton. Although there are plans afoot to open a new series of Urban Craft Brewing Co brewery pubs, but for the moment both the Crafty Bavarian range and the Crafty Sisters range, which focusses on international brews like the Mexican and Japanese lagers, are being brewed out of Icon Brewery in Victoria. "Their head brewer is Nick Oberdieck, who is German and has years of new product development experience so it was a great fit," says Dighton.
The new venture certainly appears to be paying off. "The craft beers that were making, especially in our Germanic venues, is now responsible for just over 50 per cent of our tap beer sales, so that's a vote of confidence from our guests. When we're lining ourselves up against 500-year-old German breweries it's a pretty good result."
Dighton tells us there are more brews in the pipeline for UPG. "We're working on our seasonals. The session ale is coming out in time for spring to take the place of our winter seasonal, which was a ruby-coloured porter. It's a lower alcohol beer in a light, crisp style that won't weigh you down. It's designed to be fun and enjoyable."
Learn about the history of beer
Want to know how long Germans have been obsessed with making good beer? A very long time.
Best selling Time Out Offers