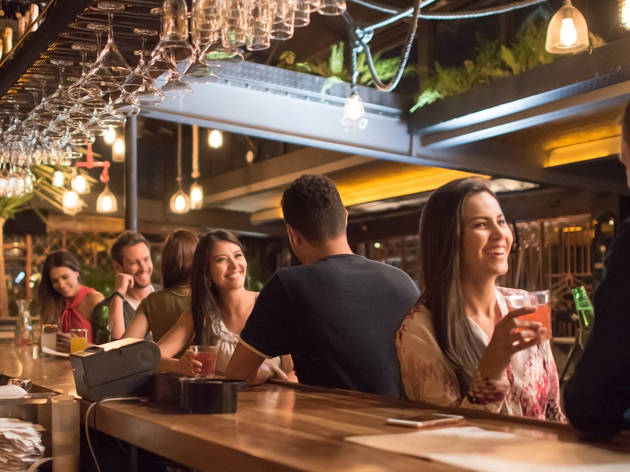 Snack like a boss with these beer and nut pairings
Whether you like them sweet and salty, spicy or savoury, there's a perfect nut for when you're feeling peckish at the bar
It's a match as old as time; a roasted peanut, a cold brew. You've seen it in Spaghetti Westerns when cowboys would toss their peanut shells onto the floor of the saloon, and in just about every '80s film where people sat up at the bar, lamenting, drinking and snacking on beer nuts. But now the classic bar pairing is getting a modern makeover with Red Rock Deli's new range of nuts.
Beer and nut pairings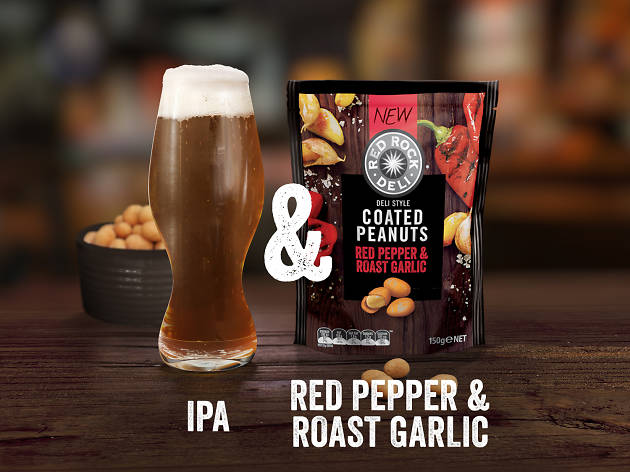 Photograph: supplied
Snack: Red Pepper and Roast Garlic
Drink: IPA
This is a fusion snack food, taking inspiration from Japanese-style peanuts with their wafer-thin crunchy shell, and then seasoning it with an Eastern Mediterranean mix of spicy red pepper and the savoury aroma of roast garlic. This is no wall-flower snack so you need to pair it with a beer that boasts a strong flavour profile. The India Pale Ale got its name from its popularity with the British station on the Subcontinent. The heavy hand on the bittering hops flowers meant that the beer survived the journey with the East India Company to refresh Northern European constitutions in a tropical climate. That fresh, fruity bitterness also goes a treat with spicy food, making it an ideal snack match to the Red Pepper and Roast Garlic Coated Peanuts.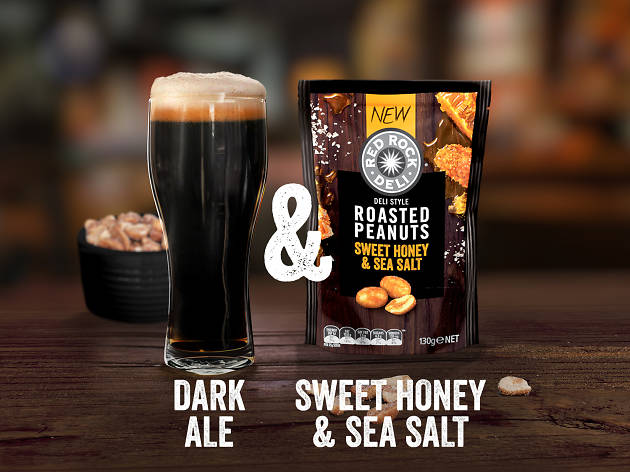 Photograph: supplied
Snack: Sweet Honey and Sea Salt
Drink: Dark ale
Remember when you were a kid and the local market had a stall selling candied nuts? Well this is the grown-up version, designed for snacking when you've got a beautifully poured dark ale in front of you. Of course, this isn't just a sweet treat – they balance out the honey flavour with a touch of salt to keep the sweet savoury seesaw in check, and this balance is mirrored in a good dark ale, where the long, roasty caramel flavours from the malts in the brew are braced by some hoppy bitterness. If you have a subtle sweet tooth, pair a treacle-coloured ale with a handful of Honey and Sea Salt Roasted Peanuts.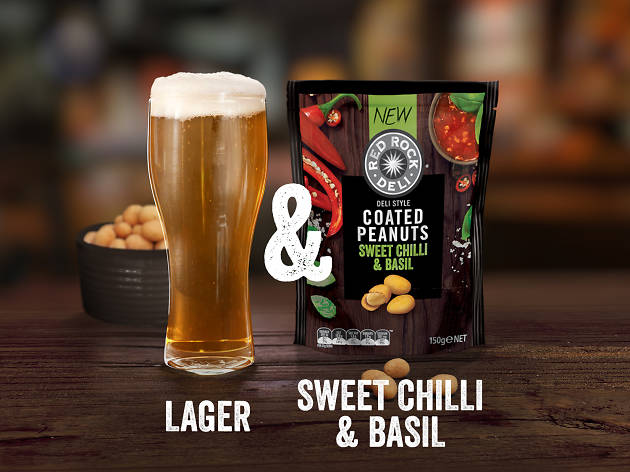 Photograph: supplied
Snack: Sweet Chilli and Basil
Drink: Lager
You've probably snuck a packet of cracker nuts into your trolley at an Asian grocery shop, but now you can find roasted peanuts in a crisp, seasoned shell at your local bar too. Red Rock Deli are adding a little taste of Southeast Asia by combining the crowd-pleasing flavours of sweet chilli and basil in their coated peanuts for a sessionable bar snack. They've kept the spice a little lower for mild palates, and the subtle, salty, savouriness makes these perfect for smashing alongside the cleansing bitterness of a fresh lager. The lighter body of this popular bottom fermented beer means you can put away more than one on a hot summer's day and let the Sweet Chilli and Basil Coated Peanuts fill in the gaps.
Best selling Time Out Offers