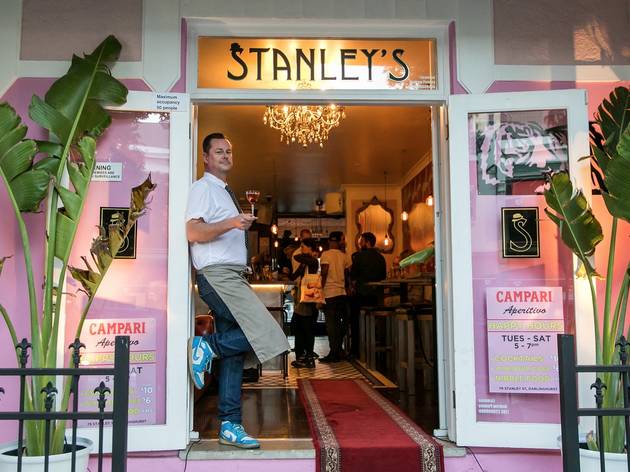 1/8
Photograph: Anna Kucera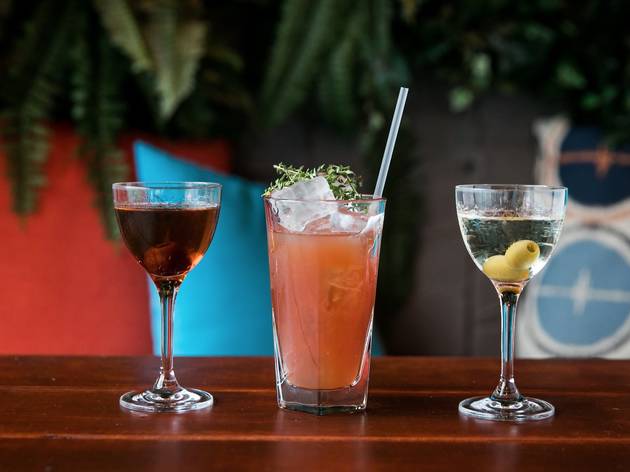 2/8
Photograph: Anna Kucera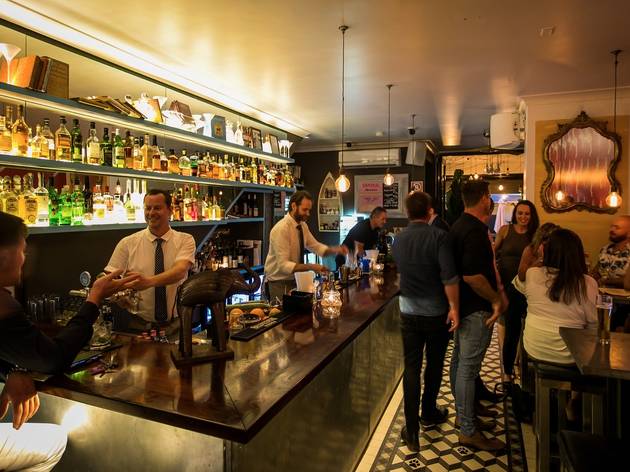 3/8
Photograph: Anna Kucera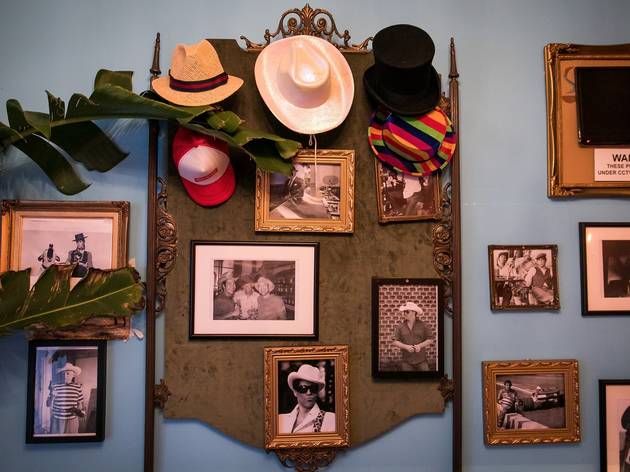 4/8
Photograph: Anna Kucera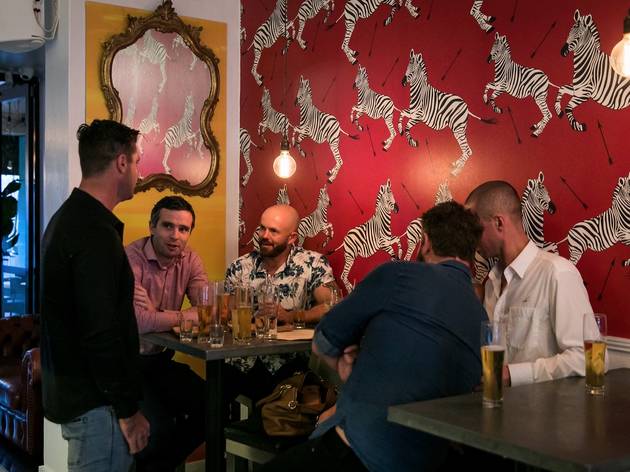 5/8
Photograph: Anna Kucera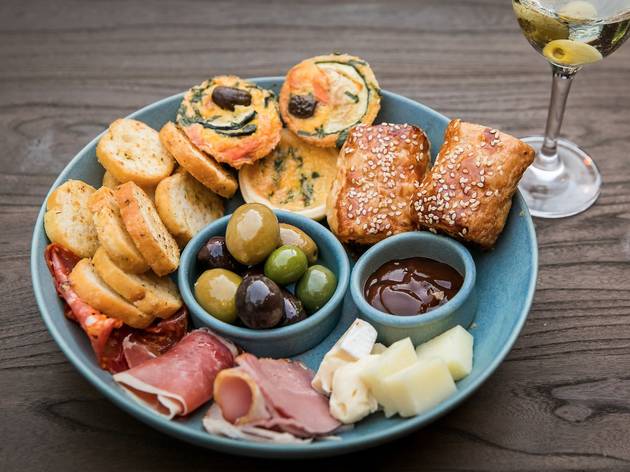 6/8
Photograph: Anna Kucera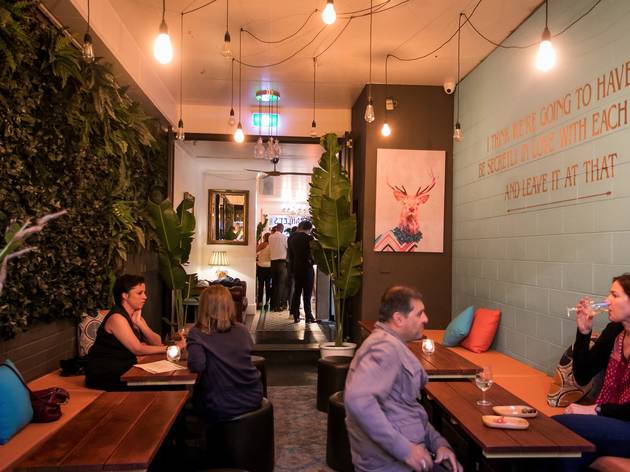 7/8
Photograph: Anna Kucera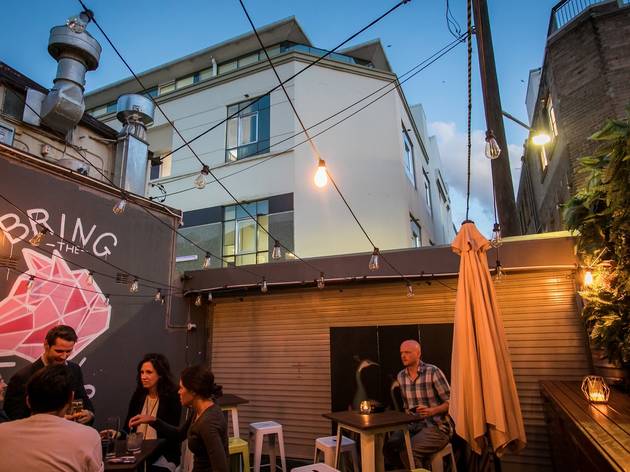 8/8
Photograph: Anna Kucera
Your education in auteur movie directors continues at the successor bar to the defunct Kubrick's in Stanley Street
Kubrick's, the minimalist Darlinghurst wine bar with the ace $10-by-the-glass wine list and smooth minimal-tech soundtrack, has closed. It's a shame for the 2010 postcode – and for film director-themed bars alike.
But, rather conveniently, a new auteurist cocktail destination has risen in its wake, courtesy of Sydney bar veteran Andy Penney (the Anchor and, back in the day, the Flinders). Stanley's takes its inspiration from Wes Anderson – director of highly stylised and intricately art directed comedies The Royal Tenenbaums, Moonrise Kingdom and The Grand Budapest Hotel, to name a few.
Step off Stanley Street and land at the entrance of the Grand Budapest – well, powder pink walls and a red carpet that nod to the set design. Inside, wallpaper familiar from The Royal Tenenbaums covers the wall opposite the bar. And behind the bar we spy khaki shorts worthy of Ed Norton's scoutmaster in Moonrise Kingdom. Thankfully, our bartender has the knees to pull them off.
He also pulls off some pretty excellent drinks. The KGB swirls a line-up of Sydney fads – Archie Rose gin! Lemon myrtle! Kombucha! – into a long drink that is tart, refreshing, and exhibiting a nice amount of fermented funk. The 1951 Martini adds a welcome Cointreau rinse to the stiff classic. And the 2010 East tastes like a boozy winter night in a glass: Rittenhouse rye, sherry, herby Cynar liqueur and a soaked maraschino.
The Anderson love-in continues in the bar's back courtyard, where a large, geometric fox mural covers one wall in abstract homage to Fantastic Mr Fox. On the soundtrack, retro classics from the Pointer Sisters and Hall & Oates envelope us in a warm haze of nostalgia… or maybe it's the drinks.
The film cues at Stanley's are cute touch points, but aren't executed in a way that feels genuinely transportive. Would that the bar's design and service was as immaculate as Anderson's movies. We get the feeling that Wes would never allow an unframed print, or a door painted with a single coat. While the bar is a great option for a pre- or post-dinner cocktail, we're not tempted to linger.
---
Venue name:
Stanley's
Contact:
Address:
77 Stanley Street
Darlinghurst
2010

Opening hours:
Tue-Sun 11.30am-3.30pm & 5.30-10pm.