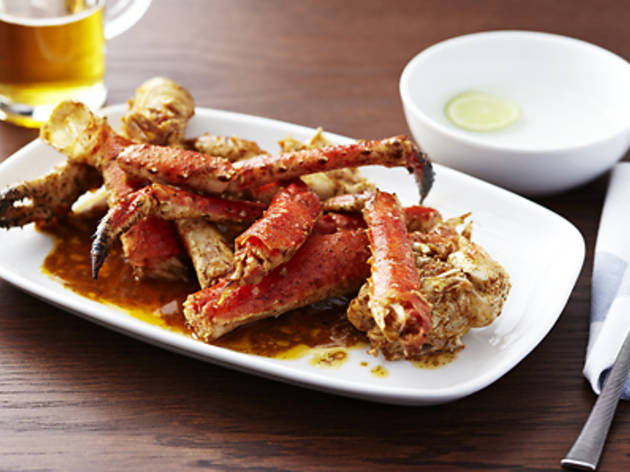 You know what they say about the Big Easy: Folks have a certain way o' doin' things down here. And down on the infamous old Bourbon and Beefsteak site they're letting the good times roll
James Metcalfe, previously of Etch and Bécasse, is on the grills at the newly reduxed Bourbon. He's serving up his take on New Orleans dishes in a dining room of plush electric-blue armchairs, buttery caramel leather banquettes, triangular walnut tables and thick charcoal carpet. It harks back to an opulent Kings Cross of the '60s. Even the bathrooms are a gawk-fest: the tiles on the floor in the communal parlour form a giant rose and a massive ornate fountain with copper taps doubles as a hand-washing station.
The menu looks very straight American bistro: 'soups and salads', 'rotisserie', 'off the grill', and so on. 'For the table' is where you'll find things like spiced nuts, olives, bread and the highly spiced and extremely salty pork crackling. 'Salads and soups' offers up a pretty sexy Cobb salad. De-boned, pressed and fried chicken wings sit alongside thick slices of grilled bacon, boiled egg halves, cherry tomatoes, baby cos hearts, cress, tiny cubes of blue cheese and perfectly ripe avocado. It's all arranged a-symmetrically on the plate like all the ingredients are lining up to get chomped.
Deep-fried oysters are firm and sweet on the inside and crisp on the outside and while we wouldn't be back for the scotch fillet steak with a side of (sadly undercooked) smothered greens (smother till they stop protesting – isn't that the rule?) and super-sweet bourbon butter, we'd definitely order the rotisserie chicken again. The half chook is marinated in garlic, lemon and chilli, the skin's deeply bronzed and sticky and the meat's juicy as hell.
What we're wondering, given the name of the place, is where all the bourbon is. The cocktail list has a surprisingly large number of vodka drinks but just three out of the 21 on offer have whiskey in them. Maybe there's a secret list of New Orleans classics and amazing bourbon drinks we missed out on.
Would we come back to the Bourbon? Well, we've seen Metcalf cook better in the past when he's making food he's a little more familiar with, and not trying to wrangle succotash, fried green tomatoes (don't bother) and pumpkin pie (a disappointingly un-pie-like de-construction of pumpkin brûlée, thick hunks of biscuit, maple syrup mousse and ginger ice cream in a bowl).
And service is definitely not their strong suit here – bringing the wrong drinks and pouring a fresh beer into a half drunk beer glass don't really fill us with confidence. That said, it's open super late (till 4am on Friday and Saturday) and they bring out a burger menu at 11pm that rolls on through till three .
Maybe, like its namesake, the Bourbon will get better with age.
---
Venue name:
The Bourbon
Contact:
Address:
22 Darlinghurst Rd
Potts Point
Sydney
2011

Opening hours:
Open til 4am
Price:
$6-$60