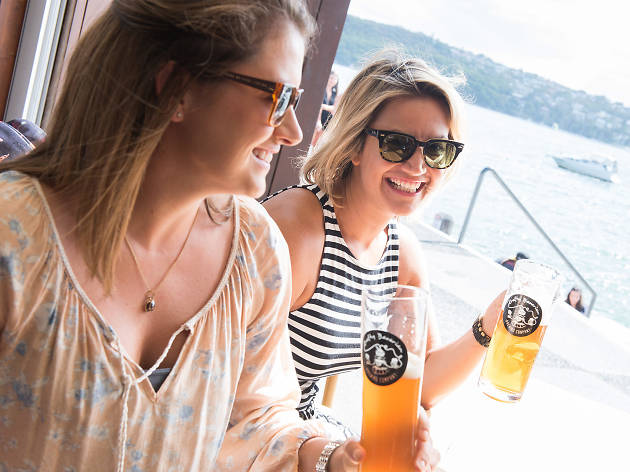 The rise of the session ale
Pale ales are the unchallenged champion of the Aussie craft beer scene, but the session ale is a star on the rise, and Sydney beer expert Liam Pereira of Dave's Brewery Tour explains why
The term session ale is relatively new one in the world of local craft beers, but it's a term we are starting to see a lot more often, and it signals a change to our local beer scene. The Australian craft beer boom was closely based on the US model, due in no small p art to the advanced state of development of America's craft scene, but both the growth of the American boutique brewing industry and our domestic surge in craft beer production were both borne out of the same circumstance: a small handful of companies producing the majority of the beers on the market with very little room for choice in style or flavour.
On both sides of the Atlantic the craft movement was a reaction to the mainstream. In the early days of Aussie craft brewing the focus was more on big flavours and big booze. Hoppy IPAs and pale ales were the brews of choice on the lighter scale, and Imperial stouts and toasty porters were your darker options. These beers sat in stark contrast to the pale lagers the big breweries were producing. As the Australian craft brewing scene has grown, so too have the options for discerning drinkers. While those big flavour-big ABV (alcohol by volume)styles are still popular our local breweries have been able to also turn their attention to producing great sessionable beers without sacrificing on flavour.
It's not the first Aussie session ale, but in my opinion the beer that really cemented the style and started the trend was Mountain Goat's Summer Ale. Released in 2009, it had big bursts of fruity hops thanks to the use of Aussie and Kiwi hops, yet it was light, crisp and refreshing. At 4.7% it had hop flavour without the big malty character and booziness that other hop-forward beers are known for. Better yet it came in a can. This made Mountain Goat Summer Ale the perfect craft beer for when you didn't want to end up being the loosest person at the party. It was also the perfect beer to convert your mainstream lager-drinking mates.
Local drinkers soon discovered that session ales was a perfect fit for our climate and lifestyle. Australian brewers have embraced the lower-alcohol, lighter-bodied sessionable ale with the same enthusiasm as the drinking public. We now have a plethora of session ales in our local bottleshops to choose from, perfect as we come into the summer months. Here are a few great local, session ales to throw down.
Urban Craft Brewing Co Sweet Caroline
The latest seasonal beer to come out of the new craft brewing range from UPG is a session lager. It's set to launch in October 2016 and their in-house beer professor Dom Dighton describes it as "lower alcohol with a lighter flavor profile and low on carbonation. It's something that you could play an hour of tennis and then drink effortlessly afterwards. We're not trying to reinvent the wheel with it. It's going to be a fun and enjoyable, light, crisp style."
Pirate Life Throwback IPA
This one is for the hop heads. Pirate Life are the new kids on the craft beer block and they are doing it in style. Throwback is like a Mountain Goat Summer Ale turned up to 11. Big fruity hop presence, big bitterness and only 3.5% which means you can do it again.
Colonial Brewing Co Small Ale
This beer has great citrus fruit aromas but unlike the Throwback, the Small Ale is more subdued in its bitterness with a touch of caramel malt backbone. It also has come in a cool can where the ring pull takes off the whole top of the can, turning it into a great drinking vessel.
Stone and Wood Garden Ale
Originally one of Stone and Wood's seasonal beers, Garden Ale is now available year round. It's more of a malt than a hop-focused session ale. Australian Ella hops combined with pale and crystal malts give this beer subtle citrus notes with a clean, slightly bitter finish.
Love your hops?
Craft beer is hitting peak hop. Lip-puckering, teeth-sucking Double IPAs and their ilke are crowding out mellower offerings as brewers one-up each other in IBUs (International Bitterness Units) to prove who is the hoppiest of them all. And beer lovers are voting with their dollars and buying up the heavily-hopped stuff as fast as breweries can bottle it.
Best selling Time Out Offers