Where to drink mocktails this Dry July
This year on Dry July, skip the booze hit the Australian Bitters mocktails at these Sydney bars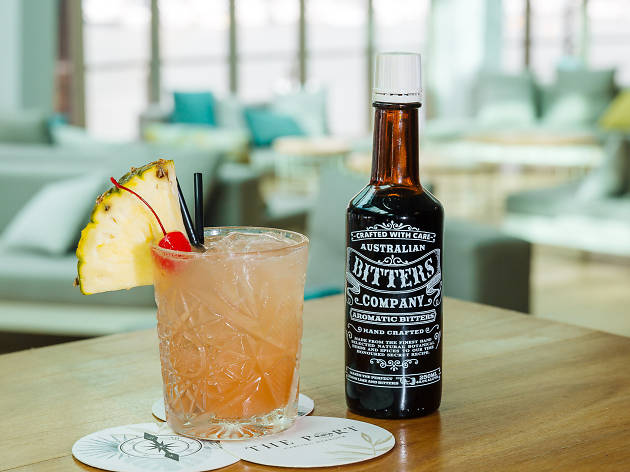 When you're off the sauce a lemon, lime and bitters is often the go-to choice for a non-alcoholic drink. But there's a lot more you can do with the average ingredients behind a bar, and Sydney is certainly not short of top notch spots willing to whip up an ace booze-free mocktail. Australian Bitters has teamed up with the Dry July Foundation this winter to make Dry July a little more delicious. They've collaborated with bartenders from Sydney bars to come up with fresh new concoctions that will change the way you think about alcohol-free drinks.
Want to master the mocktail? Here's a set of recipes you can try at home, or if you'd rather leave the shaking and stirring to the experts, try them in situ.
#AustralianBittersxDryJuly #mymocktail
La Passionata
Ingredients:
60ml orange juice
30ml pineapple juice
10ml orgeat syrup
2 dashes Australian Bitters
30ml passionfruit puree
Method: Shake into a rocks glass and garnish with a mint sprig and passionfruit piece.

By Alex Baldera
Cool as a Cucumber
Ingredients:
1 sliced strawberry
1/3 diced cucumber
4 dashes Australian Bitters
30ml cranberry juice
90ml pineapple juice
Method: Add ice, shake and strain into a Hurricane glass full of crushed ice. Garnish with a lemon wheel.
By Morgan Tull
In Bed with Mick Jagger
Ingredients:
4 strawberries
60ml cranberry juice
90ml apple juice
15ml simple syrup
Dash of lemonade
Dash of Australian Bitters
Method:
Muddle the strawberries in the shaker, add ice and shake well. Double strain into a Hurricane glass filled with ice. Top with a dash of lemonade and add bitters to the surface of the drink. Garnish with a strawberry on the side of the glass and a mint sprig.
By Sebastian Huber
Bitter Sweet
Ingredients:
150ml pineapple juice
15ml sugar syrup
5ml lime juice
5ml raspberry cordial
7 drops of Australian Bitters
Mother energy drink
Method:
Start by sugar coating a Hurricane glass in a bitters sugar mix. Shake pineapple juice, simple syrup, lime juice, raspberry cordial and bitters until it has a fluffy consistency. Double strain over crushed ice, top up with Mother and garnish with edible flowers.
By Mathew O'Rielly
Mostly Sunny
Ingredients:
3 lime wedges
1 tsp brown sugar
6 drops Australian Bitters
Crushed ice
Orange, quartered
Cascade ginger beer
Method:
Muddle lime wedges with brown sugar, add to a tall Hurricane and add crushed ice into the glass. Drizzle six drops of bitters, and add three to four pieces of quartered orange into glass. Top with Cascade ginger beer. To garnish, make a half-bowl of crushed ice. Place on top of prepared drink with an orange slice in the bowl. Finish with a fragrance of orange rind and cocktail stick with maraschino cherry.
By Sebastian Huber
Ginger Fling
Ingredients:
30ml carrot juice
60ml pineapple juice
15ml spicy ginger syrup (for recipe, see notes)
15ml allspice syrup (for recipe, see notes)
3 dashes of Australian Bitters
2 lime wedges, squeezed
Kirks Ginger Beer
Soda water
Method:
Add carrot juice, pineapple juice, ginger spice syrup, all spice syrup, bitters and lime juice to a short cocktail glass. Fill one quarter of the glass with ice. Top with Kirks Ginger Beer. Charge with soda water and garnish with lime wheel and a retro straw.
Spicy ginger simple syrup recipe:
Ingredients:
150g ginger (about 3 large pieces)
2 tbsp cayenne pepper
4 cups water
400g sugar
Method:
Thinly slice the ginger (not necessary to peel it). Bring four cups of water to a boil, add ginger, cayenne pepper and reduce to a simmer for about 45mins. Strain liquid through a fine mesh strainer to remove ginger. Dissolve sugar into the ginger concentrate. Cover and store in the refrigerator until ready for use.
All spice simple syrup recipe:
Ingredients:
2 cups water
2 cups granulated sugar
3 (3 inch) cinnamon sticks
¼ cup allspice mix
6 cloves
3 whole star anise pods
Method:
Combine all ingredients in a medium saucepan over high heat and bring to a boil, stirring occasionally. Remove from heat and let cool until lukewarm. Strain syrup through a fine mesh strainer into a heatproof airtight container and discard spices. Cover and store in the refrigerator until ready to use.
Morning Sunburst
Ingredients (makes 12-16 serves):
2 cups orange juice
1½ cups cranberry juice
¾ cup fresh lemon juice (4 lemons)
¾ cup fresh lime juice (6 limes)
12 dashes of Australian Bitters
Chilled soda water
Lime wedges
Method:
Mix the orange juice, cranberry juice, lemon juice and lime juice together. Add the Australian Bitters. Add ice and stir to chill, or refrigerate until cold. Top up with soda water to taste. Serve over ice and garnish with lime wedges.