Brendan Cowell may have left the Inner West behind when he moved to London last year, but Sydney has not seen the last of the actor, writer and director. In fact, when Cowell appears as part of National Theatre Live's broadcast of the London production of Yerma, there is likely to be quite a crowd at his beloved Dendy Newtown.
"My sister, Belinda – the legend – has booked out an entire cinema for friends and family. She got in early, riled everyone up and now I think we have the full Cowell empire there," says Cowell, from a cluttered meeting room at the Young Vic theatre, where the Olivier Award-winning production, directed by fellow Aussie expat Simon Stone, is in the middle of a sold-out return season.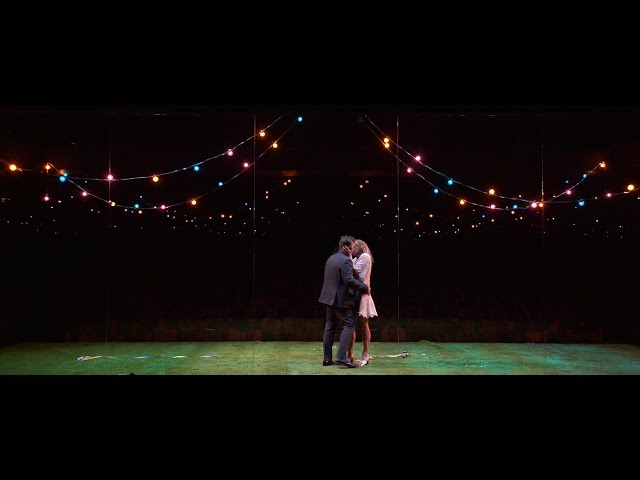 Based on the 1934 play by Spanish dramatist Federico García Lorca about a woman's desire for motherhood, Stone's radically re-imagined production transports the action from rural Spain to modern day London, where a couple (played by Cowell and former Doctor Who actress Billie Piper) are struggling with their inability to conceive. Haunting and heartbreaking, the production sold out when it premiered at the Young Vic last August, with Piper winning an Olivier Award for Best Actress. This year's revival also sold out, with fans queuing around the block each night in the hope of scoring a return ticket. The much-anticipated NT Live broadcast will be screened in more than 2,500 cinemas in 60 countries, including in theatres across Australia.
"It's such an incredible thing because really, there's nothing worse than theatre on film; you know, two cameras up the back and the lack of atmosphere," Cowell says. "But the way NT Live do it – 11 cameras, a crane – you really get the sense that you're up on stage."
Cowell has had something of a dream run since arriving in London in January 2016. He has won acclaim for his performances in both Yerma and Bertolt Brecht's Life of Galileo (at the Young Vic in June). He also scored a role in Season 7 of Game of Thrones, and is currently writing a new play and TV series.
No stranger to the city after a stint there in his twenties, he had bounced back and forth over the years, including as part of the writing team for the BAFTA-nominated miniseries The Slap. But after his play-turned-film Ruben Guthrie opened the 2015 Sydney Film Festival, Cowell says he felt at a loss: "I felt a kind of 'What do I do now in Australia?' Not in a harsh way, just in a curious way as an artist. I've never had the fantasy to line up in America and get big muscles and hope one day to be chasing a dinosaur down the street. I want to wake up and write a play, perhaps have a meeting about a TV show and then jump down to the theatre and do a performance. For me, that's success."
He applied for a UK visa, was accepted, and three weeks later, checked into a London hotel with a suitcase, an iPhone speaker and no agent. "Then I thought: 'What the fuck's going to happen now?'"
Stone had been a friend for years and the two had worked together writing for television and on Stone's groundbreaking 2014 production of Ibsen's The Wild Duck.
"He called and said: 'Mate, will you be in London round June? David Lan [artistic director of the Young Vic] and I think you should do Yerma. It's the second biggest role next to Billie's and you're basically her husband who has a bit of a porn problem and is away a lot. Are you interested?"
He describes Piper as an "awesome person" and says "it doesn't get any better" than working with her, adding that the two initially bonded over their lack of formal training. "I think we have a really nice thing on stage because we come from a similar place. It's quite cruel and brutal what we have to do to each other, and you end up becoming mates."
He believes part of Yerma's spectacular success can be attributed to the way it illuminates a subject – infertility – that is usually considered taboo or too awkward to talk about.
"It's a tragedy in terms of two people putting something out into the world and the gods deciding they're not going to get it," he says. "I have friends who are struggling with IVF, friends who have had abortions, miscarriages, all the things we talk about in very dark bars, or on the phone, because they're embarrassing. Yerma is fantastic because it's a pretty brutal exposé of what it's like to not get what you want in terms of a child, but at the same time it's cathartic. It says: 'Hey, this is no one's fault, this is a tragedy.' It doesn't reflect on whether you are a superhuman or a failed human. This is just stuff that happens in life."
Ten years ago, he says London's theatre establishment might have easily dismissed Australian works and Australian actors. But now the city "feels hungry to be challenged".
"You see [Belgian theatre director] Ivo van Hove's work received with open arms and the stuff coming out of Barbican and even me playing Galileo, there was not one reference to why is he Australian and what does that mean," he says. "They love theatre here; they have well-produced stagecraft theatre here and that will always be the case, but they want everything else theatre can be as well."
Basically: Cowell won't be returning to Sydney any time soon: "I'm living in Notting Hill and I've got my own boxing club and a whole bunch of new mates," he says. "I'm kind of interested in watching the Ashes," he says, looking out at the relentless rain. "But I think I'm working."

National Theatre Live's Yerma is in theatres nationally from October 14-15. See the full list of participating cinemas.